Perreaux Eloquence 255i integrated amplifier/DAC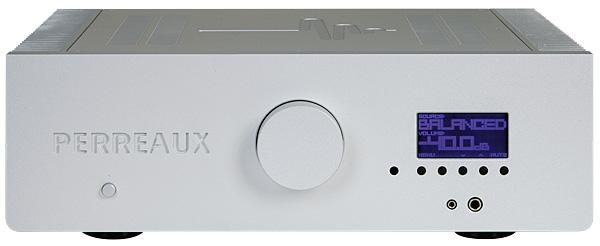 Still billed as 'The World's Most Powerful Integrated Amplifier', Perreaux's MOSFET flagship has been tickled-up with a new digital input module. And more power too...?
Side-by-side, you'd be forgiven for seeing no changes between the Perreaux Eloquence 255i integrated amplifier and the earlier 250i [HFN Aug '12]. Same rotary, same display, same number of buttons – even the price would leave you clueless, the six years between them inflating the £5695 of the earlier unit to £6895 in standard, line-level-only trim. Given the recent drop in the value of Sterling, that alone could account for the increase, so full marks to Perreaux.
A Host Of Inputs
What will up the price of the new unit, still billed as the 'world's most powerful integrated amplifier' [see PM's Sidebar], are the two modules necessary for anyone using other than line-level only sources. The new DAC module adds £1385 to the price, while the MM/MC phono module costs £540, so the amp as reviewed comes in at £8820. It is thus, thanks to a host of digital inputs including two S/PDIF coax (RCA), two optical (Toslink) and one USB-B, and a phono stage to handle renewed interest in vinyl, a proper 21st century control unit, save for any wireless connectivity.
The MOSFET power amplifier is still rated at 250W/8ohm, and it remains a behemoth, reminding me that I wrote back in 2012 that it is one of those 'single-box amps that will never betray its non-separates status. It behaves, unapologetically, in exactly the manner you'd demand of any high-end unit with vast reserves of power – with grace and guts'. That summary proves equally applicable to the 255i.
If space-saving is part of your future plans, this becomes, effectively, three units in one: preamp, power amp and proper DAC. Make that four, as there's a headphone amp too. It's even more relevant now than when the 250i was launched – headphone listening has become a primary method, especially as the sound quality of 'phones has improved beyond our wildest dreams.
If this were merely a fixed headphone socket, I wouldn't describe it as a headphone amp. Instead, the ¼in socket below the row of operation buttons is rated for 32-600ohm models, and the menu programme allows you to refine its performance for volume trim and balance. I tried a range of cans from 20ohm upwards with no problems, including old Beyers, the Audeze LCD-X [HFN Sep '14], assorted Sennheisers and Focals – all were handled with aplomb.
Next to the headphone socket, also in keeping with modern trends, is a 3.5mm stereo auxiliary input. Thus, the Perreaux owner coming home from a jog or a flight or anywhere else he or she might be using a portable can continue using that source simply by connecting it to the 255i with an appropriate lead. Across the front, as before with the 250i, the super-clean panel contains a massive volume rotary, described by Perreaux as 'a 3rd-generation microprocessor-controlled analogue device'. To its right is the display, crucial for its menu usage, above a row of press-buttons for menu navigation and all other functions save on/off. A press button on the lower left of the fascia takes the 255i out of, or places it into, standby.
Complete Customisation
That's it for controls, though it's worth noting that two remotes are provided – a small, simplified handset for the basics and another for full control, menu access, synergy with other Perreaux models and the like. The menu allows the user to change everything from the naming of inputs to balance trim to muting levels (which is particularly nice, offering levels of attenuation in 10dB steps down to –40dB), maximum volume trim, clock configuration, all manner of display parameters and numerous other functions.
So totally customisable is this unit that one needs an evening just to set it up for total personalisation. Indeed, the menu instructions filled seven pages in the manual. If you are an inveterate fiddler, however, you will want to situate the 255i at eye level, because the small back-lit display is hard to read if you are even slightly off axis.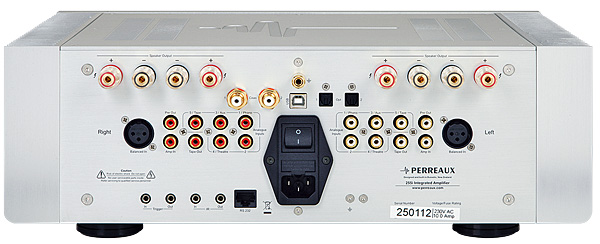 Only when you turn the unit around will you see what this model adds to the original. Across the top are the speaker terminals for normal or bi-wiring, on either side of an earthing post. Below, in left-right mirror image are XLRs for one balanced source and four sets of RCAs configured as line inputs, with Input 1 marked 'phono' for the module, should one be fitted. Input 4 bypasses the volume control for signal throughput, eg, as a home theatre loop. At the bottom are trigger inputs of various types and RS232 input for configuring system integration. At the centre is an IEC mains input, the primary on/off rocker and a fuse holder. The digital inputs are placed in a row above the analogue sockets.

It's An Animal!
It took only minutes to drop this into the system in place of my Audio Research pre/power combination. Sources included the Marantz CD12 and Pro-Ject CD Box transports, the Mytek Brooklyn DAC [HFN Aug '17] and the SME 30/2 turntable [HFN Nov 1990] with Series V arm and London Gold cartridge. Speakers included the Gato Audio FM-50s and the Wilson Yvettes [HFN Feb '17]. Absolutely no snags occurred, no grazed knuckles, no gnashing of teeth. In other words, this is a dream to set up.