Paradigm Persona 9H Loudspeaker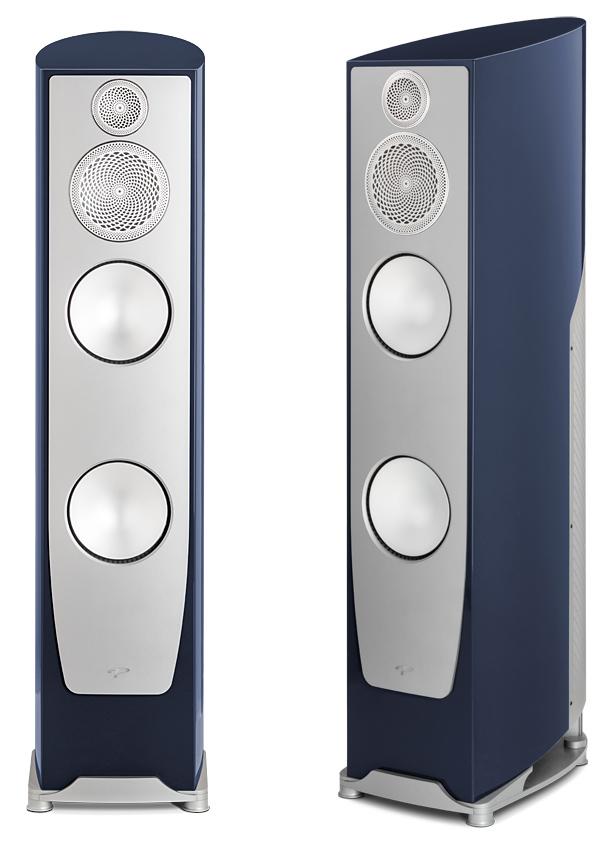 The ultimate expression of Paradigm's Persona speaker range is an active/passive hybrid, with room EQ too...
Canadian company Paradigm makes no bones about where its Persona range is pitched: it describes it as 'The Evolution of Luxury', as you might hope of a lineup topping out with the 9H speakers at £34,000 a pair. In fact the Persona 9H is currently Paradigm's absolute top model, being the priciest, and technically most complex, design in the company's flagship range. Like the other Persona models it comes in a choice of five standard colours: Harmony White, Vanta Black, Carbon Black gloss, plus metallic Aria Blue or Sonic Silver.
In addition, with these speakers being made entirely in-house by the company in Canada, it's possible to have them in a range of special order finishes, subject to a six-week lead time from the factory: 16 gloss and metallic colours are available, including Burnt Orange, Candy Apple Red and British Racing Green, and one can also choose between silver or black for the metalwork, with the optional grilles available in black, silver or slate grey.
Meet The Family
The rest of the Persona lineup follows a fairly conventional pattern, starting with the £8600 Persona B bookshelf model, and running up through three more floorstanders, designated 3F, 5F and 7F, as well as having a centre speaker and an active subwoofer to keep the multichannel enthusiasts happy. The 'B' and the 'F' suffixes are pretty self-explanatory, as is the 'C' on the centre channel, but the speaker we have here is the only one with an 'H' suffix, denoting its hybrid combination of a conventional passive midband and treble with an active bass section.
The bass department is fully integrated into the design of the speaker, which only has a mains input to show it differs from an entirely passive design – well almost, but we'll come to that in a moment – and is connected to an amplifier conventionally using bi-wirable terminals.

To The Max
By any standards these are large speakers, standing some 132cm tall and, with a fighting weight of 86kg apiece, these Paradigms take some shifting. But the payoff for all that is a bass extension claimed at 15Hz, an on-axis response flat to within ±2dB, a sensitivity of 93dB and a benign 8ohm load impedance. While Paradigm specifies an amp compatibility of 15W-500W, we wouldn't be tempted to hook them up to a low-powered valve amplifier. Instead we drove them to the max using the Constellation Inspiration Monos [HFN Oct '19] fronted by the dCS Vivaldi One DAC/preamp [HFN Feb '18] and a Melco music library [HFN Jun '17], all in editor PM's listening room.
Even before we get to the active bass section and the provision of built-in room-correction courtesy of compatriot and stablemate Anthem, there's much to attract our interest here, not least the use of beryllium for both the tweeter and the midrange unit. Paradigm may not be the only company to use this material for high frequencies, but extending its use to the midrange is both unusual and necessarily expensive. Both drivers use 'Truextent Beryllium' diaphragms, the 25mm tweeter sitting behind a 'Perforated Phase Aligning Tweeter Lens' – which is styled with somewhat psychedelic swirls – while the 17.8cm midrange unit uses a similar PPA 'lens' assembly, and is powered by an 'Inverse Differential Drive' neodymium magnet assembly.
Double Bass
Things get even more complex with the bass section… Four 21.5cm 'Ultra high-excursion X-PAL' drivers are used in each speaker, held in place with a 'Shock-Mount Isolation System' and driven, in pairs, by DSP-controlled 700W amplifiers. Just in case you're wondering about those four bass drivers, when a glance at the front of the speaker reveals just two, the Persona 9H has another pair off to the rear. These operate in vibration-cancelling opposition, as seen in designs from some rival manufacturers, and vent through vertical grilles in the tapered back of the cabinet.
This has the side effect of making these speakers rather more sensitive to room placement than some more conventional designs – let's just say that if you don't have the space to get them well out from walls and corners, perhaps they're not right for you. Paradigm suggests at least 20cm from the rear wall and 'as far as possible' from the side walls, but I'd be inclined to suggest that having the speakers that close to the rear wall might be pushing one's luck.