Mola-Mola Tambaqui Network-attached DAC/streamer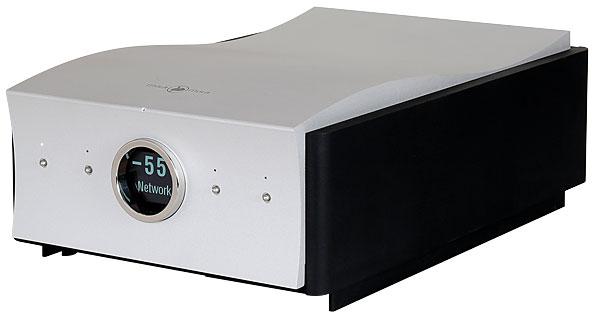 Adding Roon-ready capability to its highly customised DAC has given this curiously-named Dutch company another highly intriguing device. Nothing fishy here!
For an insight into the digital audio product we have before us, the £8999 Mola-Mola Tambaqui, I turn to no less an authority than biologist, author and TV presenter Jeremy Wade, best-known for his series River Monsters and Dark Waters, in which he goes in search of – and catches – some of the world's largest and most predatory fish.
There, in a YouTube video entitled The Terrifying Tambaqui, he cradles in his arms the fish itself, which he has just hooked by accident while angling for an entirely different species in a South American river. He explains to the camera that this giant-sized member of the piranha family, while replacing that creature's needle-sharp teeth with a mouthful of grinding stumps, is one of the most powerful denizens of the deep he has ever caught.
So there's the backstory to the name of this DAC/headphone amp, from the also piscatorially-monickered Mola-Mola. Why all the fishy stuff? Well, the explanation goes that the sunfish logo and name – the scientific one for that creature – came from an industrial design consultancy in the early days of the company. But while founder Bruno Putzeys, of Class D/Hypex fame, liked those, he wasn't too sold on their ideas for the casework design, and decided to do the styling himself. Clients, eh?
Going Fishing
Putzeys' original idea was also to call the first products 'Preamp' and 'Power amp', but his Japanese distributor wanted model names, 'So I went through Wikipedia hunting for interesting names. You wouldn't believe how boring and prosaic most fish names are: it took two days to find Kaluga (a type of sturgeon) [for the power amps] and Maku'a (Hawaiian for 'Mola mola' – I subsequently dropped the glottal stop) [for the preamp].'
Both the Makua and Kaluga have graced our front cover [HFN Aug '17], and the Tambaqui is basically the £4299 optional digital stage of the preamp rendered in standalone form – albeit somewhat modified. It's designed, the company says, to deliver 'digital that's as good as analogue'. While it certainly looks like a hefty piece of equipment when viewed from the front, the rear view gives away the fact that the Tambaqui is actually relatively compact, measuring 20x11x32cm (whd), while it weighs in at a mere 5.2kg. In fact, the review sample came in a black plastic case, robust and made waterproof – although from the outside in, or vice versa, was not entirely clear.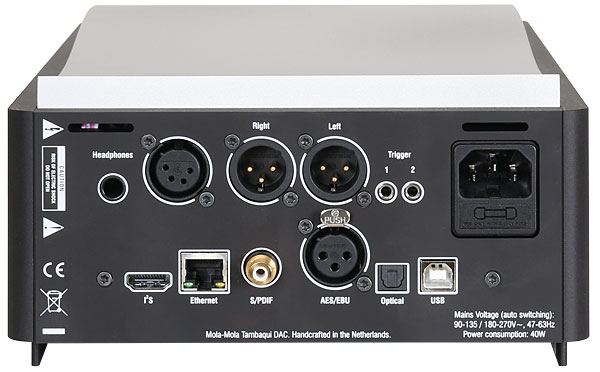 As well as being a digital-to-analogue converter and a headphone amplifier, the Tambaqui can even be used as a digital preamp, as both its headphone outputs – on a conventional 6.35mm socket and a four-pin balanced XLR – and its line outs, which are only on a pair of XLRs, can have their level adjusted using a lossless digital volume control. Add on a pair of Kalugas, and you have a simple system for those with no need of analogue sources, complete with two 12V trigger sockets to switch the power amps on and off.
Net Benefits
The inputs here are on an extended range of digital socketry – the usual coaxial, optical and AES/EBU, plus an asynchronous USB-B and an I2S input on an HDMI socket. In addition there's an Ethernet connection, allowing the Tambaqui to be connected to a home network, although this unit isn't exactly a streaming music player in the manner of, say, the Gato Audio DIA-250S NPM. True, there is a Mola-Mola control app, available for both Android and iOS, but this is more about the set-up of the DAC, volume control and firmware updates, and exists as an extended alternative to the striking remote handset. Like the rest of the company's range this is milled from a single block of aluminium, has a shape evocative of a fish in motion, or perhaps an ocean wave, and is available as an option at £599.
As well as controlling the basic functions of the Tambaqui – and in essence its functionality is pretty basic – the app can also be used to set up a range of four presets for various listening configurations: selecting an input, whether the output is at line or variable level, whether or not the headphone output is on and the assignment of the 12V triggers.
Roon To Grow
The Ethernet port is there to interface the Tambaqui with Roon music playback software, at which point the device stops being just a DAC/headphone amp, and becomes a complete music playback device as a Roon endpoint. The Tambaqui can handle digital sources up to 192kHz/24-bit via its S/PDIF inputs, this extending to 384kHz/32-bit via USB and Ethernet, and can also accept up to DSD512 via USB and its Roon connection. The DAC architecture is described by the company as a 'two board stack, in which all incoming data is upsampled to 3.125MHz/32-bit and converted to noise-shaped PWM on the first board, and then handled by two mono DACs on the second board'.