MoFi SourcePoint 10 Loudspeaker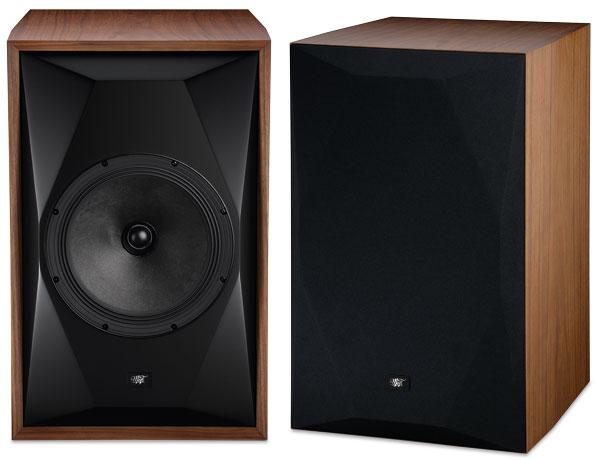 Hi-fi's 'go-to' speaker innovator, Andrew Jones, is behind MoFi's first loudspeaker – a robust standmount featuring a dual-concentric driver with nothing less than a 10in cone
Launched in the 1970s as an audiophile-grade record label, Chicago's Mobile Fidelity has acquired a celebrated reputation among vinylistas, particularly for its One-Step pressings [HFN May '17]. Its move into the world of vinyl replay in 2016, under a new MoFi Electronics division, was arguably a long time coming. The range now extends to cartridges [HFN Jan '22], phono preamps [HFN Mar '20], and three turntables – the StudioDeck [HFN Jan '20], UltraDeck [HFN Jul '19] and the luxurious, Fender-branded PrecisionDeck. And the next obvious step? Loudspeakers.
Priced at £4500 a pair and available in either a satin walnut or black ash real wood veneer wrap, the SourcePoint 10 is the result of a two-year development project led by designer Andrew Jones, formerly of KEF, TAD, ELAC and others. MoFi has given its model the stated intent of 'breaking through a crowded speaker market'. Time will tell whether or not that mission has been accomplished, but there's no denying this speaker stands out by virtue of its atypical design.
Walking Tall
Measuring over half a metre tall, 368mm wide and 406mm deep, and weighing in at 21kg a piece, the SourcePoint 10 can hardly be classed a bookshelf speaker, even if our pictures suggest it looks a lot like one. Nor is it part of the 'compact' floorstander market, where angled stands and baffles are used to target the listening position. It is simply a rather large standmount, with MoFi also selling robust, four-legged open stands (£550) to raise the speaker to an optimal height.
If such generous dimensions (and a 50-litre cabinet volume) can be considered unconventional, more so the SourcePoint 10's driver complement – because that bass/mid unit framing the tweeter in MoFi's two-way coaxial array is 250mm in diameter. Convert that to inches, and you get the origins of the loudspeaker's name.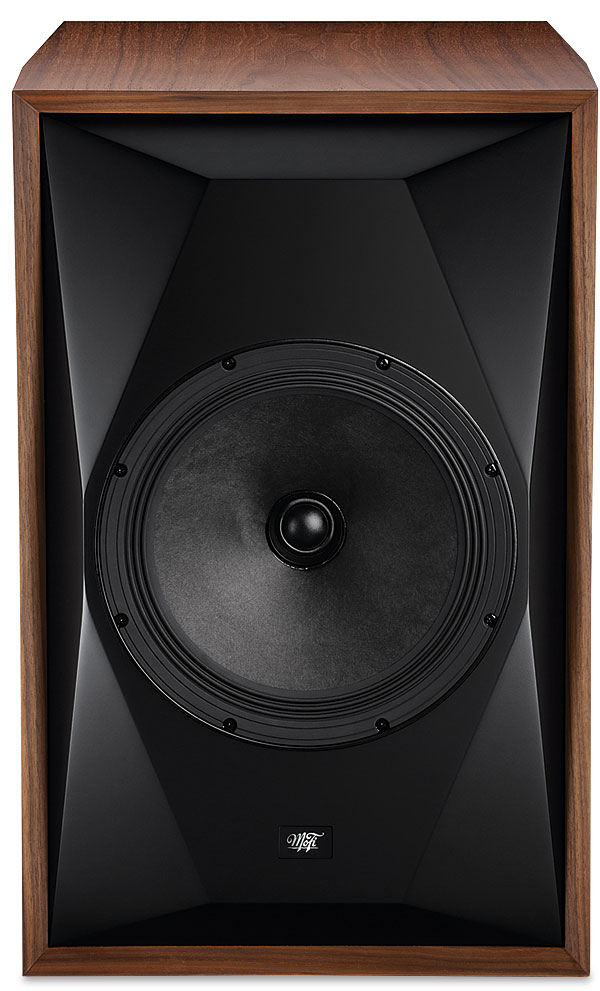 This array is both unusual for a speaker in general and for Andrew Jones, who says 'my typical approach has been to use a three-way'. Yet in pursuit of a 'pure' concentric speaker with high sensitivity and deep bass extension, plus a simpler, cost-efficient crossover, Jones struck upon this two-way solution. The caveat lies in that large cone, its significant surface area traded against a reduced excursion – essential, says Jones, for the coincident tweeter to be optimally loaded and IM distortion reduced, etc. We've recently seen bass drivers from Purifi, on Kroma Audio's Atelier floorstanders [HFN Feb '23], that take a different approach, with a smaller 165mm cone and complex surround permitting a far greater pistonic motion. The SourcePoint 10's low-excursion driver instead needs only a very low-profile 'multiroll' surround.
The woofer cone material is tried-and-tested paper pulp, its profile shaped to act as a waveguide for the tweeter. While stiffer cone materials with deferred breakup modes were deemed impractical and/or costly at the size, the 10in paper pulp cone demands a relatively low 1.6kHz crossover. Hence the larger-than-typical 1.25in (33mm) soft dome tweeter with wide roll surround and 28mm copper voice coil all pushing its useable bandwidth to lower frequencies.
Perfect Couple
Jones has also devised a distortion-limiting 'Twin Drive' motor system, where neodymium magnets for both the woofer and tweeter are coupled together, 'each aiding the other in driving flux across both the woofer and tweeter gaps'. This coaxial/coincident driver is housed in a robust cabinet braced with two vertical dividers and with top, bottom, side and rear panels (the latter with dual reflex ports) made from 25mm-thick MDF. The front baffle, meanwhile, is 50mm MDF, and multifaceted to reduce diffraction. This gives the loudspeaker a markedly more stylish appearance that sets it apart from the distinctly square and 'boxy' '70s-era high-sensitivity models.
Easy Rider
Placement recommendations for the SourcePoint 10 aren't particularly prescriptive – 'there is no golden rule' says the accompanying manual – but the suggestion is for toed-in cabinets to be positioned between two to four feet from rear and side walls while forming an equilateral triangle with the listening seat. In other words, these sizeable cabinets should be given room to breathe, even while they won't necessarily need to be given plenty of power. My resident McIntosh MI502 [HFN Mar '23] and Primare A35.8 [HFN May '22] power amplifiers were given a very easy ride, confirming PM's Lab Report which finds MoFi's high-sensitivity/benign impedance claims ringing true.