ModWright PH 9.0 Phono Preamplifier Page 2
Switching to a Kiseki Blue MC [
HFN
Jul '18], it proved to be a useful choice, enabling the PH 9.0 to show richness down below, with incredible snap and speed. It immediately caused me to plant it in a (mental) Venn diagram, settling somewhere inbetween the more detailed and cooler Chinook – definitely to be preferred for those of an analytical bent – and the more tube-y Zesto Andros Deluxe II [
HFN
Sep '21].
Again, I wish I had them side-by-side (as would you if out shopping) because all-valve phono stages tend to trade absolute quietness for warmth, and this is precisely the area that makes tube products, let alone various tube substitutes, sound different from each other. I am assuming, by the way, that you accept that I am treating valve phono stages vs. solid-state as an either/or proposition, the latter almost invariably having a lower noise floor, or less romance.
Drums out of the way, Ringo's familiar-for-a-half-century vocals were delightfully uncoloured and expressive, that slightly nasal twang so clearly defined that you could almost use it forensically to hear how his voice has changed since he sang 'Honey Don't' in 1964 with The Beatles. Whatever preconceptions or bias the anti-valve brigade wish to apply to tubes, a lack of transparency ain't part of it: you can hear every nuance in that voice.
Snap To It
Even more textured, rich and distinctive is that of the late Willy DeVille, and I was drawn to the LP mix of 'Assassin Of Love' on Miracle [Polydor POLH39]. Like Ringo, Willy had a characteristic nasality but this was interwoven with a gritty element that made him unique.
While this take lacks some of the impact of the 12in mix, it's still a marvellous example of Mark Knopfler's production skills, and the ModWright PH 9.0 had no problem separating the layers of sound, while the transients were so snappy and crisp that I thought the Kiseki had morphed into a London Jubilee. If the standard version is this fast, and it's this weighty down below, I can only fantasise about the sound of the 'X'-suffix version to come.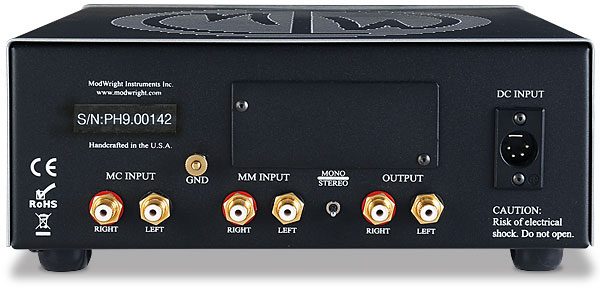 Before you roll your eyes upon hearing that I turned to a Mobile Fidelity One-Step, rightly attributing it with near-magical properties that will elevate any system, note that the above are standard pressings. Having just auditioned the Eagles' Desperado [UD1S 2025] through a phono stage costing over £6000 and with more MC settings, I wanted to gauge any losses. The shocker was a gain, not a loss: the ModWright PH 9.0 has a staggeringly wide soundstage, enough even to extract all that's on offer from a Denon DL-103 pick-up or DL-A110 [HFN Mar '21].
This is, of course, an LP that fans of the band have played to death, knowing each guitar lick, the way the harmonies mesh, the lilt of 'Tequila Sunrise', the lovely cymbal/drum fills, and the soundscape and plaintive harmonica opening of the final track, 'Doolin-Dalton/Desperado (Reprise)'. As unfashionable as they once were (punk has a lot to answer for, almost 50 years on), The Eagles delivered some of the most luscious Left Coast albums ever, and the harmonies deserve to be listed with those of The Beach Boys, The Hollies and, yes, The Everly Brothers. The ModWright PH 9.0 celebrates them.
While neither the Willy DeVille nor the Ringo tracks demand the ultimate in finesse or delicacy, the PH 9.0 stunned me with the myriad instrument picking in 'Twenty-One'. You could hear the banjo's 'drum head', and there's a party game to be held identifying the mandolin, Dobro and – again – banjo segments, probably Bernie Leadon's handiwork. This phono stage may be fussy about the cartridges you feed it, but it certainly has no weaknesses when it comes to separating tonal colours and textures.
Hi-Fi News Verdict
A fascinating mix of clear sonic and functional virtues plus a few practical quirks makes the ModWright PH 9.0 a unit that must be demo'd with exactly the cartridges it will be fed. I loved the construction, the ergonomics, the build quality, and the sound with the Kiseki Blue and – oddly – one of my many Deccas, but I hesitate to call it 'universal'. This deserves to be heard in situ, to appreciate its worth.