Metaxas Marquis headphone preamp

Something for the high-end user with a sense of fun – Metaxas' Marquis 'Memento Mori' headphone amp marries form with function and the result is rather jolly. Er, Roger.
Headphones now rule – period – and as a vivid illustration of the current profusion of cans, I was staggered to see, at a store in Tokyo, a selection of something like 1500 headphones, and with plenty of high-end brands notable by their absence.
Metaxas' Marquis 'Memento Mori' ('Remember that you must die'), unsurprisingly, wasn't among them. It costs £6000 and is, one suspects, rather exclusive. But I point out the propagation of headphones and headphone amps over the past few years to show you how broad the field is, as opposed to indicating what is this unit's competition. That's because – if you look at it – it has none.
A Solo Pleasure
Headphone amps have been around for decades, long before the iPod launched the headphone craze, the enabler of the latest flood of amps. I recall AudioValve's RKV – now 30-plus years old – as one of the earliest, along with Brocksieper's EarMax and others that were way ahead of the curve. High-quality models now feature in the catalogues of everyone from McIntosh to Chord to Musical Fidelity, while Chord, AudioQuest, Meridian and many others have all produced USB headphone DAC/amps to improve listening on the move.
In addition to the above are compact integrated amps masquerading as headphone amps, combination amp/DACs and some that can act as proper preamps thanks to line-out socketry. Metaxas has followed the last-named, purist path, and eschewed a built-in DAC. It even lacks that other most popular facility, which is accommodating two sets of cans. The Marquis is thus a solo pleasure.
We're ignoring the elephant in the room: the single most striking feature is that it looks like a skull of roughly half-scale. It stands 250mm high on its 50mm-thick, 150mm diameter base (ironically, it's just a bit too small to act as a stand for any headphones other than the teensier ones like the B&W P3s or AKG N60NCs).
Its 'eyes' are level meters that light up red, and I have to admit, it looks so cool on my desk that I'm more than tempted to feed it material from the Grateful Dead or Iron Maiden, though I'd draw the line at 'Horst-Wessel-Lied'. My review sample was finished in a suitably Spinal Tap-ish, 'no-more-black' with red knobs and hardware, though other colour choices include purple, silver, red and the gold/yellow anodised version also sent to editor PM for testing.
Although it boasts performance worthy of the best headphones, this is probably secondary for a certain type of buyer. It is aimed just as much at the luxury-obsessed, the person who buys sculpture and paintings, and who will be just as enamoured of the look, feel and finish, which ensure that it reeks of style.
Let's get the 'why' out of the way. This is 2017. This level of concern is to be applauded as the world of headphone-users-in-the-home now embraces everyone from audio enthusiasts to Millennials who have never used speakers and to every stripe in between. With its £6k sticker and its sculptural form, it also has to have the sort of appeal that sells high-end watches, cookers, sunglasses and other luxury items where the tactility is as important as functionality.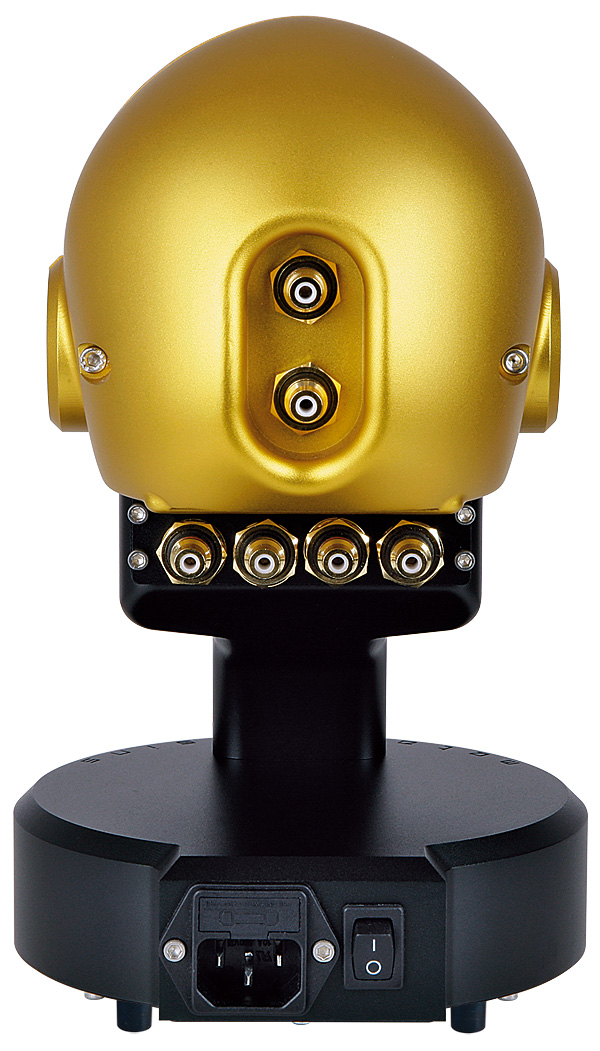 Ol' Red Eyes
For nearly every one of us audiophiles, performance alone is often enough. Beyond that come price, reliability, features and functionality, but for civilians, such costly objects need a certain je ne sais quoi. And the Marquis is without question an objet d'art, so cool, so desirable that there are people who will buy one even if they never listen to it. At present, 'skull chic' is omnipresent: you might consider getting one to match your Fiona Kruger Memento Mori wristwatch.
All that sculpture – with the emphasis on 'scul' – aside, the Marquis does what a fine headphone amp is supposed to do. It places its single, locking, pro-grade ¼in socket on its front at the skull's 'mouth', sited below and between the source selector and the volume control (a 4-pin LEMO option is also offered). And I get a kick out of the 'eyes' glowing red and flickering along with the signal levels.
At the back are a pair of robust, gilded RCA phono sockets for the aforementioned preamp and two pairs of the same for 'Line In', hence its potential as a two-source, line-level preamp. Also at the back are the IEC mains input and on/off rocker.

A Richer Ride
A few weeks after I received the Marquis, Petronel from distributor Audiophiles Clinic turned up to reduce the unit's impedance to better suit my reference Audeze LCD-X headphones [see PM's Lab Report]. This was interesting as it presented an opportunity to see the innards, the skull opened to reveal tidy motherboards with multi-pin computer-style connectors [see picture on next page]. Thus it would appear you can order your Marquis optimised for high or low impedance cans.