Lyra Etna SL cartridge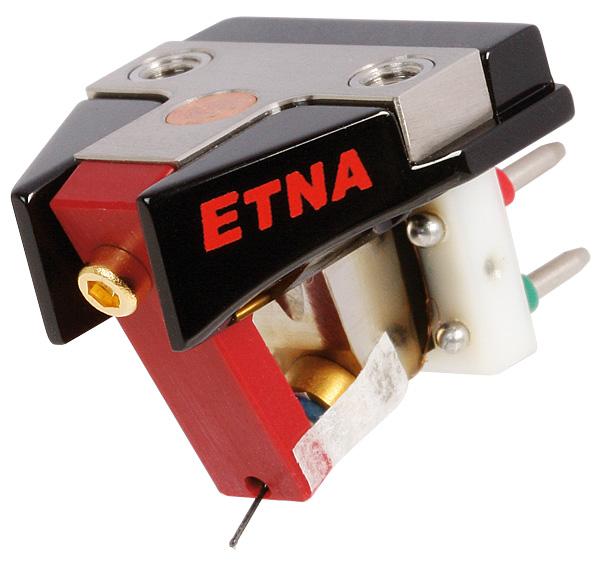 With a radically different design to other MCs, Lyra's second-to-top cartridge has a sound unlike anything else around. Costly yes, but what price the pursuit of perfection?
Analogue addicts find themselves with a bewildering array of choices that extends way past which turntable and/or tonearm to buy. The world of cartridges is complex and potentially baffling, especially with moving-coil types. Many eventually progress from buying the big brands to trying out specialist makers – and it's here that we find Lyra. Its products inhabit a niche within a niche: they are all hand-built, low-volume devices that for nearly a generation now have sold largely to devotees of the brand.
Avoiding Resonances
The company's house sound – if you can call it that – is a tantalising blend of delicacy, subtlety and finesse, with detail and drive aplenty. Unhappily, some vinylistas don't like it because it's just not romantic enough, for there's still a school of thought that vinyl LPs should sound warm and fluffy rather than truthful. Yet many think the marque's sound to be deeply special – coming very close to the ideal of a truly modern MC transducer.
Designed by Jonathan Carr in Tokyo, [see Sidebar], the cartridges themselves are built by associates Yoshinori Mishima, with Akiko Ishiyama assisting in the production of the more affordable Delos [HFN May '13] and Kleos. Here though, we sample the penultimate £6495 Etna SL (Single Layer), second only to the flagship Atlas – and in this low output guise a special order product that attracts a 10% surcharge. Output is rated at 0.25mV for 5cm/sec.
Described as a low impedance, low output design, the Etna SL sports an open body, unconventionally shaped coils, asymmetric suspension, exotic cantilever materials and a special Japanese-sourced diamond stylus. In engineering terms it's a good way away from the majority of moving-coils on sale, at this or any other price, although its medium 9.2g bodyweight and remarkably low 1.72g recommended downforce suggest that it is compatible with most contemporary tonearms [see PM's Lab Report].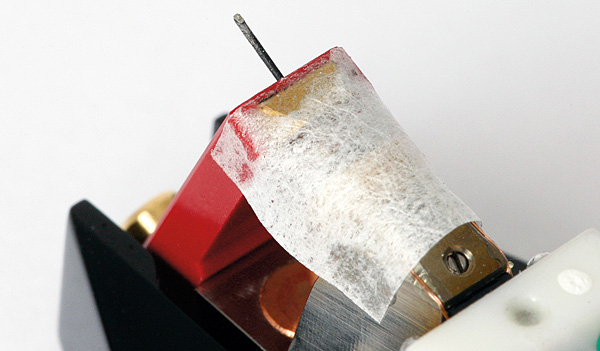 The Etna SL is assembled onto a solid titanium core, machined with non-parallel surfaces to inhibit internal reflections wherever possible, just like its Titan i antecedent. Where it differs is in its asymmetric duralumin outer body that locks tightly over the core and which, along with pressure-fit bronze and stainless-steel vibration control rods, is claimed to dramatically reduce any structural resonances.
Lyra stresses the importance of this control as the vibrational energy created as the stylus passes through the record groove is reflected inside the cartridge, its cantilever damping coping with only so much. The Etna SL attempts to create a seamless connection between the cantilever assembly and tonearm headshell, where this resonance can be better dissipated. Its asymmetric shape moves the front magnet carrier, mounting screw and screw hole out of this mechanical path. The latter two components are at the front of the cartridge, and there's an additional bronze damping barrier between these and the mechanical route from the cantilever to the headshell.
Another distinctive feature involves the way the cantilever assembly is fitted directly into the titanium body structure. Both are shaped so that joining the two together creates a double-knife-edge fulcrum, which focuses as much pressure as possible on the joint area and achieves a type of 'cold weld', says Jonathan Carr.
Lyra's 'New Angle'
The coil array itself is X-shaped and employs 6N high-purity copper, in common with the flagship Atlas. While promising improved channel separation, Lyra's X-core coils are also configured for improved efficiency over traditional 'square-coil' cartridge designs. This in turn has meant slightly higher output with less wire in the coils (22% less than the Titan i, for example) while also improving tracking performance.
Even the way the signal coils are mounted is unconventional. The Etna is the latest MC to use Lyra's 'New Angle' system of mechanically pre-biasing the coils so that they accurately align with the front and rear magnets when the stylus is sitting square in the groove at the recommended tracking force of 1.72g. This system also equalises the vertical and horizontal compliances, allowing the coils to move equally easily in all directions. In turn, says Lyra, this makes for better dynamics and tracking. Incidentally, the cantilever is a diamond-coated boron rod, with a Lyra-designed variable-radius 3x70µm line-contact stylus, which is slot-mounted into it.

Ride Of Your Life
Once you've got over the emotional rollercoaster of installing this skeletal moving-coil into your favoured tonearm, the fun can begin. Just a few minutes from cold, it's obvious that the Etna SL is an exceptional pick-up cartridge – more than just 'great', it is quite remarkable and one of the finest I have heard. These things are a matter of taste of course, but I fail to see how its heady combination of forensic accuracy allied to a wonderful joie de vivre would fail to impress anyone. It is not a cold and soulless excavator of detail yet it does this brilliantly. Neither does it offer a louche, euphonic nostalgia trip, but pulls you, instead, into the beauty of the vinyl LP as effectively as anything I have yet heard.