Luxman L-509X integrated amplifier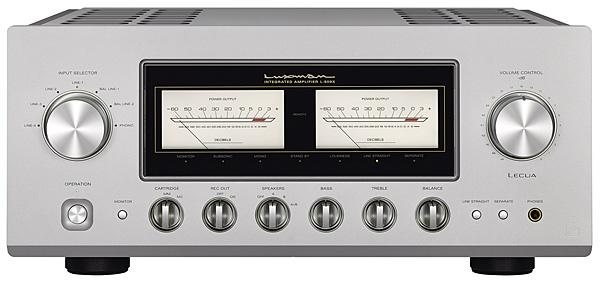 The style may be 'retro', but this powerful integrated amp from a Far East legend is no exercise in nostalgia: it lacks fashionable digital inputs, but has serious sonic appeal
OK, so it may help explain the whole 'vinyl revival' thing, from portable record players with greater tracking weight than a Caterpillar bulldozer to supermarket own-brand LPs, but looking to the past will only get you so far. Forget all that longer summers, colder winters and 'jumpers for goalposts' stuff: even nostalgia's not what it used to be. Products must stand on their own merits in today's competitive market.
Resolutely Analogue
You see, there's not exactly a shortage of big-money integrated amplifiers out there, and launching the £8500 L-509X into that arena sees Luxman facing rivalry not only from other manufacturers, but also from within. After all, the company has a handful of integrateds on its books, all of which look somewhat similar at first glance, distinguished only by the colour of their meter illumination and price. The designation echoes the original L-509fSE, which first saw the light of day back in 2002 as an attempt to combine the virtues of preamp and power amps in a single chassis, while slightly confusingly there's already the similarly-numbered L-590AXII [HFN Apr '16].
Now we have the L-509X, and while the basis is the same, this is a somewhat different animal, with a claimed output of 120W/8ohm, rising to 240W/4ohm – not that the L-590AXII proved exactly starved of power when PM lab-tested that one, delivering 95W/8ohm and 165W/4ohm. I have to confess to being something of an adherent to the maxim that a bit of extra grunt never goes amiss when it comes to the ease with which music is delivered, and so it proves with this new Luxman.
A bit of extra grunt may also be what you emit when called upon to unbox and set up the L-509X for it weighs a not insubstantial 29.3kg. At least the effort gives you a reassuring sense of where all your money's gone, an impression that's reinforced when you have the amplifier in place, connected up and switched on.
The star turn, as on all current Luxman amps, is the presence of the two illuminated meters, placed exactly front and centre, but the symmetrical layout of the substantial fascia is also highly pleasing, as is the attention clearly paid to the feel and weighting of the controls. There may not be the knowingly retro flip-switches of the wood-sleeved 'Classic Series' Luxman products, but even before you start using it in anger the L-509X has a sense of substance and total quality – luxe indeed. The design here is very much classic 'preamp and power amps in one box', with the two sections able to be split if required. And at heart this is a very simple amplifier, with none of that built-in DAC nonsense, let alone a sniff of a Wi-Fi antenna or Ethernet port – it's resolutely analogue, with no more than four line-ins on RCA sockets plus two sets of balanced inputs, plus a switchable MM/MC phono stage.
Hard As Brass
Record out and monitor sockets are provided, along with pre-out/power amp in – you could use the last of these to integrate the L-509X with an AV receiver or processor – and there are two sets of switched speaker outputs and a fascia headphone socket. The controls, though there seem to be a lot of them on the front panel (somewhat at odds with the 'input selector, volume control and that's it' trend), are similarly simple. The input selector is one of the two beautifully precise knobs either side of those meters, while the identical-sized adjustments arranged below allow MM/MC cartridge selection, record out, speaker switching and tone/balance controls, bypassable using the 'Line Straight' button. Oh, and there's a remote handset provided, also able to 'drive' a Luxman disc player – and turn off the L-509X's meter illumination too.
The volume control bears the legend 'LECUA', which looks like one of those meaningless Japanese terms, right up there with Acura, Regia and Canter (the last of these an unfathomable designation for a range of trucks). In fact, LECUA is the Luxman Electric Controlled Ultimate Attenuator, here in its latest LECUA 1000 version, which controls both volume and balance with a system directly connecting the substrate of the attenuator and amp circuits to reduce noise, and offering 88 steps of volume adjustment. Other claims for this design include greater resistance to the effects of vibration, enhanced accuracy across the volume range, and long-term durability.