Luxman D-N150/SQ-N150 CD Player/Amplifier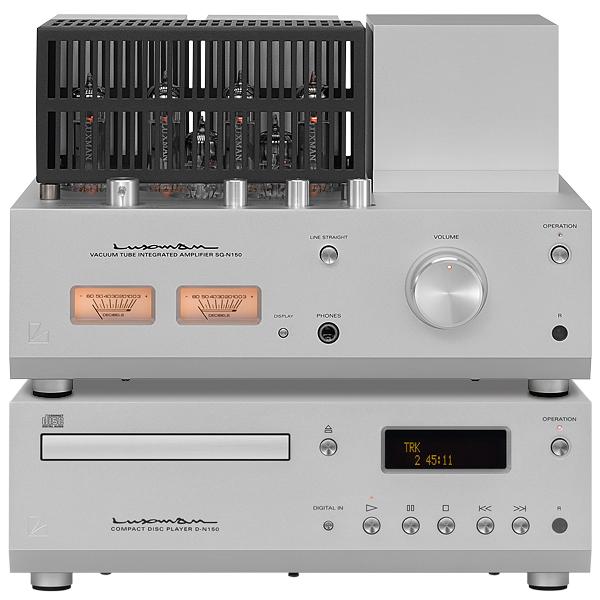 Luxman has re-introduced what just may be the dream desktop rig, comprising the new NeoClassico CD player and tube integrated amplifier – or is it much more?
Can we agree that it's possible to love more than one system, as you would savour more than one type of whisky or wine? Masseto and Tignanello are simply not mutually exclusive. Luxman's re-imagined NeoClassico series is appropriately costly but not saddled with a 'high-end' price, so at £2500 for the D-N150 CD/DAC and £3000 for the SQ-N150 integrated amp, it is not an alternative to, nor a substitute for a high-end, high-power system. It is not out to usurp the role of your D'Agostino.
Rather, this revives Luxman's role in a peculiarly Japanese genre, what I once called 'Bonsai Hi-Fi,' exemplified by the late, lamented Toshiba Aurex gear. It must be said that Japanese makers were not the first to issue serious-yet-compact components (and not to be confused with the risible mini/midi-systems of the 1970s). As a precedent, Quad's 33/303 wasn't exactly gigantic, and it still packs more punch for its size than many others can muster. Luxman's NeoClassico resuscitates a compact system last offered a dozen years ago, down-sized valve amplification and a CD player which manifested all of the brand's virtues.
Power Of Ten
First released in 2007, the SQ-N100 integrated and D-N100 CD player, with A4 footprints, have been sorely missed by fastidious audiophiles wanting something beautifully-appointed, fully-equipped and delivering sound quality not associated with bijou dimensions. After the passing of a decade-plus, Luxman says the SQ-N150 and DN-150 are a response to requests 'to bring them up to date'.

Only marginally re-styled because the look was so close-to-perfect, the new units have been reworked without sacrificing any of the charm of the originals. The build quality defines what ought to be an industry standard – it's simply flawless. The SQ-N150 integrated retains an A4 footprint (297x210mm), while power is a meagre 10W/6ohm, courtesy of four EL84 output tubes from JJ Electronic from Slovakia, in push-pull configuration. Input tubes are two ECC83s from the same supplier.
It accepts three line sources and phono via a switchable MM/MC input. These are accessed via a beautifully machined rotary control with a rod extending from it, which acts as a pointer to each source's label. Three smaller knobs handle bass, treble and balance, and Luxman has also added a front-panel headphone output; the speaker outputs mute when the ¼in jack is inserted. This addition exemplifies the desire for the units to address both the unstoppable modern preference for cans and the realisation that hi-fi-in-miniature will find favour with flat-dwellers in need of smaller systems. Urban music lovers often wish to use headphones to prevent battles with neighbours.
Sucker Punch
Also new are the illuminated analogue output meters. A pushbutton lets you switch off the lighting should you wish, but it looks too nice when lit up to do so. Around the back can be found RCA phono sockets for the three line sources and phono, as well as an earthing post, while the loudspeaker terminals are nicely made multi-way types.
Matching the SQ-N150, for siting underneath or next to it, is the D-N150 CD player, which I fell in love with instantly as I'm a sucker for Luxman's finishes, compact dimensions and the classy display. Yellow-on-black, it shows the track, time-remaining or elapsed or the chosen digital source, while a zoom facility expands the key data shown by the default small numerals to fill the display area.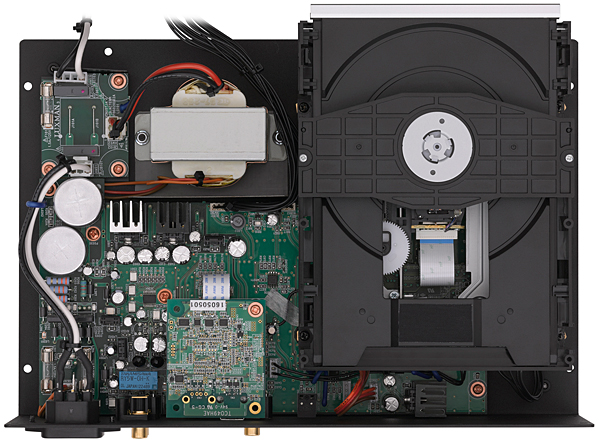 Inside is the same transport found in the company's D-380 CD player, feeding a TI PCM5102A DAC, providing compatibility up to 192kHz LPCM via its S/PDIF (24-bit) and USB-B (32-bit) digital inputs. CD playback is conventional with the usual tray and transport commands, and all of the operations matched on the machined-aluminium RD-27 remote.
There is also a simpler RD-25 remote available with volume, mute and basic CD controls, but the amplifier's other commands are found on neither of the handhelds. However, as noted, if this sits on your desk, you won't have to reach too far for source selection, nor for operating the tone or balance controls.

Holy Cow
Warned by editor PM about the power limitations, yet driven by a massive dose of retro-mania, it took, oh, three seconds to realise that I was in for the sort of surprises which keep me from being jaded. Panic preceded the hook-up due to my not owning Klipsch Heresies, Lowthers or other high-sensitivity horns. Gingerly, I mated the Luxman SQ-N150 with JBL's adorable 4312KM II miniature monitor and the near-legendary Tannoy Autograph Mini. Both are scaled-down impressions of full-sized classics, in the manner of the Luxman amp and CD player here.