Lumin P1 Music Server/DAC


Described as the company's most versatile digital player to date, Lumin's P1 is an unashamedly high-end network audio solution. But can it be all things to all users?
As is so often the case with network audio products, the salient question concerning the Lumin P1, yours for £8495 in a choice of silver or anodised satin black sculptural milled-from-solid casework, is what it is exactly. The company can help with that, suggesting it can be just about anything you want: a network player, a DAC, a preamp (complete with analogue inputs as well as the digital array), or all three. Helpfully it also points out that it can function as a two-channel sound processor for a home cinema system, having three HDMI inputs and a single output with Audio Return Channel capability for a TV set. That last feature may demonstrate a little of the manufacturer's heritage: Hong Kong-based parent company Pixel Magic Systems started out in 2003 making digital TV recorders, and its products are now sold in 25 countries across the globe.
The Lumin brand was launched in 2012, and its catalogue now runs to seven network players and transports, from the entry-level U1 Mini (£1695) upwards, and includes a complete 'just add speakers' network player/amp, also at £1695. In addition there's a heavyweight £10,995 power amp, prosaically named 'Amp', delivering a claimed 160W/8ohm (or 640W bridged), and with curvaceous styling designed to match the company's high-end players – such as the P1 here.
Flexible Friend
In other words, the P1 may look unlike anything else on the network audio market, but it also offers a pretty unique set of attributes, both in terms of connectivity and internal design. However, when a product is essentially computer-based, you can add almost any facility you like, and design it into just about any form factor you choose.
So, while the P1 isn't quite Lumin's flagship – that's the two-box £11,495 X1 – it's still a remarkably capable and flexible device, however you decide to use it. And, thanks to the excellent Lumin app, usable across the company's range and running on Android and iOS devices, plus Mac M1 computers, it's one that's easy to set up and operate. For traditionalists there's also an infrared remote handset, clad in acrylic and zinc.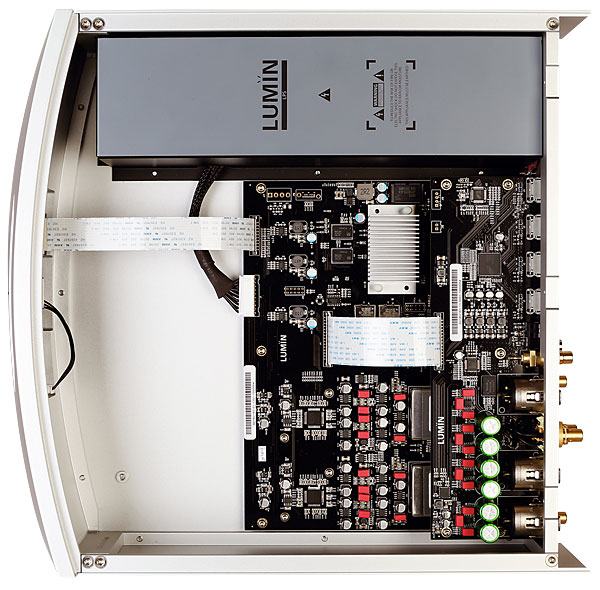 The P1 is larger than Lumin's other transports and players, standing 10.4cm tall – not least, I suspect, to give it the rear-panel space to accommodate all the inputs and outputs on offer in addition to housing the shielding for the dual-toroidal power supply. As well as its HDMIs and conventional digital inputs on AES/EBU, coaxial and optical connections, there's an asynchronous USB-B port for computer connection and analogue ins on both XLR and RCA sockets. Networking, meanwhile, offers a choice of Ethernet on an RJ45 port or an SFP fibre socket, allowing the P1 to be electrically isolated from the network to which it's connected.
The Choice Is Yours
Actually, make that networking option an 'and' rather than 'or', as the Lumin P1 can use both connections at once, for example allowing the user to connect to their home Internet service via Ethernet, and direct to a NAS containing music via fibre. To cut to the chase – used this way the P1 benefited from a very real uplift in subjective sound quality, revealing even more detail in the music being played.
If the inputs on the Lumin P1 are comprehensive, so are the outputs. Both balanced XLRs and unbalanced RCAs are provided, configurable as fixed level for use into a preamp or integrated amp, or variable for power amps and active speaker systems. There are also digital outs on BNC and USB-A should you feel the need to use the P1 into an external DAC, but given the performance of the P1's internal DAC and analogue output stages, I'm not quite sure why anyone would want to do that.
The P1's own digital section uses two of the familiar ESS Sabre ES9028PRO DAC chips as part of a dual-mono, fully balanced layout throughout the player, with a 'Femto clock' system under the control of software running on an FPGA. The P1 also offers the (third-party) Leedh lossless processing system to control the variable output volume level, although this algorithm can be switched in or out.
Via the network inputs, the player can handle file formats up to 384kHz/32-bit LPCM and DSD512, and via USB up to 384kHz/32-bit (and DSD128 via DoP), though as is usual the optical and two electrical inputs are limited to 192kHz/24-bit and DSD64 via DoP. There's then a wide range of upsampling options available when you dig into the menu system via the Lumin app, as well as settings including dimming or turning off the info display, setting a sleep time when the unit hasn't been used for 15 minutes or an hour, and adjusting the fixed output level to suit your preamplifier.