Krell Evolution 525a (£12,000)
The latest Evolution drops SACD to focus on CD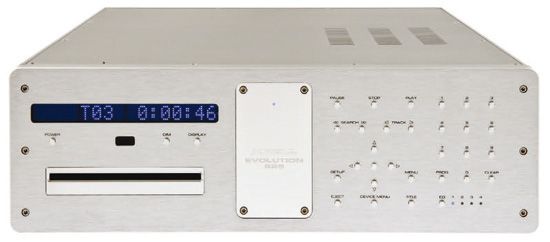 Krell's first non-amplification component was the SBP 64X DAC. Twenty-two years on we have this high-end player, following on from the Evolution 505 but this time it doesn't play SACDs. The two look pretty much the same: the front panel layout is virtually unchanged, although the transport drawer is replaced here by a disc loading slot. Above this is a bold, blue-lit dot matrix display.
By contrast, the control buttons seem tiny. On the far left the power switch brings the machine, once powered up by a main rear-panel switch, out of Standby mode, turning the centre-panel pilot light from red to Krell blue.
Apart from Display and Dim, there's is a more plentiful scattering of small, widely-spaced buttons. Somewhere among them you can find all the usual CD transport keys; others are inoperative with this model. Naturally, all the fascia controls are duplicated on the chunky metal-cased remote, which also adds single track and whole disc Repeat.
On the back panel, for two-channel audio output, you find CAST connectors for a CAST-equipped Krell preamp, balanced (XLR) connectors and the usual singleended phonos. Four additional phono sockets, complete the set of 5.1 analogue audio outputs.
In practice, though the 525a would play sound from DVD Video and DVD Audio discs, we could only get it to produce twochannel sound, so it seemed that the rest of the multichannel set were redundant. There is no video output, of course.
However, the control connections you'd expect in an AV context are present. There is a 12V trigger input and output, RC-5 wired remote input and an RS- 232 comms port, as well as CANLink connectors to provide a control link to other Evolution components. What you don't get, though, is a USB or S/PDIF digital input. So, although the 525a will read data discs containing MP3 files, it won't help you use your computer, server or set-top box as the audio source.
DRAWING YOU IN
Anyway, we couldn't wait to hear what the Krell could do for our 1979, Bop Till You Drop [Warner Bros 7599-27398-2], the bass was deep and clean, and the whole presentation had space as well as precision. On the opening 'Little Sister' you could find yourself analysing the contribution of each backing vocal line, or mentally picking apart Cooder's multiple guitars, rather than just hearing them as an electric collage.
We then floated off with Simple Minds' Cry from 2002 [Eagle EAGSACD196]. The Krell could make those dance beats truly hypnotic, and you could wallow in the kaleidoscopic soundscape. It seemed to enhance every colour of Jim Kerr's chameleon-like vocals, so that in his most nasal moments he positively dripped.
Returning to pure acoustic sounds, we put on Rosa [Telarc CD-83646], the beautiful debut album by the great Brazilian singer Rosa Passos. That lovely voice and sweet-and-gentle guitar drew you in completely. It was like being at a real performance, surrounded by a silent audience, holding its breath. On another superbly crafted recording, Eric Bibb's Get Onboard [Telarc CD-83675], the Krell seemed to allow the singer to just 'be' there, effortlessly, again emerging from a space between the speakers in a believable way. This was most striking, perhaps, on a track like 'Pockets', which is mainly just Bibb and his acoustic guitar, but the band tracks were great too.
VERDICT
A superb CD player. It just makes you go on listening. It has a towerof- strength kind of bass, wonderfully 'black' backgrounds and fabulous speed and precision.

Originally published in the Yearbook 2011