Joni Mitchell: Blue Alternate Format Discography
Alternate Format Discography
Original Release
The US edition of Blue [MS 2038] hit record racks on the 22nd of June 1971, coming in a gatefold sleeve with solid blue inner sleeve. Even now, audiophiles are appreciative of this pressing. 'Truly one of vinyl's most outstanding representatives of just how good it can sound,' wrote one commentator on Discogs. The UK version [K44128], released a month later, has a dark blue hessian textured gatefold and plain blue inner sleeve.
The LP was reissued in Europe in 1986 as part of a budget series, and while there is no printed inner sleeve, the mastering is said to be even better: 'Clear separation and lovely warmth to it', was the verdict of one happy punter.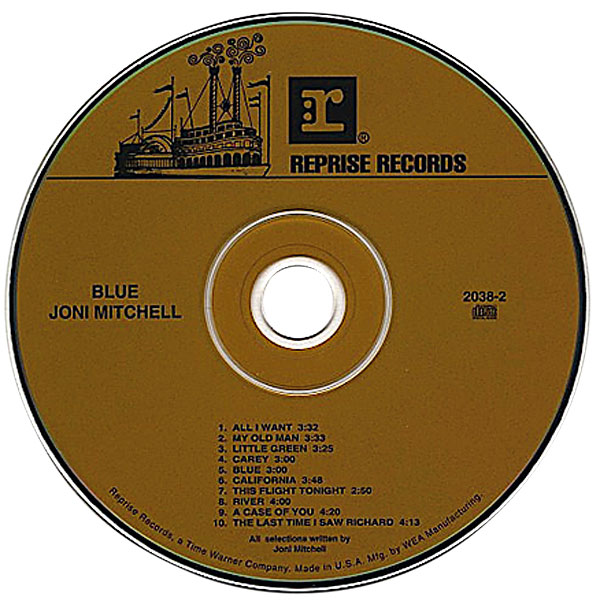 Original CD Release
The album made it onto CD, initially in Mitchell's native Canada, in 1987 [Reprise CD 2038], but was only available on this side of the pond in limited numbers as part of HMV's Classic Collection. In 1997 it was reissued and remastered for the HDCD format in both the US [Reprise 2038-2, pictured above] and Europe [7599-27199-2].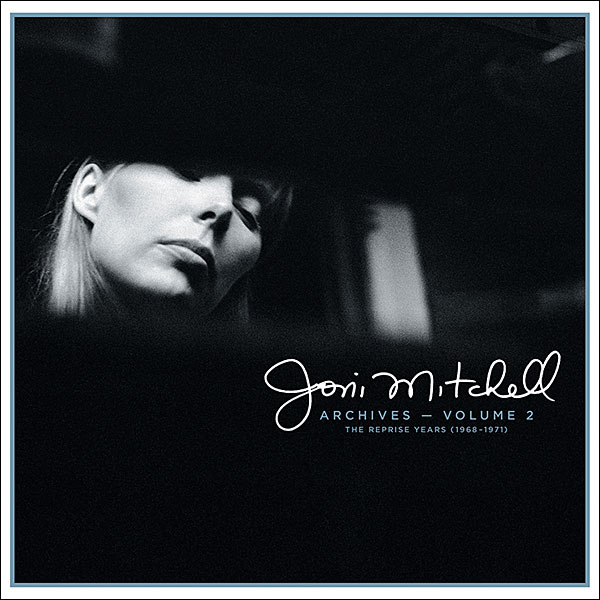 Special Edition
Released last year on the album's 50th anniversary, The Blue 50 (Demos & Outtakes) EP was initially unveiled as a digital-only release, before emerging in physical format on the sumptuous box set Joni Mitchell Archives Vol 2: The Reprise Years (1968 to 1971).
The five-track EP includes 'Hunter', an outtake from the Blue sessions that only saw the light of day at the time on the live album Amchitka, which was a recording of the Vancouver Greenpeace benefit show Joni Mitchell performed with James Taylor. There are also alternate takes of 'River' and 'Urge For Going', plus demos of 'California' and 'A Case Of You', the latter featuring slightly different lyrics.
Audiophile Vinyl
The album has been re-pressed many times (although not in huge numbers in the UK, meaning vinyl copies can still be fairly expensive) and while the original mastering was always well-regarded, Steve Hoffman and Kevin Gray's mastering of the US 2007 reissue [Reprise 74842] distributed by Rhino [label pictured below] tends to get the most enthusiastic thumbs-up from Joni obsessives.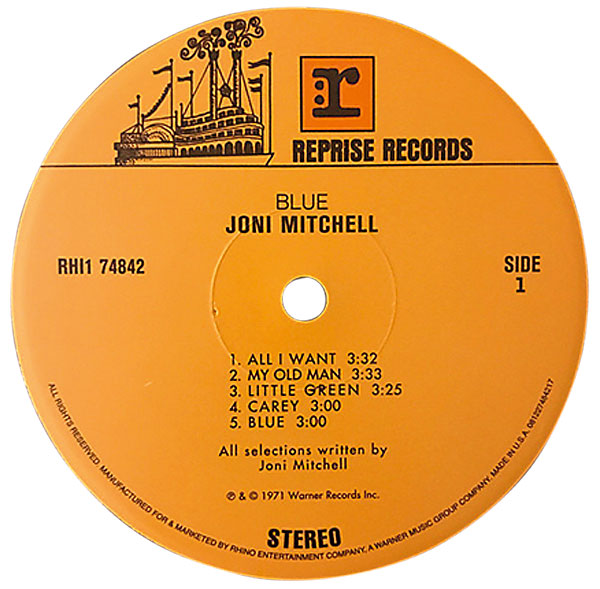 Meanwhile, the 180g version on the 10LP edition of last year's Archives Vol 2 set is also a fine pressing, and, of course, the extra five tracks of demos and outtakes (see above) are thrown in.