Joe Cocker Mad Dogs & Englishmen Alternate Format Discography
With over 100 editions of this legendary double LP album from 1971 having been released, sorting out the wheat from the chaff is no easy task, so I'll just keep it simple.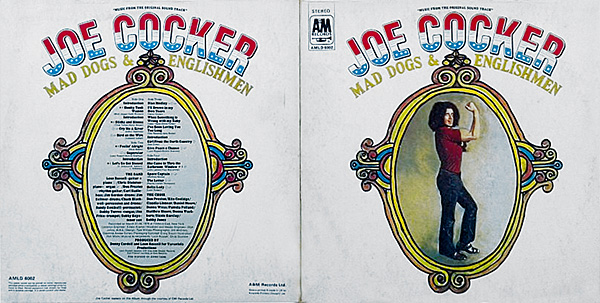 ORIGINAL LP (1970)
As I hope my Production Notes make clear, the path to this finished artefact [A&M, AMLS6002] was long, winding and rocky. How any individual receives it will be based largely on what they think rock 'n' roll is. An immaculately produced studio album this is not.
What you get is a warts 'n' all headlong rush of adrenalin from a massive band (evidently based on Phil Spector's Wall Of Sound approach) fronted by an unstoppable force of nature in the shape of Joe Cocker himself. It also appeared as an 8-track cartridge [8T-6002] and a tape cassette [CS-6002].
FIRST CD (1987)
This first CD transfer popped up in Japan [A&M D50Y3521] and was acknowledged by critics as being cleaner than the original vinyl, especially with reference to the brass and choral aspects.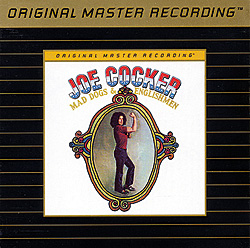 MFSL REMASTER (1998)
Inevitably, Mad Dogs & Englishmen then got the Mobile Fidelity 24k gold-plated Ultradisc treatment [UDCD 736], a direct transfer from the master tapes yet with something of a treble boost. In spite of this aspect, for many devotees this remains the definitive version.
COMPLETE FILLMORE EAST CONCERTS, 6CD (2006)
As 2006 was the album's 35th anniversary, two major new editions were released, the first being this massive boxed set with numerous extra tracks and the running order re-arranged to reflect their original playing order. But six CDs? This one's for diehards only, methinks [A&M B0005963-02].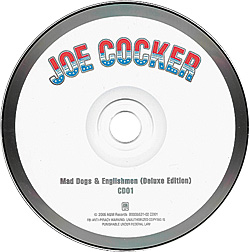 Deluxe Edition (2006)
Released concurrently was this two-disc set [A+M B0005965-02] issued with a remastered DVD of the original concert movie. It's nicely packaged, with a generous helping of extra tracks. Audio engineer Saha Gur's remaster has been criticised by some as 'harsh and brittle' but the bonuses make it a worthwhile buy for fans of the original album. If value for money is your main priority, this is probably the one you need.