JBL 4309 Loudspeaker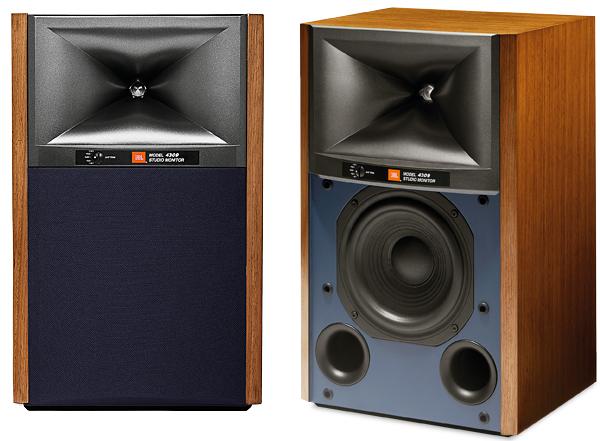 JBL is promising us 'great things from a small package' as it continues its theme of mixing pro heritage aesthetics with modern acoustic technology. Is the 4309 a blast?
The verdict was in almost before I started listening to the prosaically-named JBL 4309 speakers, yours for £1799 a pair in a choice of natural or black walnut satin wood veneers and with blue or black grilles over their mid/bass drivers. A visitor took one look at the speakers' horn-loaded tweeter and twin front-venting bass ports, and – before even a note had been played – opined that, 'They look like proper little rock-boxes'.
Not that the 4309s are huge. Far from it, but even at a mere 42cm tall they have all the promise of larger JBL designs like the hefty 4349 [HFN Mar '21] and 4429 [HFN Feb '17] monitors, which pack 12in mid/bass drivers, and have the same 'rescued from a studio sometime in the 1970s' vibe about them. JBL is doing well at tapping into the retro movement, drawing on its back catalogue to create models such as the L82 and L100 Classic [HFN May '19], complete with their ever-so-'70s Quadrex foam grilles in a choice of black, blue and orange. But who can blame the company for ploughing the nostalgic furrow? After all, it does set the brand's offerings apart from the swathes of lookalike competition.
Belt And Braces
Relatively small the 4309 may be, but that doesn't stop it being substantially built: the cabinet has 18mm-thick walls with heavy H-shaped bracing, contributing not only to a real feeling of solidity, but also an all-up weight of just under 11kg per speaker. The design of the cabinet may be conventional – it's a rectangular box, with square corners and none of the shaping of sidewalls or radiusing of corners found elsewhere in the speaker market – but it feels beautifully built, and impeccably finished.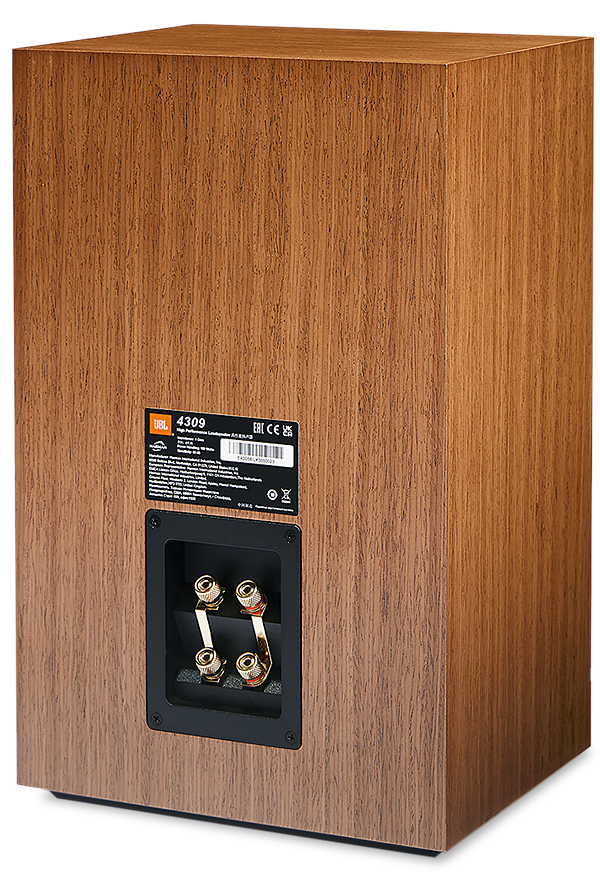 The rear panel is entirely clean, apart from the cut-out for the bi-wire terminals, but it's worth noting that the veneer is also applied here, whereas some designs might go for simple paint on what will, after all, be a hidden part of the speaker. It all adds to the feeling of quality apparent in these speakers – 'small but perfectly formed' just about sums it up.
High Definition
Mind you, there's plenty to make the 4309s stand out, not least that striking horn-loaded tweeter assembly, which uses JBL's 2410H-2 25mm compression driver, 'trickled down' from the D2 series drivers made by the Pro division. It uses an annular Teonex diaphragm of V-shaped section for lightness and stiffness, promising high-power handling while pushing the driver break-up modes out-of-band.
This driver is mounted into JBL's 'High-Definition Imaging' horn, which is calculated to deliver a predictable response on- and off-axis. Furthermore, between the horn and the mid/bass section is an 'Ultra High Frequency tonal adjuster', allowing ±1dB tweaks to the high treble. JBL points out that as the 4309s can take several weeks to break in, any final 'UHF' adjustments should be suitably delayed.
In practice, it's the mid/bass driver that's most likely to show changes over this initial period. This is a 165mm unit with a pulp cone and built into a cast chassis, with a 'motor' combining a long-throw voice coil, symmetrical field magnets, a flux stabilisation ring and copper shorting ring. Tuned via those two front-venting flared ports, looking especially dramatic against the blue baffle finish of the review speakers, it betrays its studio heritage by sharing with the tweeter a design built to take plenty of punishment. A relatively high 87dB sensitivity and 4ohm impedance is quoted, but it's also one designed to play hard if needed.

Rock On
Except that view doesn't really convey the whole story. Yes, the 4309s can charge hard when required, and definitely have that 'rock monitor' look, but they belie their styling by sounding neither raucous nor old-fashioned. In fact, these speakers are both entirely enjoyable and capable of considerable subtlety.
Set up in accordance with the manual's recommendations – on 24in/60cm stands (in this case an elderly pair of Atacama SE24s filled with Atabytes, and positioned 50cm from side walls) – they immediately cast a sonic picture with impressive soundstaging and focus. It's also worth a little toe-in if the 4309s are used further apart than JBL's recommended 1.8-2.4m – just enough for the outside panels of the speakers to be glimpsed.