HiFi Rose RS520 Streaming Amplifier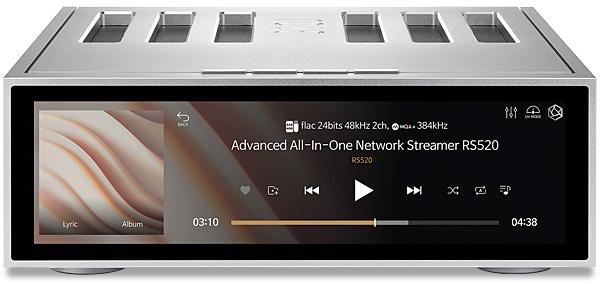 Combining the network streaming capability of the RS150 flagship with the GAN-FET Class D amplification of the RS180, the RS520 aims to be the 'all-in-one' for everyone
Another smart move from the Korean tech specialist? That certainly seems to be the case with the latest arrival from Seoul-based HiFi Rose, which has rapidly established itself as a major player in the network audio/video market with a string of excellent streaming players. Having taken what looked like an abrupt turn with the launch of its bonkers-styled – but great-sounding – RA180 integrated amplifier [HFN Jul '22], it's now delivering on the promises made by the company's Sean Kim, interviewed for that review. We're yet to see the simpler, more affordable RA280 integrated amp, but here's the company's all-in-one streaming amp, the RS520.
Available in black and silver, and with the company's usual heavyweight all-aluminium construction, the £3399 RS520 may comfortably undercut the £5499 RA180, but it uses similar Class D-based amplification – or 'Class AD' as HiFi Rose describes it – and has all the network audio functionality of the streaming players with which the company made its debut. It is underpinned by the in-house, Android-based Rose OS platform and is controlled using the intuitive Rose Connect app for Android and iOS, as well as via the wide 12.6in/32cm touchscreen dominating the unit's front panel. And, as we'll see, that big, bright panel has gained some new tricks in this latest model.
Technology Twist
That's not to say the RS520 is simply a mix of the RA180 amp and the RS150 network player [HFN Jun '21], as the newcomer has its own twist on the technologies built-in. Not least here is a switch from the AKM-based DAC stage found in the RS150 to the latest ES9038PRO 'Sabre' DAC from ESS.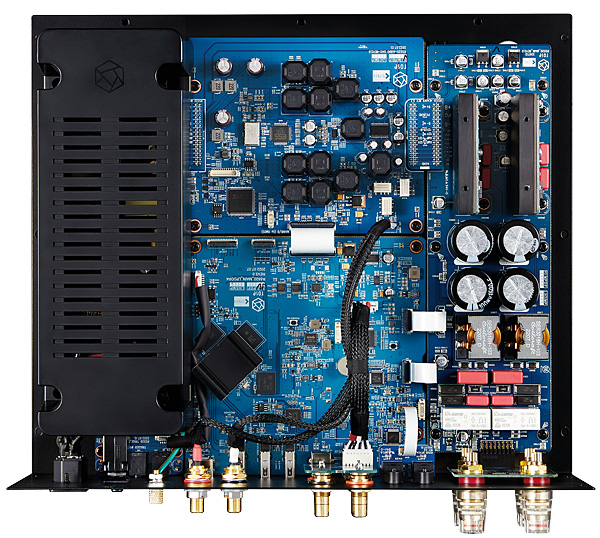 So, what actually is the RS520? For a start, this isn't its first integrated player/amplifier. In fact, there's a complete 'soundbar' style all-in-one in its catalogue, the RS350 'Lifestyle Media Player' – with speakers as well as amplification built-in – although this hasn't made it to the offering from UK distributor Henley Audio. And if the RS350 challenges the likes of Naim's Mu-so, so the RS520 is part of the growing trend for 'just add speakers' network receivers that includes Cambridge Audio's Evo 150 [HFN Nov '21] and the Naim Uniti [HFN Nov '17 & Aug '21] among others.
Power Up
All these do-it-all devices have plenty in common, including a streaming interface, connectivity for external audio sources, and decent power amplification of sufficient output and quality to drive surprisingly ambitious speaker choices. HiFi Rose's RS520 is no exception, with its claimed 250W/8ohm output making it – by a very considerable margin – the most powerful of these new-generation 'all-in-one' units.
The newcomer is also generously equipped when it comes to its streaming capability. Via its network connection – Ethernet or Wi-Fi via a dongle, though I'd stick to the former for stability if possible – it can play music from a local library at up to 768kHz/32-bit PCM and DSD 512/22.4MHz. It also offers MQA decoding and access to streaming services including Qobuz, Spotify Connect and Tidal, along with Internet radio and a number of Rose services currently aimed mainly at the Korean market. There's also Bluetooth and AirPlay, and the unit is Roon-ready, too.
Then there's the RS520's comprehensive video compatibility, allowing content to be streamed and played either on that big front panel screen or to a TV connected to the unit's HDMI output, which is capable of sending 4K resolution (3840x2160 pixel) signals. There's also an HDMI input with eARC capability, to accept sound and share control with suitable TVs, which means most modern sets.
On the subject of inputs, the RS520 also has one set of analogue line ins, along with optical and coaxial digital inputs and outputs. There are also three USB 3.0 Type A inputs, to which external storage of up to 10TB apiece can be connected, plus a USB-B port for a direct connection from a computer. An additional local playback option is provided by inserting an internal 7mm-thick SATA SSD of up to 4TB, a quick and easy DIY process via a removable cover in the RS520's baseplate.