Hi-Fi News: 21 this month, June 1977 Also in HFN this month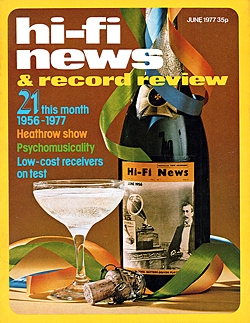 Also in HFN this month in 1977
SHOW REPORT
Our news team's impressions of the 1977 High Fidelity audio event held at Heathrow.
CASSETTE VERSUS DISC
Angus McKenzie presents the second part of his investigation into the two media.
HEARING AND MUSICALITY
A theory of hearing to help explain the mysteries of 'musicality', by C A Malcolm.
AUDIO PATENTS
Adrian Hope's round-up.
TAPE MATTERS
Insights from Douglas Brown.
A STRANGE DEVICE
Albert Edwards describes a balsa-wood pick-up arm that resembles the Tay Bridge.
SIR WILLIAM WALTON
Hugh Ottaway looks at a great man and his music.
THREE LOW-PRICED RECEIVERS
The Amstrad 5050, JVC JR-5100 and Toshiba SA 220L reviewed by Gordon King.
HADCOCK GH 228
The Uni-Lift Mk III pick-up arm is reviewed by B J Webb.
GRAMOPHILE
The record and music scene.