Grimm Audio MU1 Music Library/Server


The dedicated music server is in the ascendant, and every company has a different twist on the idea. In the case of Dutch company Grimm Audio, the twist is especially unusual
The continued rise of network audio has created a new game in the hi-fi world, best summed up as 'Yes, but what is it?'. You see, all sorts of network-capable devices exist right now, and it seems each of them has a somewhat different approach. For example, perhaps the best-known name in 'audiophile servers' or 'music libraries', Melco, started out by making products designed to feed network players over a network connection, paying close attention to the isolation and optimisation of the Ethernet feed. It then reinvented itself as a maker of network transports, connecting directly to a suitable DAC using a USB output, again with isolation strategies implemented.
At first glance, Grimm Audio, based in what was once one of cradles of digital audio – Eindhoven in The Netherlands, the hometown of Philips – has delivered what seems to be a closed system. The company makes the entire reproduction chain, from the MU1 player we have here – yours from £9495 – through to its active LS1 speakers [HFN Mar '11], to which this source component connects using a dedicated link on an RJ45 connector, enabling it to feed a pair of the speakers or a complete multichannel surround set-up.
Output Options
Yet while the MU1 would seem to make most sense in an all-Grimm – I avoid the term 'entirely Grimm' for obvious reasons – system, there's rather more to this machine than that. In practice, it can also feed out audio to a DAC using one of its two transformer-balanced AES3 digital feeds, which can also be used in tandem to allow multichannel output to suitable hardware.
There's also the option of using a USB DAC connection from one of two Type A ports provided on the rear panel, but while this option supports the widest range of file formats, including DSD, this output does not avail itself of Grimm's custom downsampling/re-clocking code – this is the preserve of those AES connections.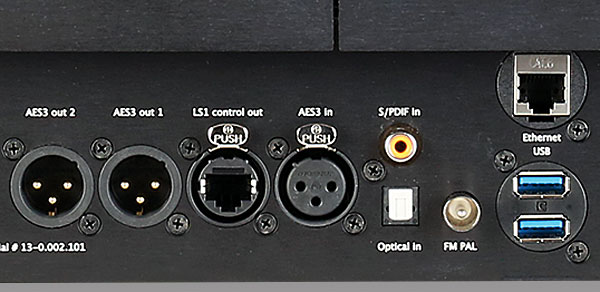 However, before we get to all that, it's worth exploring how you get to grips with the MU1. Indeed, some users might struggle even to turn it on, let alone start hunting for any controls. The main power switch is a tiny white recessed pinhead next to the IEC mains inlet, and with that engaged the display will light up, along with a little white light forming the dot on the 'i' of the brandname on the fascia. Only then can you grapple with the single control – that copper-coloured mushroom-like disc set into the swoopy top-panel.
Via a sequence of long and short presses, and twists, for which you really do need to study the manual, you can enter the set-up menu and make detailed adjustments. These include selecting the various input options – digital ins are available on the aforementioned AES3, plus optical and coaxial, and in a future software release the MU1 will also gain an onboard FM radio tuner. There are also plans for a conventional IR remote – but again, that's in the 'coming soon' file.
Playing The Field
Oh well, this being a network device, it'll have an app to access all this stuff, right? Well, sort of… The MU1 is based firmly around the Roon platform, so you'll need a subscription and a means of controlling Roon – computer, or handheld device – in order to operate it. I have Roon running on my system every day and I'm convinced it's the slickest and most flexible software of its kind, not to mention sounding extremely good. So while the set-up here is slightly fiddly, requiring a computer to configure a Grimm Roon extension that enables the MU1's display to show the Roon data, once up and running it's exceptionally simple.
With Roon fired up, you can select how the MU1 accesses your music library. A range of internal storage options are available at the time of ordering, from 1TB to 4TB, but the MU1 can also access and index libraries stored on connected USB drives, or network shares (for example on an external NAS unit). Or indeed you could have all three if you wanted. You simply point the Roon Core running on the MU1 to whichever store(s) you have, and all the music will be drawn together into one unified library, as well as bringing in services including Qobuz and Tidal (subject, of course, to the relevant subscriptions), plus Internet radio.
The one part of Roon that Grimm Audio doesn't use is the software handling of various file formats, which usually would allow upsampling and – where relevant – downsampling of the files being played. That's because the MU1, on top of its Linux operating system, has in-house FPGA-based digital signal processing to handle file format conversion and digital filtering.
Heavy Industry
The company explains that this 'is done in a single stage, without compromises for the extremes that are required for the signal data path, filter coefficient resolution and filter length'. What this means in practice is that all 1x (44.1 or 48kHz) and 2x (88.2 or 96kHz) digital inputs are upsampled to 4x (and DSD or higher PCM downsampled to 4Fs), relieving the connected, outboard DAC of much 'heavy lifting'. The idea is to reduce errors in the oversampling filters of downstream DACs by replacing their first, most calculation-intense internal oversampling step. In addition to all this processing power, the MU1 also features an extremely low-jitter master clock.