FinkTeam KIM Loudspeaker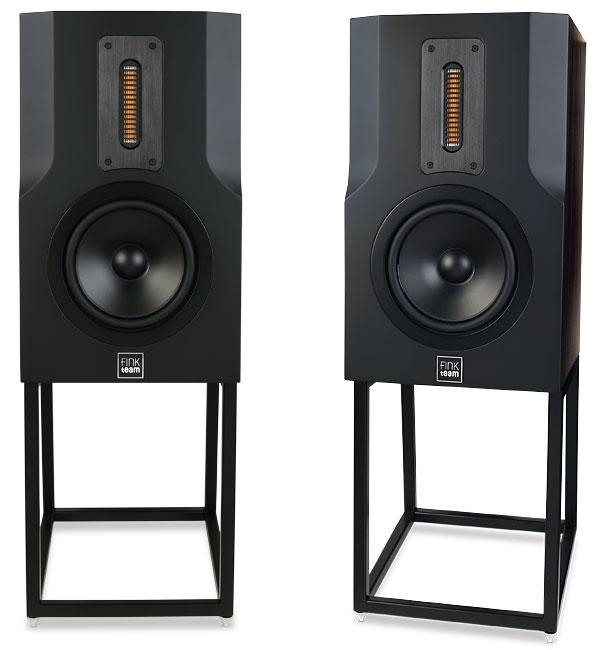 More room and wallet-friendly than the flagship Borg, Fink's compact KIM packs no less 'tech'
No, they're not named after a Kardashian, a Rudyard Kipling novel or even Mel & pop partner. Instead, the new KIM standmount speakers from FinkTeam, selling for £8900 a pair complete with their dedicated open-frame stands, take their lead from the company's Borg speakers in having a Star Trek association. In this case it's somewhat less villainous, in the form of Voyager character Ensign Harry Kim, the ship's Operations Officer. It could all have been so different: story is, Kim was originally to be called by one of several names, including Jay Osaka.
That £8900 price tag may seem pretty punchy, putting the KIM right up there among the elite of standmount speakers, but as well as being the smallest FinkTeam speaker design to date, it's also the most affordable. It sits below the floorstanding £21,000 Borg and the 135kg-apiece WM4, the company's original design, which is – let's say – comfortably more expensive. However, though it may be smaller, standing 85.4cm tall complete with stands, the KIM still incorporates much of the technology of those massive WM4 speakers, originally designed as a showcase for the capabilities of Fink Audio-Consulting.
Success Story
The KIM has had everything thrown at it by the Fink design team, as well as additional ideas the company has trickled down from the work it has done with other loudspeaker brands. And there are quite a few marques that owe their success in the speaker field to this consultancy based in Essen, Germany. There's a (possibly apocryphal) story of founder Karl-Heinz Fink being at an awards ceremony and, as each nomination for a speaker gong was read out, muttering under his breath 'One of ours…'.
With state-of-the-art speaker design and measurement tools in-house, an extensive client list, and expertise throughout the domestic and automotive markets, it's no surprise that the FinkTeam's speakers feature some innovative approaches, not to mention having a distinctive style. Both of those elements are apparent as soon as you see the speakers. Not only are they hefty, at over 25kg apiece, but the KIMs look decidedly different with their sculpted front baffle, long ribbon-esque tweeter and that stand, which looks flimsy but certainly isn't, and gives the speaker its distinctive upward tilt.
Just For Fun
The KIM's genesis came from conversations with dealers and distributors – or rather it didn't, the company explaining that, in the wake of the launch of the Borg model, 'we asked our dealers and distributors and they asked for either a more expensive model or a cheaper model, but there was no clear trend. So, we did what we are good at – we made it our own way again! Just a speaker we would use ourselves, something we could have fun on, designing a speaker for us'.
In simple terms, the KIM speakers are an essentially rectangular box, two-way and rear-ported, with single-wire connections and a choice of finishes including the two-tone look seen on past FinkTeam models. They even use an entirely standard crossover strategy, with a Linkwitz–Riley 4th-order filter operating at a low 2.2kHz between tweeter and woofer. Nominal impedance is given by the company as 8ohm, with a 5.9ohm minimum at 160Hz, and a sensitivity of 86dB.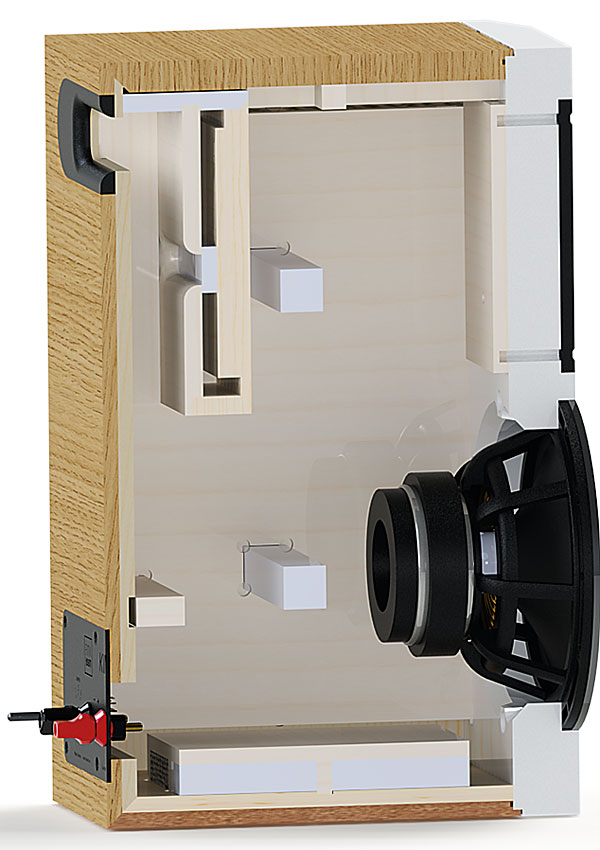 Pure Fink
So, nothing to frighten the horses there then, and they also fit their design brief to translate the engineering language begun with the original WM prototypes, which I first saw on a visit to Essen back in July 2016, into something less room-dominating than the Borg loudspeakers, let alone the huge WM4 model. More specifically, the requirement here was that 'the height of the speaker should integrate with other things in a living room, being not higher than the window sill, chairs, tables and sideboards'.
However, whether with its own models or its work for clients, the Fink organisation doesn't do 'conventional'. The cabinet construction and the methods used to tackle internal resonances reflect its extensive efforts to 'dial out' everything but the sound being delivered by the drivers – something of a Fink mantra.
The tweeter is a 110mm AMT design, with a passive delay to adjust the phase in relation to the 200mm paper-coned bass/mid driver, as was done on the Borg. The bijou woofer uses a rubber surround, the company explaining that too many compromises would have been involved in using a cloth surround. The driver is tuned via a slot-type port integrated into the rear panel – on the Borg it was a separate tube – and the crossover uses air-cored inductors and capacitors. A mix of Mundorf components and others custom-made for FinkTeam are used, including low-inductance bifilar resistors.