Falcon Acoustics R.A.M Studio 30 Loudspeaker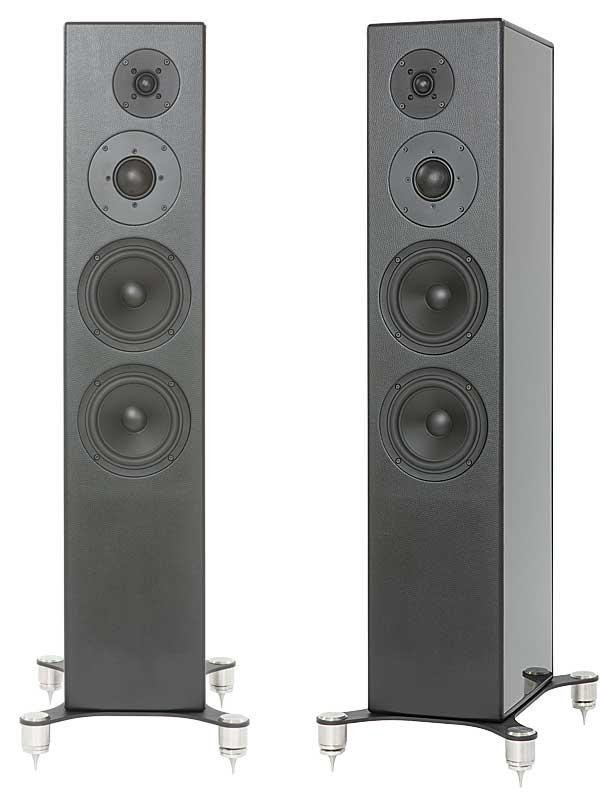 An unusual blend of traditional tech and modern design practice, here's a deceptively capable floorstander
Sometimes you can be too clever by half. The pursuit of perfect sound, such as it is, takes many loudspeaker manufacturers way off-piste into all sorts of weird and wonderful drive unit types, cone materials and radical cabinet shapes. Yet there's a decent body of evidence to suggest that a conventional but well made box speaker - complete with high quality drive units that don't try to trip the light fantastic - can deliver just as impressive results.
In other words, some of what we see in loudspeakers, from fancy tweeters to trick crossover components and bass ports of all shapes and sizes, can be as much about marketing as real sound quality gains. And so, despite being the flagship of the Falcon Acoustics range, the £3495 R.A.M. Studio 30 you see here is a pretty conventional three-way floorstanding loudspeaker.
Perhaps the most radical things about it are the dome midrange driver and down-firing bass port, yet still these hardly set the world alight in the great scheme of hi-fi things. There are alternative finishes available of course, costing £3925 for high gloss black and £4095 for a very luxurious burr walnut.
Flying The Flag
Otherwise, Falcon's Jerry Bloomfield is the embodiment of understated British pragmatism. That's why the Studio 30 – although following the form of a modern floorstander – is more 'old school' than you might think. Created by ex-ProAc designer Graeme Bridge, the aim of this loudspeaker was to be easy yet enjoyable to listen to over extended periods. It wasn't, Jerry told me, designed for any particular type of customer, 'just good quality design and engineering, and long-lasting musical performance'.
To this end there are no fancy curves or radiuses to the cabinet, for example. Rather, this three-way design sports polypropylene coned woofers, which were bleeding-edge technology back in the early 1980s amid a sea of paper cones, arguably offering a smoother and more sophisticated sound. Now though, it's almost an anachronistic choice, like deliberately buying a modern car without traction control or ABS.
Posts 'N' Ports
Two woofers are specified – they're 170mm in diameter, and marry up to a Falcon-modified 50mm dome midrange driver. This is real retro territory, with only a few brands using this type of transducer, such as PMC and ATC. Finally, a 25mm custom-tweaked soft dome tweeter takes care of the treble. The speaker cabinets are simple but effective in their design. They're Italian sourced, with some parts made from 25mm MDF – thicker than usual. They have faux leather front, top and rear facings, and detachable wooden side panels.

Round the back can be found heavy-duty binding posts mounted on a 2mm stainless steel plate. Unusually these posts are positioned half way up the rear cabinet rather than being mounted at the base, meaning that the speaker cables used have a longer distance to travel. Underneath is the down-firing port, which is kept away from the floor by a substantial metal plinth assembly that has large CNC-machined stainless steel carpet-piercing spikes.
I found the speakers easy to position, the Studio 30s giving a fine account of themselves whether located quite close to, or a metre or so away from, rear and side walls, and they certainly benefit from toeing in towards the listening position. Your flooring may have a bigger influence on their sound, as a hard wooden surface may terminate the output from that downward-firing port in a different fashion to a thick-pile carpet. Either way, keep those spikes high!

Traditional Values
There's something frightfully British about the Falcon Acoustics R.A.M. Studio 30, old chap. Many audiophiles outside the UK – especially those in the USA and Japan – still talk about 'the British sound', and this loudspeaker delivers it. It's very pleasant and inoffensive, in a good way.