Exposure 3510 Integrated Amplifier


Exposure returns to its roots with a full-width integrated inspired by the improved circuit design of the recent 5010 monoblock power amps. Does 'old school' still cut it?
Nostalgia doesn't come any better than this: an integrated amplifier that looks like it escaped from the 1980s, all minimalist and line-level and 440mm wide. But Exposure has been around for close to 50 years, so this isn't some exercise in retro from an arriviste brand with cod heritage. Rather, the 3510 is a device for reminding people like me of (hi-fi) life in simpler times.
Even its realistic price of £2250 equates to around £440 in 1980, typical of a quality British integrated amplifier of a politically correct nature. It's part of a range, with all models available in black or titanium and sharing the same casework, which will ultimately comprise the 3510 Stereo Power Amplifier (£1590), 3510 Mono Power Amplifier (£2990 per pair), 3510 Preamplifier (£1590), and a range of optional plug-in modules.
Bold Step
There are three forthcoming plug-ins – a USB/DSD64-compatible DAC (£410) and an MM phono or an MC phono board (£300 each), but the 3510 can only house one. Both phono modules will offer two sensitivity/gain settings combined with 47kohm loading for MM and 100, 110, 130, 160, 210, 310 and 470ohm for the MC board. In the spirit of the price category, I reviewed our line-only 3510 with an external sub-£500 phono stage.

Specs-wise, too, the 3510 integrated amplifier could have been plucked from the pages of the 1980 Hi-Fi Yearbook although key areas of the preamp circuit design, and even the choice of power transistors, have witnessed a process of evolution and improvement over the decades. Otherwise Exposure operates under the very sensible 'if it isn't broken, don't fix it' school of engineering. The conservative factory power rating is 110W/8ohm and it provides line inputs labelled Aux/Phono, CD, Aux 2, AV with fixed gain for switchable home theatre bypass, a tape in/out loop and two preamp outs, the latter useful for feeding subs or for connecting other power amplifiers.
All of these are single-ended RCA connections, accompanied by two sets of loudspeaker outputs for which Exposure took a bold step – instead of multi-way binding posts, the 3510 accepts banana plugs only. And, in case you're wondering why an amplifier would offer two sets of speaker outputs, but no A/B speaker selector switch (as was once the fashion), their role here is to simplify bi-wiring.
Its uncluttered front panel contains, from left to right, a push button for power on/off, rotary source selector, a row of LEDs to indicate the chosen source, a sensor for the remote control and a ¼in headphone socket. The supplied remote is a new system commander with buttons for other Exposure components, but here deals with source, volume up/down and mute.
Hot Topic
The installation is self-explanatory for anyone who has ever set up a basic system, which adds to the delicious blast-from-the-past ambience. The lack of phono or DAC modules in our sample made my life even easier, and I immediately set it up with feeds from an SACD player, a CD player, an open-reel deck and a turntable-via-phono-amp. Speakers were all stand-mounted two-way systems, but I couldn't resist a burst of the Wilson Sasha DAWs [HFN Mar '19] to sate my curiosity.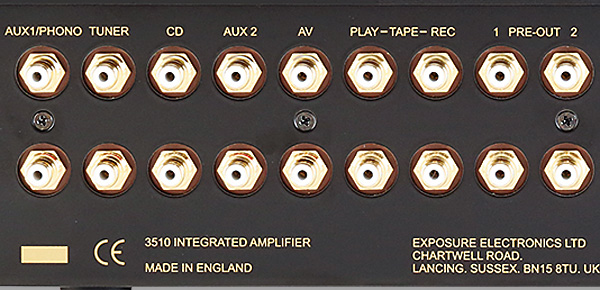 Despite the closed nature of all integrated amplifiers, the 3510 does encourage growth over the years, as its doubled-up pre-out and speaker outputs suggest, while a detachable mains cable also begs for experimentation. These, too, recall the mind-set, zeitgeist and status quo of the early days of Exposure, when cables, bi-wiring and other tweaks were hot topics, and even audiophiles on a tight budget expected an element of flexibility. If I remember correctly, even the market-dominating, £79 NAD 3020 [HFN Jan '80 and Nov '12] offered a preamp output.

Silky Thrills
Switch-on is accompanied by a brief muted period, after which three red LEDs illuminate and tell you the system is operational: one for power on, one for the source indication and the last is on the motorised volume control so you can see its position from the listening seat. When you hit mute, the source and level LEDs are extinguished. As for the headphone output, this mutes the speakers when you insert a ¼in jack, and I'm happy to report that I couldn't find a pair of cans it wouldn't drive with anything less than distinction.