Emotiva XSP-1/XPA-DR2 pre/power amplifier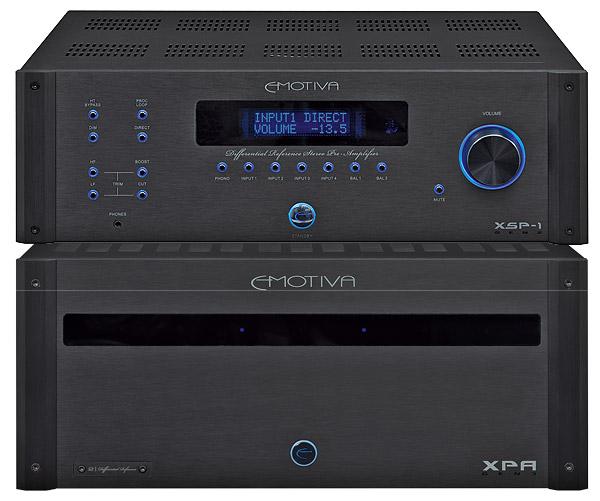 With a claimed 550W on tap, this US-made pre/power amplifier combo offers serious quantities of sound per pound. How does this muscle amp-on-a-budget perform?
It's often said that less can actually be more. For example, many high-end hi-fi products are devoid of fripperies because the lion's share of the build budget is spent on the bits you can't see, such as high quality components. This in turn gives better sound per pound, or so the theory goes. Yet other designs come festooned with features and often lack ability in the sonic stakes.
Tennessee-based Emotiva is an avowedly 'budget audiophile' brand that says you can have your cake and eat it, so to speak. Its mission is to give customers lots of metal for their money, plus serious sound too. Founder and CEO Dan Laufman started the company back in 2005 with the express intention of bringing value to the hi-fi market, having already made a successful career for himself as an OEM electronics manufacturer [see our Dan Kaufman interview].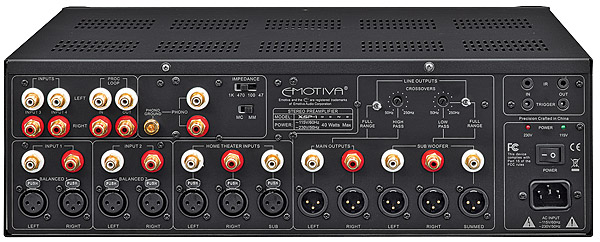 Power Packs
This new third generation XSP-1 preamp (£1419) and matching XPA-DR2 power amplifier (£1750) are the embodiment of this. Big, muscular-looking and loaded with features, the combo packs a serious amount of power. The XSP-1 preamp is the heart of the system, and with this you can choose between three versions of the XPA power amplifier. In addition to the XPA-DR2 stereo version tested here, there's the DR1 monoblock (£1300) and the DR3 three-channel variant (£2150). All are iterations of the same product, with more 'Differential Reference' amplifier modules slotted into the internal bays as appropriate [see PM's Building Bridges sidebar].

Starting with the XSP-1 Differential Reference preamplifier, this has a fully differential, all-analogue signal path and makes extensive use of surface-mount components. In addition to its four RCA line inputs and two balanced XLR ins, there's also an MM/MC phono stage. Instead of an old school volume pot, there is a digitally-controlled resistor ladder network that promises superior channel matching. Done this way, loudspeaker and headphone volume settings are independent, and remembered when the amplifier is powered down. There's also an option to limit the maximum level at turn-on, which might just save your loudspeakers one day! All inputs are switched using relays with silver-plated contacts.
The so-called 'LF and HF trim' facility, better known to the rest of us as tone controls, are also adjusted digitally (but are not digital) on the front panel using the Boost and Cut buttons on the bottom left hand part of the fascia. These offer a subtle ±3dB trim below 200Hz and above 4kHz. Analogue bass management is offered, with a choice of full range output or separate high frequency and low frequency outputs, with independently configurable crossover points.
Meanwhile, Home Theatre Bypass, Processor Loop and source Direct buttons are also provided alongside a Dim button for the large, centrally mounted vacuum fluorescent display. Under this can be found a row of input switches, and to the right a large volume control, with a mute button. All fascia buttons are ringed by blue backlights when the power is on, the outer ring of the power button switching to amber when the unit drops into standby.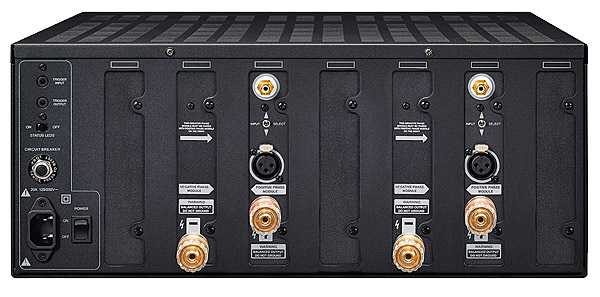 The XPA-DR2 is a no-frills stereo power amplifier rated at a not inconsiderable 550W/8ohm and 800W/4ohm [see PM's Lab Report]. It sports a pressed steel case with a great many cooling vents on top, and a well-finished satin-black brushed aluminium fascia making it a cosmetic match for its preamplifier brother.
Mods For Rockers
As per the XSP-1 preamp, the main on/standby switch is centrally mounted and encircled by a blue LED ring when powered up. Round the back, there are two pairs of loudspeaker binding posts which are quite widely spaced, so you'll need to ensure that the two feeds in each of your cables aren't crimped too close together. In addition to this, each channel has its own unbalanced RCA input and balanced XLR, with a small switch to select between them. Master power, remote trigger sockets and a reset button complete the picture.
The rear panel also hosts the row of bays that take the XPA-DR2's amp modules, three of which are blanked off on this particular model. The balanced/bridged modules described by PM in his Building Bridges sidebar effectively occupy two bays each, which explains why the 'DR' version of the amp is available up to three channels only.
The modules utilise a multi-rail power supply that steps up to accommodate higher outputs without wasting energy and heat during quieter passages. Even the PSU itself is a switch-mode design, taking up less space and being far lighter than a traditional linear supply that would need to use a huge toroidal transformer. All this sits on a heavy steel 4RU chassis, though the XPA-DR2 is still perfectly manageable compared to other 500-watters!

No Frills
The XSP-1 preamplifier performed very well across all inputs. The majority of my listening was done via the XSP-1's balanced line inputs courtesy of a dCS Debussy DAC [HFN Dec '10] playing from a range of digital sources. Yet it has a surprisingly good phono stage too, as a vinyl copy of Grant Green's 'Alone Together' [Green Street; Blue Note BN 4071] illustrated.