Emotiva BasX TA1 Integrated Amplifier Page 2
The new onboard Bluetooth receiver might get short shrift from dyed-in-the-wool audiophiles, but I'm not one to turn my nose up at ease-of-use, and found the TA1 sounded in good form with wireless streams. Led Zeppelin's 'Communication Breakdown' from their eponymous debut album [Atlantic; 48kHz/24-bit Tidal] enjoyed a cutting edge to Jimmy Page's proto-heavy metal riffs, and a well-rounded bass that did justice to John Bonham and John Paul Jones' fast and furious rhythm section. If the point of music is to evoke an emotional response, then the grin across my face pointed to the TA1's musical chops.
This is not to say that Emotiva's budget integrated gets everything right. There was a lack of body to the upper-range presentation of this Led Zep piece, noticeable in the slightly harsh feel it acquired with Page's solo, and something that became more obvious with 'Quatro (World Drifts In)', the opening track from Robert Plant and Alison Krauss's Raise The Roof album [Deluxe Edition; Warner Music UK download, 44.1kHz/16-bit]. This song opens with sweet-sounding acoustic guitar, quickly accompanied by softly struck percussion and then both singers in gorgeous harmony – a smorgasbord of textures and tones, with tiny details, that the TA1 struggled to fully explore.
Make use of its wired digital or analogue inputs, however, and this amp can be cajoled into sounding a bit more mature. The Krauss/Plant country ballad, now via 96kHz/24-bit FLAC into the USB port, gained an edge of top-end clarity which resulted in a better feeling of balance, all the while retaining a driving force that stamped authority on the relentless drumming that carries the song.
On My Radio
And what of the FM tuner? It's been some time since I listened to any analogue radio, even though the TA1 uses a digital decoder, as my usual ports of call are DAB or Internet, so I was (perhaps foolishly) surprised by how clean and crisp it sounded. Scanning frequencies, and saving presets, isn't a quick-fire process however, and having to either wait for a station ident or Google a frequency number to work out which station you're listening to felt like a step back in time. Still, the Emotiva TA1's FM feature is certainly one that can be filed away under 'nice to have'.
Partnered with a pair of compact GoldenEar BRX speakers [HFN Sep '22], the amp's upbeat tuning dovetailed well with these standmounts' superior bass punch. There's perhaps a price discrepancy here, the TA1 selling for less than half the BRX duo, but I liked how it wasn't fazed by these moderately demanding speakers.
Meanwhile, aiming more downmarket with some Q Acoustics 3010i bookshelf models worked well, too. Replacing the GoldenEar's folded AMT tweeters with common-or-garden soft domes rounded out the treble, trading the at-times brash detail for a sound that was smoother, if less insightful. The Rolling Stones' 'Let It Loose' [Exile On Main Street, Virgin/Rolling Stones Records CDV2731] came across as a dreamy, ethereal smoosh of warm guitar and keyboards.
Deliciously Deep
Regardless of chosen speakers, the BasX TA1 was at its best when fed music with dynamic peaks and troughs and a robust bottom end, as it's here you feel you're getting the most value from its punchy amp stage. 'Chilli Daddy', from Koan Sound's Max Out EP [Shoshin HIN001], was presented as a powerful flurry of slap-bass, glitchy electronic rhythms and deliciously deep synth notes. Cranking the volume boosted my enjoyment and didn't add anything untoward to the amp's already somewhat splashy treble. (As an aside, the remote control is intuitive and the amp is very responsive.)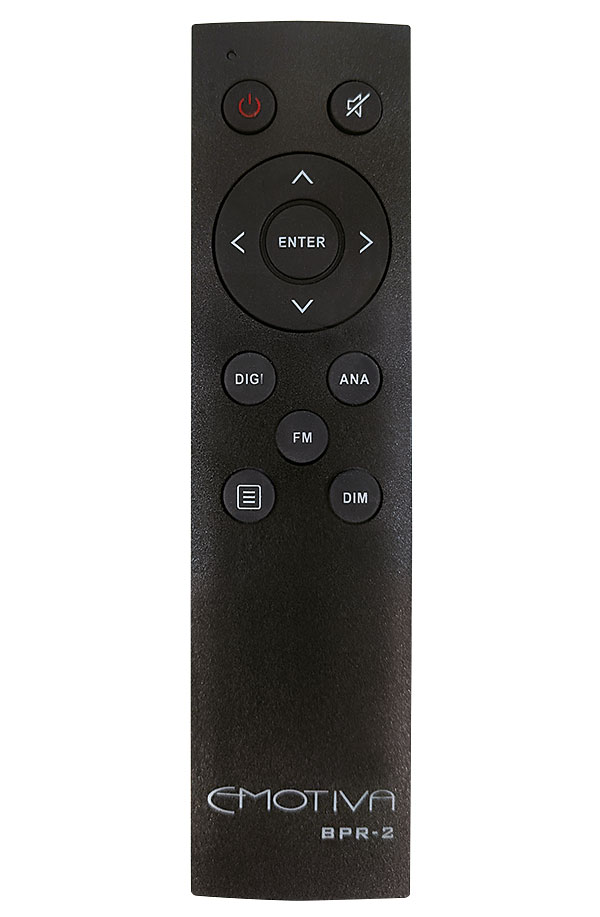 In general, the TA1's performance is of the crowd-pleasing nature you'd expect from a feature-packed integrated at this price – it plays loud and low, has tangible driving ability, and snaps into detail. Depth of soundstage is also handled well, ensuring The Allman Brothers Band's At Filmore East [Mercury 0600753270240] comes across like the live recording it is. But the amp doesn't spread the sound particularly wide, meaning that, on the epic-length 'Mountain Jam', there's a suggestion of the players fighting for the spotlight.
This, and the TA1's lack of real richness and smoothness in mids and highs are where its sonic aspirations come face to face with its price tag. Yet I'll end on a high, as the amplifier deserves it – Warren G's hip-hop hit 'Regulate' [Violator Records 523 335-2] sounded as vibrant and bouncy as its producers intended, the TA1 digging up warm, room-filling bass and projecting the soul-inflected vocals right at me. That so much energy was coming from a slim, black box was an eye-opener.
Hi-Fi News Verdict
As a slimline, feature-rich, value-for-money offering, Emotiva's BasX TA1 doesn't really put a foot wrong. Yes, there are limits to its performance, but these are commensurate with the price point, while connectivity, usability and fit and finish are all excellent. Cost-conscious buyers with varied listening diets (Bluetooth streaming one day, vinyl the next?) could do far worse than bag a demonstration.