Emotiva BasX TA1 Integrated Amplifier


Better known for high-end behemoths, the US is also home to high-value hi-fi from Emotiva. We pick up the story as the feature-rich TA1 integrated replaces the TA-100
The general consensus is that film sequels are rarely as good as the original, the likes of The Godfather Part II being an honourable exception. In consumer electronics, on the other hand, any follow-up simply has to better its predecessor to justify its existence. This is the aim of Emotiva with its BasX TA1 integrated amplifier, a refresh of the earlier BasX TA-100 [HFN Apr '19]. Yet unlike many Hollywood studios, it's been careful not to erase fond memories of the original in favour of a full franchise reboot. There's an awful lot about the TA1 that is identical to its predecessor.
That includes the price, for while £669 is more than the TA-100's £599 you might argue that the difference is fully absorbed by problems with supply chains, transportation, materials costs and inflation. Neither has the self-styled 'modern design aesthetic' been radically altered, so while the TA1 still isn't exactly an objet d'art, and there's no swish silver finish available, there's still a pleasing minimalism to the design that draws your attention to the wide, blue VFD display and illuminated volume/menu/tuning knob.
Smart Work
Did I say tuning? Yes, just like the TA-100, the TA1 is a stereo receiver, with an FM tuner supported by an external aerial. This is one such area where Emotiva has implemented an upgrade, now enabling presets to be entered via the unit's remote control [see p73]. In the process, though, it has reduced the number of available memory slots from 50 to 15. I can't see anyone viewing that as a dealbreaker.
More welcome for this do-it-all model is the inclusion of a Bluetooth receiver (v5.0, with AptX, AptX HD and AAC support), so those who want to stream direct to the amp from a smartphone or computer are no longer asked to buy an optional Bluetooth plug-in. This makes the TA1 semi-smart, its lack of genuine network audio compatibility countered by the inclusion of a USB-B input for 192kHz/24-bit playback.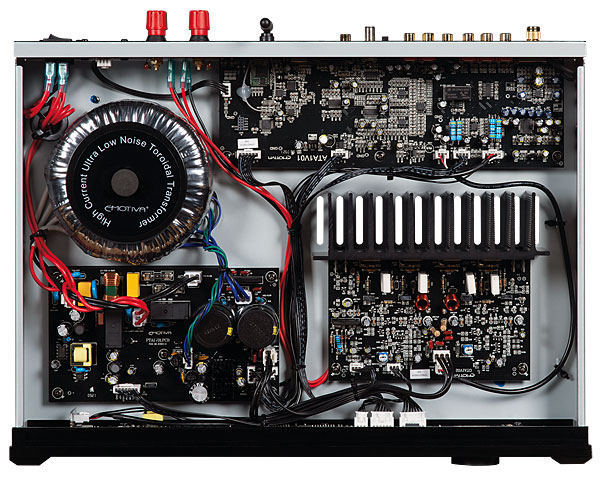 The DAC stage of the TA1 remains the same, utilising the 'legendary' – says Emotiva – Analog Devices AD1955. This also handles the amp's coaxial and optical digital audio inputs, again to 192kHz/24-bit. To the right of these digital connections on the rear panel [see p73] is a 12V trigger port, and a single set of chunky speaker binding posts. To the left is a bank of analogue inputs and outputs that is very well specified for the price. For example, a phono stage supports both MM and MC cartridges via a gain selector, and there are stereo/mono subwoofer pre-outs for integrating a dedicated bassmaker. An additional line-level output is joined by two further RCA inputs, labelled 'CD' and 'Aux'.
American brand Emotiva was originally established by Dan Laufman with the aim of selling via traditional retail outlets, but it soon embraced a web-based model, in the US at least, cutting out any middlemen and honing its pricing still further. Its BasX range, as the name suggests, is its entry-level. Yet outwardly there's not much indication of a cost-conscious build as the TA1 gets a neat, brushed aluminium faceplate and a sturdy construction.
Seeing Double
Internally, as with the TA-100, Emotiva says it employs a 'highly optimised circuit layout' [see pic, below] using double-sided PCBs. Once again its power comes from a heavyweight linear power supply allied to an 'audiophile' Class AB amp. This newer model also claims to offer a modest uptick in grunt from 50W/8ohm to 60W/8ohm.
Installation into a hi-fi system shouldn't pose any problems, particularly as the TA1 is usefully slender (just 67mm high) but Emotiva does lay on some nice touches within the amp's – now redesigned – onboard menus, including dimming of the VFD display, bass, treble and balance controls, and mono blending of FM radio (to counter weak signals). The amplifier also stores the volume setting of its main (speaker) output and that of its front-panel headphone socket, to stop you accidentally blowing out your eardrums.
Menu adjustments can be tackled via the amp's display, rotary encoder and small input selection keys, but the remote is a more convenient alternative. Yet I'm tempted to classify this latest, plastic handset as a 'cut corner', even if it now includes buttons to switch easily between analogue, digital (including BT) and FM inputs – an oversight we highlighted in our BasX TA-100 review.

Emotional Rescue
My first experience of Emotiva was with one of its higher-spec monoblock amplifiers, the Class H-based XPA-HC1 [HFN Sep '20], which claims a hefty 300W/8ohm output. That was a purposeful-looking, but also affordable, amplifier that impressed me with its bang-for-buck ability. The BasX TA1 integrated, while a different kettle of fish in both design and specification, offers that same feeling of value for money. Its sound is powerful and detailed enough to appeal, even before you remember the amp's relatively wide-ranging feature set.