ELAC Concentro S 503 Loudspeaker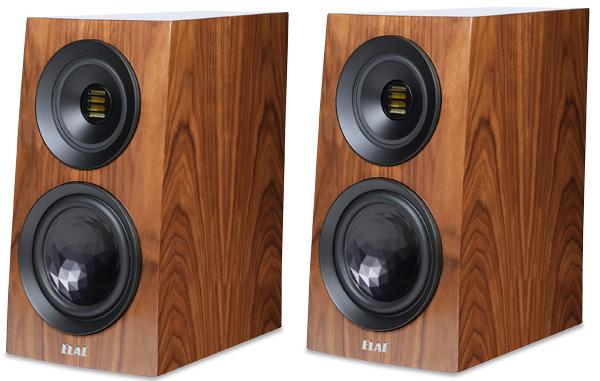 Featuring a concentric mid/treble driver with a difference, ELAC's Concentro range goes 'compact' with the S 503
For those who felt that ELAC wasn't one for adventurous industrial design, the Concentro series has proved them wrong. You'll find some very curvy and organic-looking models in this range, which rises even above the finely crafted and attractive Vela series [HFN Apr '19]. However, the Concentro range still feels more like a disparate collection rather than a real product family. Virtually every model has its own design, from the menhir-like Concentro and Concentro M to the high-heeled S 507 and S 509 floorstanders. Unusual, but then the Concentro line is more about pushing the envelope and deploying the latest technology that ELAC's engineers in the German marine town of Kiel have thought up. Which means, in the case of the sweeping flagship Concentro of 140kg, incorporating some nifty tricks into a truly colossal presence costing an equally mighty £59,000.
Keeping Up With The Jones
Hefty isn't a quality you can ascribe to the S 503 however, a compact unit which is much more appropriate for living room use. The beguiling design of this standmount speaker makes it appear far slimmer than it really is. Pricing is more accessible too, as the S 503 comes in at £6499 for the glossy black or white versions. The varnished walnut cabinet pictured here costs an extra £500.
There's much about the Concentro S 503 that's intriguing, but the headline feature is its concentric driver, making it a true three-way, ported design. That might not be so unusual for ELAC, considering its erstwhile co-operation with British designer Andrew Jones – a noted advocate of coaxial driver layouts. But in this case the centrepiece of the stepX-JET dual-concentric driver is a new generation JET 5c tweeter, not a dome unit. Using this in-house derivative of an AMT (Air Motion Transformer) tweeter is very on-brand for the North Germans, who have invested heavily in manufacturing – partly by hand – the wafer-thin membrane at the heart of JET.
At first glance, the S 503's looks are relatively traditional, but on closer inspection it's apparent that this speaker is anything but a classic rectangular box. The base shape of virtually every plane of the enclosure is a trapezium, with, for example, a front baffle that's far broader than the rear panel that houses loudspeaker terminals. Looking down, the enclosure nearly presents a triangular form.

The baffle itself has a broad base and less width on top and tilts gently away from the listener – allowing for better time-alignment between the coaxial driver up top and the woofer below. The two drivers are mounted straight up of course, protruding away from the baffle.
Below the stepX-JET dual-concentric driver, the 180mm AS-XR woofer is no less eye-catching. The aluminium sandwich foil cone is multifaceted and looks striking as light plays over it to highlight certain segments. Aesthetics aside, the idea here is to enhance the cone's stiffness and push any resonant modes out-of-band. But if you'd rather cover it up, you can't, as there are no grilles available for the S 503.
Fokus Point
Rings of directivity sounds like a great name for a metal band, not something you expect to find in a cloth bag buried at the bottom of a loudspeaker's packaging. But that's exactly what's on offer here, as ELAC bundles three pairs of alloy 'Directivity Control Rings' (DCRs) along with each S 503. Each ring set claims to offer a different dispersion pattern, going from diffuse to more focused, allowing some tuning of mid and treble off-axis response. The 'Fokus' rings are better suited to larger rooms, while 'Spacious' is meant for up-close listening – very close apparently, as the standard 'Neutral' ring – which is pre-fitted – is designated for 2.5m listening distances.
On ELAC's floorstanding Concentro M you can physically adjust the depth of the JET tweeter – these rings are intended as a more affordable approximation. They affix magnetically around the dual concentric driver, and once in place are flush with the surround of the speaker, so not noticeably a separate part. They also require a bit of force to remove. Is it surprising I was nervous tugging on a mounted ring? It's probably a good idea to have someone around to hold the S 503 firm while you remove and place a ring – and don't forget to wear the supplied white gloves.

Slim And Sonic
Swiss band Grauzone is a poster child of '80s synthpop, and of the Neue Deutsche Welle movement in particular. Their reputation largely derives from the 1981 hit 'Eisbär', but a commemorative re-release last year [WRWTFWW-042] suggested they had much more to offer. Spinning the 180g LP on an ELAC Miracord 90 Anniversary turntable [HFN Jul '17], with Primare R15 phono preamp in tow, I was struck by how the S 503s conveyed the genre-typical reverberant percussion and the droning post-punk beats, overlaid with heavily processed vocal effects.