EAT Jo No5 cartridge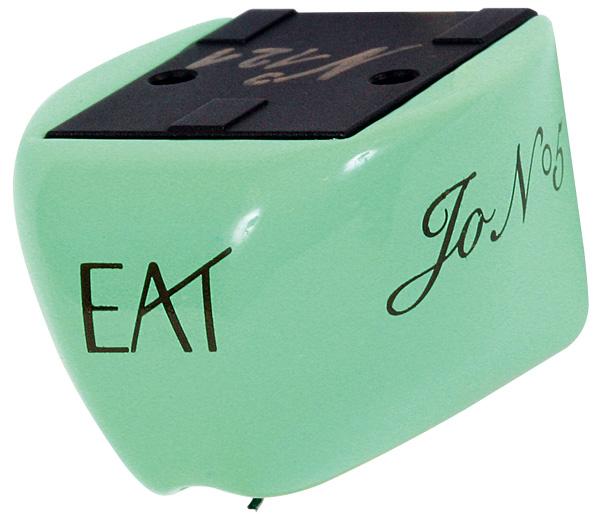 Following its ever-descending prices for its high-value turntables, EAT (European Audio Team) has issued the Jo No5 moving-coil cartridge to do the same for phono pick-ups
As if to answer my continued pleas for sane price tags, and my continued dismay at the fees charged for some MC cartridges, the inclusively named European Audio Team (EAT) has delivered what may be a game-changer. It was the talk of 2018's High End Show in Munich, not least because it looks unlike nearly any cartridge ever seen before. And another thing: the EAT Jo No5 sells for £999.
OK, so a grand is still outrageous money for any phono cartridge, but it pales in comparison to the top-end Koetsus and Transfigurations and Ortofons and Lyras and all of those other cost-no-object, hand-crafted designs. Then you hear it and you start thinking, hmmm, the Law of Diminishing Returns was just re-enacted…
Presented With Panache
With her second MC, after the dearer Yosegi [HFN Mar '12], EAT's Jozefina Lichtenegger [See Sidebar] is doing her best to reconcile two seemingly incompatible goals. The first is wanting to make high-end equipment that represents supreme value. Equally, she wishes to add a frisson of the pleasure she derives from another of her interests: designer fashion.
Think about it. Here we have a relatively affordable cartridge, but one presented with more panache than just about any piece of hi-fi equipment one can name. It is a genuine attempt at treating high-end audio components for what they are: luxury purchases. To that end, it even applies to the packaging.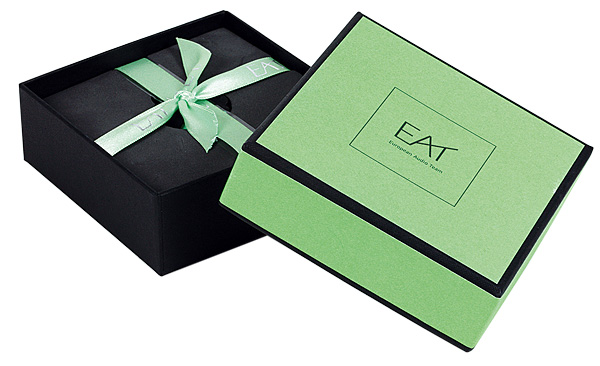 For openers, she's coloured the Jo's rounded body in a shade of mint green that can be found in one of her Pucci frocks. She gave the oversized body shell an organic, almost lascivious form. It sits on the end of your tonearm looking like a plump, inviting, yummy marzipan egg, waiting to be popped into one's mouth.
But all of that is about the look, and must be regarded as one would the body of a sleek and sexy supercar: secondary to the tech underneath. While one can argue about the aerodynamic qualities of, say, a Ferrari 812 Superfast, the cognoscenti are more concerned with the drivetrain. So, too, the Jo No5, which, with its body removed, must contain the guts that retrieve music from the grooves of an LP.
To be fair, however, EAT has paid as much attention to the pale green shell as a carmaker would the coachwork, which recalls practices of the past. In the 1980s and '90s, companies making MCs were divided between those who went for rigid shells and those who opted for none at all, e.g., EMT and van den Hul. Then there were Deccas which were – literally – made from tin cans, the rare ART 1 with its solid graphite body, Koetsu's range of woods, artisan lacquers, semi-precious stones and more.
For the Jo No5, the body and the stylus guard are produced by 'an additive manufacturing process' called Selective Laser Sintering. It sounds a bit like the build-up of 3D printing, in that the process sinters thin layers of polyamide powder with a laser to build the final structure. The resultant form does recall one cartridge of the past, albeit smaller: Goldbug's Mr Briar, also egg-shaped, but made from wood.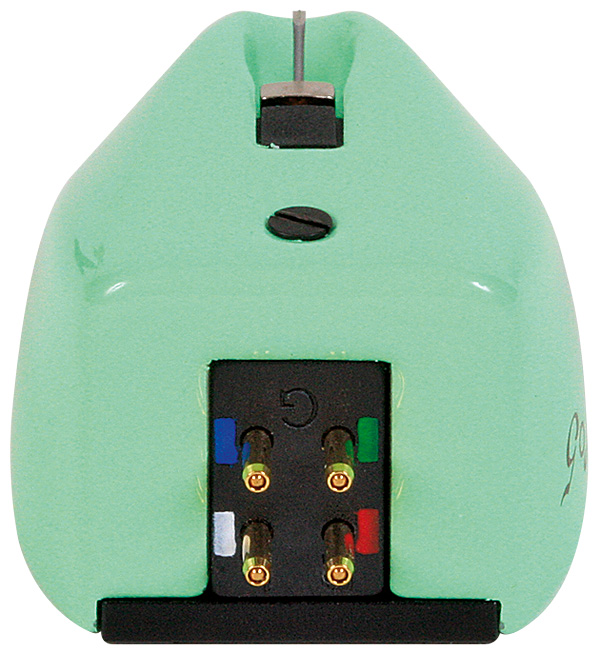 Which brings us to a non-sonic option. To enhance ownership still further, the EAT Jo No5, which arrives in a simple card box, can also be purchased with a handsome, limited-edition walnut enclosure. It is a luscious piece of furniture, measuring 145x155x60mm, with a hinged lid and magnetic closing mechanism, lined with suede.
It is so lavish that I thought it might house a fine dress watch – which is exactly the effect Jozefina wanted to elicit. The deluxe box costs an extra £80 or so, and its worth is based solely on your attitude toward the finer things.
Simple Set-Up
Back to the cartridge, though. It is almost comically large. The cartridge body measures around 30mm from front to back, not counting the pins, and it is 25mm across at its widest point. Its only set-up issue might be its height, since it stands a tall 19mm. Despite the bulk, the 15g bodyweight might have been higher still, and the shell is held in place by a set-screw on its underside, near the back.
As for the innards, the Jo No5 is a classic moving-coil design with a nude fine line stylus with an 8x40μm tip radius. The coils are made of pure 4N copper and the rated, low 0.33mV output was bettered when editor PM got it onto the test bench [see Lab Report].
It tracks at a recommended 2.2g-2.5g, which some might find a bit much when the world swears by 1.8g as a universal ideal, but that's a personal hangup which I do not happen to share. Despite a body with no easy-to-align parallel sides, set-up is not too bad because the vivid colour contrasts with one's headshell, just as its positioning all but shouts out its orientation. I set it up so the top of the cartridge was absolutely horizontal in my SME Series V tonearm, matching the gold line along the arm tube – the usual tonal changes occurred if the back was raised or lowered.