Donovan: What's Bin Did And What's Bin Hid Page 2
In Jan '65, parlaying their contacts in the industry, they hustle their singer onto Rediffusion TV's Ready Steady Go!. It's unheard of for an unsigned act to appear on the show, but Don passes the audition with flying colours and performs live for an unprecedented three consecutive weeks. His boyish good looks, peaked cap, tousled locks and the slogan on his axe, 'This guitar kills' – an abbreviation of his hero Woody Guthrie's 'This guitar kills fascists' – make him an immediate hit with the audience.
Pye comes a-knocking and four days after his 19th birthday, on the 14th of May 1965, What's Bin Did And What's Bin Hid is released, produced at Peer Music in London's Denmark Street by his management team plus in-house studio guy Terry Kennedy.
Rootsy Revision
The most famous and popular track on the album turns out to be the wistfully romantic 'Catch The Wind', released as Don's debut single back in March of that year, and smothered in strings courtesy of the London Philharmonic Orchestra. It reached No 4 in the charts – five places higher than Dylan's UK chart debut, 'The Times They Are A Changin''.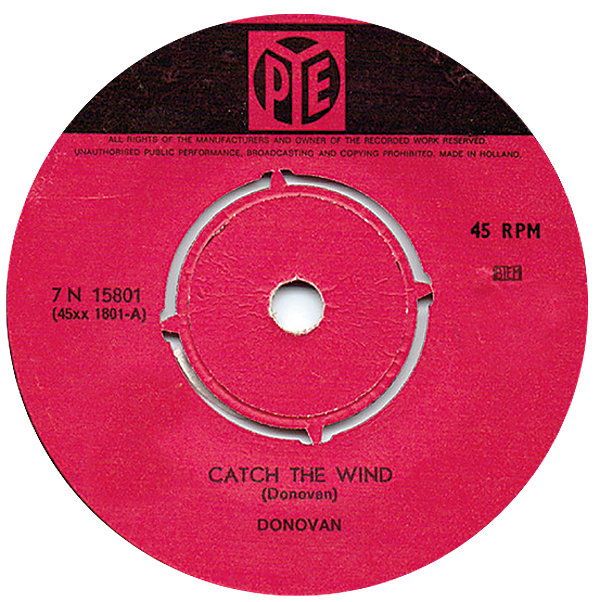 What's Bin's version dispenses with the orchestration and the vocal echo, strips it back and adds Don on harmonica – a lot more rootsy and intimate and in keeping with the rest of the LP. Don claims it was written for Linda Lawrence, Rolling Stone Brian Jones's girlfriend at the time.
The LP is split fairly evenly between Don originals and covers, which, naturally, betray the influences he's in the process of shucking. The covers include the obligatory Woody Guthrie number in the shape of 'Car Car', a daft, childish thing which presages Don's contribution to The Beatles' Yellow Submarine (he wrote the 'Sky of blue and sea of green' line for Paul McCartney).
There's also a bit of a shonky version of the old beatnik folk club standard 'Remember The Alamo', and a hefty drag through the grim old Jewish lament 'Donna Donna'. Much, much better is his take on fellow Brit folkie Mick Softley's non-conformist protest number 'Goldwatch Blues', a fledgling hippie dig at the deathly nine-to-five. Of his originals, 'To Sing For You' is sweet enough if a little too Dylanesque vocally, and 'Ramblin' Boy' is really just Kerouac-by-numbers.
Where What's Bin really comes alive is when Don removes the yoke of his predecessors and takes flight on his own wings. 'Josie' is beautifully maudlin, a torture-in-taffeta love song. 'Tangerine Puppet' is a fabulous finger-picked instrumental which backs up Alan Price's claim that Don could out-diddle Dylan up and down the frets any day, while the jazzier 'Cuttin' Out' and especially Don's adaption of the old blues number 'You're Gonna Need Somebody On Your Bond' hint at 'Sunny Goodge Street' and all the groovy treasures to come.
In all honesty, What's Bin Did And What's Bin Hid isn't exactly what you'd call a masterpiece, but it's cute, cool, formative; and the spirit is there that leads to the ground-breaking psychedelic brilliance of Don's output over the coming decade. 'Wear Your Love Like Heaven', 'Season Of The Witch', 'Hurdy Gurdy Man', 'Mellow Yellow', 'Atlantis' and 'Barabajagal'… in this writer's opinion these are riches way more rewarding than all the gruff stuff Dylan is still churning out year after year.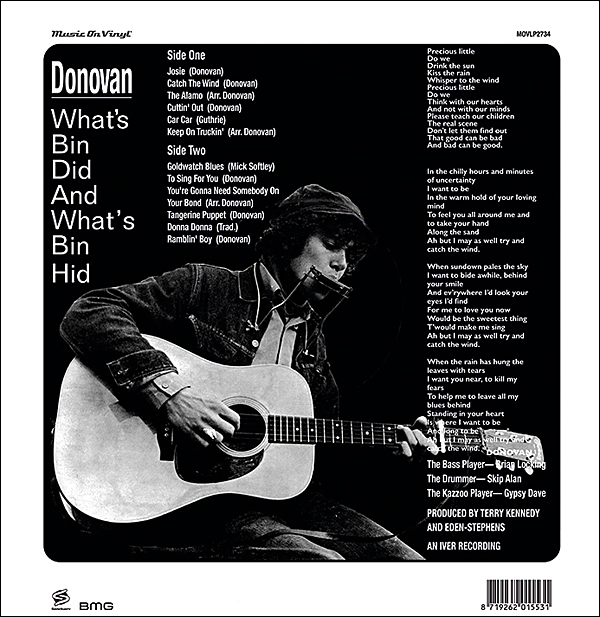 Re-Release Verdict
Fifty-five years after Donovan's 12-track debut album was released in the UK by Pye Records [NPL 18117], it's now reissued as a limited edition – just 750 numbered copies – Music On Vinyl LP on transparent blue 180g vinyl [MOVLP2074]. (In the US the album was retitled after Donovan's original hit single 'Catch The Wind', re-recorded for the 12in LP.) Singing and playing mouth harp and acoustic guitar, Donovan has a simple kazoo, drums and bass accompaniment. HFN