Denon DCD-100/PMA-150H CD Player/Amplifier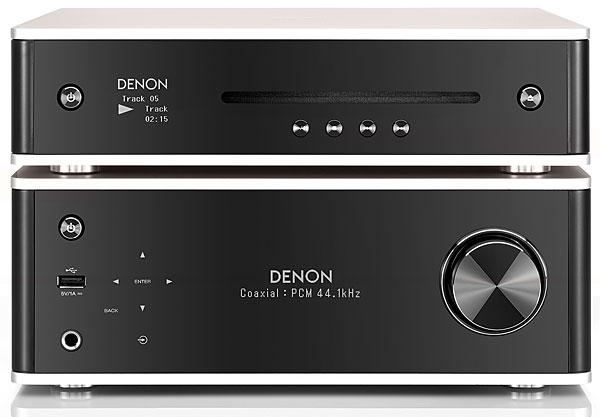 Denon's Design Series brings us this attractive-looking two-box system, combining disc playback with streaming. But does style and flexibility mean a compromised sound?
Each of Sound United's two mainstream hi-fi brands – Denon and Marantz – has its own take on compact, room-friendly separates. In the case of Marantz, it's a lineup comprising an integrated amp and a USB DAC/headphone amp, each styled in 'retro' casework designed to evoke memories of Marantz amps of the past.
Denon, meanwhile, goes for a completely new look for its 'Design Series', to which the £549 DCD-100 CD player and £1099 PMA-150H network amplifier are the latest additions. The main body of the product is a mixture of gloss and matt black, sandwiched between two slabs of alloy to give a look that's kind of 'modern deco', being both up to date and with hints of classic 1930s 'style moderne' design.
Denon's Design Series is rather more extensive than that of its stablemate, encompassing three amps and a receiver, starting with the £299 PMA-30 and rising through the £529 PMA-60 and £799 DRA-100 receiver to the PMA-150H. There's also a brace of CD players including the DCD-100 and £249 DCD-50. Well, actually there's only one CD player, but we'll come to that in a moment and neither is the PMA-150H quite what it seems.
Fully Loaded
The DCD-100 is the second CD player to be launched in the Design Series, its dimensions matching those of the DRA-100 and PMA-150H at 26cm wide, whereas the original DCD-50 was a slender 20cm to match the PMA-30 and PMA-60. Both machines share slot-loading CD transports, Burr-Brown PCM5102 (192kHz/32-bit capable) digital-to-analogue conversion, and a choice of analogue outputs on RCA sockets or a single digital out. In fact, in every aspect the specification of the two is identical, suggesting there's little more happening here beyond the obvious larger form-factor of the DCD-100.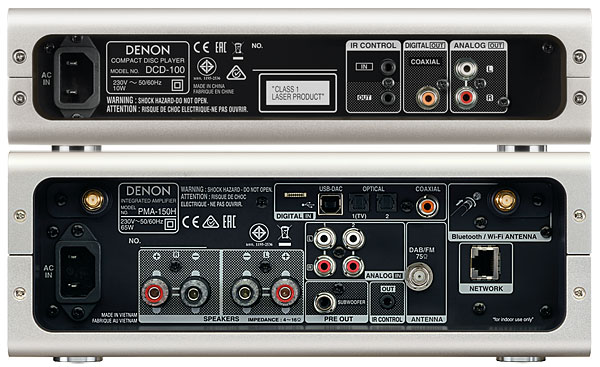 There's nothing fishy here – Denon is far from the only manufacturer making similar products in different sizes to appeal to various sub-sets of consumer – but it's worth noting that buyers wanting to add on a player to one of the Design Series amps, and less troubled by the slight dimensional mismatch, could snap up something of a bargain by purchasing the DCD-50, which is a more than acceptable player in its own right.
The PMA-150H is designated by Denon as an 'Integrated Network Amplifier' and, as such, comes fully loaded with streaming capability, both from home network storage and online services including Amazon Music, Deezer and Spotify. It also has both Bluetooth and Apple AirPlay 2 onboard, along with the Denon-developed HEOS multiroom capability now featured in just about every Denon and Marantz product, plus a range of HEOS wireless speakers. That HEOS system also brings a choice of voice control options, the amp responding to (admittedly relatively simple) requests via Amazon Alexa and Google Assistant devices.
Talking Radio
However, also included in the specification are both DAB+ and FM radio tuners, alongside the PMA-150H's TuneIn-based Internet radio capability. Now in my book that makes this a receiver, not just an amplifier – perhaps this is a PMA- rather than a DRA- to distance it from the existing receiver in the Design Series, which has after all been around for a while. Denon makes great play of this being an all-digital amplifier, using as it does 'next-generation Direct Digital Feedback Amplification (DDFA)', bridged to offer a 70W output. Well, into 4ohm, anyway, because into an 8ohm load that output halves.
Meanwhile, one coaxial and two optical digital inputs are included along with an asynchronous USB-B for direct connection to a computer. There's also a USB-A port on the front panel to play music from memory devices, and two conventional line inputs on RCAs. Files at up to 384kHz/32-bit and DSD256/11.2MHz can be played through the amp via the USB-B connection (which will require a Denon-supplied driver for connection to a PC for 'hi-res' music), and up to 192kHz/24-bit and DSD128/5.6MHz from network storage or online sources. The USB-A slot on the front offers the same format coverage as the network playback while the conventional digital inputs top out at 192kHz/24-bit.