D'Agostino Relentless Mono Power Amplifier Page 3
From the first notes, the liberation of the sound through these behemoths is something I had never heard before in my life – and I have been blessed with exposure to some of the finest privately-owned installations on the planet. It is not restricted to one aspect of the sound, such as bass slam or dynamic contrasts. Rather, it affects everything, and those who have lived with either Krell or D'Agostino electronics will recognise the sound's character – only more of it.
Massive soundstage, super-fast transients, punch where needed, finesse as required. What's different is the notion of unbridled possibility. It's as if a whole stage of intrusion between source and ears has been eliminated. It needs to be heard, before anyone – like the idiot trolls I've seen online – condemns it as an irrelevance whether for price, size, weight or other trait. Rather, the Relentless needs to be appreciated for doing one thing without any display of restraint: it is showing us what is possible, and for that I salute it.

Andrew Auditions
As one might hope, given their price, mass, sheer size and prodigious power output, writes Andrew Everard, the Relentless amps have the wherewithal to make almost any electronics we've had through editor PM's listening room sound somewhat limited if not lacklustre. Driving the B&W 800 D3 speakers – careful with that volume control! – it's clear from the first notes of Foy Vance's 'She Burns' from his The Wild Swan set [Gingerbread Man Records/Atlantic 554739], that we're on to something special.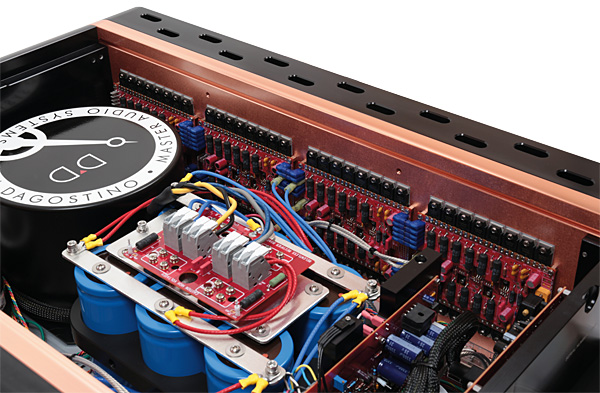 It's not just the wide-open, crisply-focused soundstage, and the jaw-dropping levels of detail and timbral texture: when that deep, deep bassline kicks in, it does so with both solidity and definition. There's not a hint of cartoonish bloom masquerading as extension – instead we get sheer, effortless power.
With another favourite tester, the Espen Eriksen Trio's 'In The Mountains', from Never Ending January [Rune Grammofon RCD 2173; 96kHz/24-bit], what the Relentless monoblocks deliver is about as close as you're ever going to get to a live experience, with that real 'listen around the trio' sense of performance.
Andreas Bye's drums, opening the track, are big and sonorous, but oh so tight, Lars Tormod Jenset's bass is rich and resonant with fine snap, and the weight and presence of Eriksen's piano is remarkable. What can sound overblown and a little forced elsewhere is here just a trio of musicians locked together and anticipating each other's moves, and it's all presented with so little effort from the electronics, making other amps sound like they're trying too hard.
Out Of The Gates
These amps really do that 'from the first note' thing, the opening of the second movement of Elgar's Symphony No 1 [Barenboim/Staatskapelle Berlin; Decca 478 9353], has that immediate sense of the presence of the orchestra and the venue even before the music starts. From there on the sound just builds, with percussion especially vivid, such as in the way cymbals clash and then are instantly muted.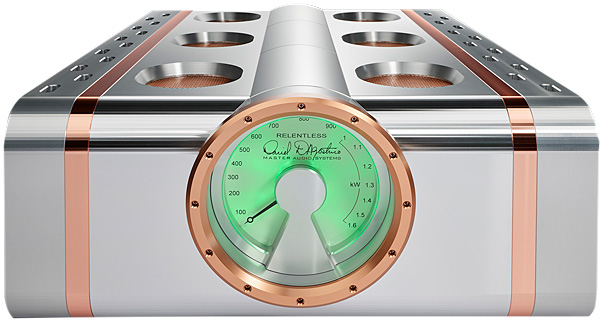 That same magical suggestion of the scale and acoustic is readily apparent in Masaaki Suzuki's recordings of Bach for the organ [BIS 2241], as is the delicious sense of the air being moved through the pipes, not to mention the sheer size of the sound of the Garnier instrument in the chapel of Kobe's Shoin University.
There's never any shortage of musicality or expression here: witness the slow build of 'The Carousel Waltz' from The John Wilson Orchestra's Rodgers & Hammerstein At The Movies [EMI Classics 50999 3 19301 2 3]. There's a real sense of expectation as the piece spins into motion, and if you advance the volume to thrilling levels (ever cautious of the 800 D3's 1kW maximum unclipped power handling), the amps handle it with aplomb. Brass and percussion are delivered with a gorgeous edge, then again that inexhaustible power and total control as the music whirls and swirls to its conclusion.
Subtlety And Slam
Yet these massive monoblocks can apply the most delicate of touches to Britten's 'Moonlight' [Four Sea Interludes Op. 33a, Bernstein/New York Phil; Sony Classical SS 87981, DSD64], with its rich, velvety string textures, before unleashing the power with no less control for the 'Storm' interlude. With beautifully ripe brass, the layers of the orchestra raging with each other, and skittering strings and woodwinds, the piece builds to an explosive, literally sofa-shaking conclusion.
Hi-Fi News Verdict
I am typically wary of 'great expectations' because they may just as easily resolve into dismay. Not so here, for the anticipation and auto-suggestion planted into the minds of eager audiophiles the world over by the astonishing scale and price of these amplifiers is realised in every facet of their performance. Just as their sound is forever etched in my memory, their 11kW will be permanently scorched into the record books!