D'Agostino M400MxV Power Amplifier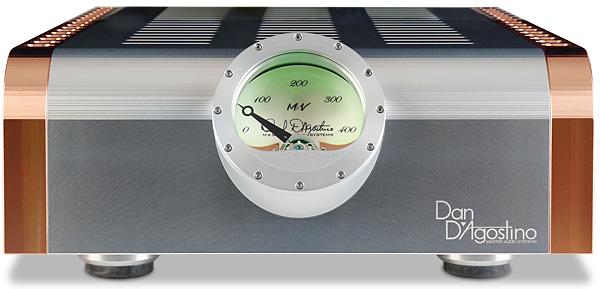 A bigger PSU, more power transistors and a new input/driver stage – all inspired by the 'Relentless experience' – gives D'Agostino's M400MxV monoblocks more Momentum!
Avoirdupois aside, Dan D'Agostino Master Audio Systems' Momentum M400MxV monoblock just may be the least fussy or fiddly power amp one can aspire to in the extreme high-end. Of course, something cute and tiny like a PS Audio Sprout [HFN Feb '15] or Quad Vena [HFN Jan '15] can be lifted with one hand and requires no degrees in electronics, but that's 'real world' gear. At £90,000 per pair, the M400MxVs are as exclusive as it gets, and such a strong physical presence is de rigueur.
However, that's as far as high-end excess goes because these Momentum M400MxV monoblocks may run warm, but not fry-an-egg warm. And while I have never begged for more power with the Momentum Stereo [HFN Aug '12], the early ones delivering around half the power of the monoblocks, the M400MxV simply sounds 'louder' and more powerful even when set to the same levels. Clearly this is the aural manifestation of an amplifier working less hard than another, the ease in the sound being so readily discernible that it almost overshadows the other virtues – and they are legion.
Legacy Looks
Visual conditioning, at least for followers of audiophile fashion, must also be a given – the lacquered copper heatsinks with venturi tunnels, choice of natural- or black-anodised alloy, and Breguet-style dial being staples of D'Agostino's amps since the beginning. So handsome are these green-lit dials that I can't imagine anyone opting to dim them. There's only one needle per chassis – it's a monoblock, after all – but as with other D'Agostino amps, the scale on this power meter is essentially uncalibrated.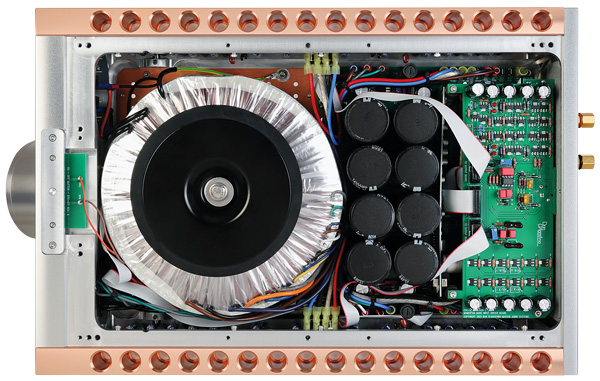 D'Agostino describes the various MxV models (updating the M400 and S250, and legacy models) as featuring 'new concepts, components, and manufacturing techniques developed and learned throughout the past decade'. Having upgraded the original M400s [HFN Oct '16] after six years, the MxV status clearly wasn't developed in haste, D'Agostino adopting a Wilsonian attitude toward design stability – infrequent upgrades, but extensive when undertaken. Even the suffix to identify them has resonance with the company's history: MxV stands for 'Mass times Velocity', which is the definition of Momentum.
As expected, the upgrades are genuinely comprehensive and much trickles down from the research undertaken for the flagship Relentless monoblocks [HFN Mar '20]. The latter's fresh front-end circuitry has been adapted for these Momentum MxV amplifiers, while all major sections – the power supply, and the input, driver and output stages – have been upgraded.
Among the developments are a new transformer winding pattern credited with the potential for over 50% more current from the same transformer 'footprint', and new transistors in both the driver and output stages. What's described as a new 'bias stability circuit' provides a claimed 50% increase in operating bias, which may remind readers of Dan D'Agostino's Krell philosophy of a lifetime ago, directly expanding its Class A operation. This, of course (for audiophiles of a certain, er, bias) might promise a correlation with improved sound quality.
Upgrade Path
Now, the good news. The MxV upgrades are retrofittable to earlier Momentums, including the S200, S250 and M300, but it does require a return to the factory. The price quoted to upgrade an M400 to M400MxV status is £29,000 per pair. Before you let out an audible gulp, please factor in depreciation, the many years of usage of your M400s and the fact the M400MxVs cost around £12,000 more per pair from new.
Once in place in the listening room – and at 43kg apiece without their optional stands you may need help – it couldn't be easier. Input is via a single XLR for balanced operation (there's an RCA-to-XLR adapter in the box if your preamp doesn't have balanced outputs) while the sturdy binding posts take spade connectors or bare wire. The only other items on the back are for IEC mains, sockets for remote on/off triggers and a three-way mini-toggle to select the meter illumination. As before, on/off is through a soft-touch button secreted away underneath the front edge of the fascia.

Petty Differences
Luckily for me, years of Momentum Stereo usage had attuned my ears to the nature of the archetypal 'D'Agostino amplifier'. Despite my own predisposition toward valves, I always found Dan D'Agostino's solid-state creations to be as accessible and 'ear-friendly' as the best valve amps, if slightly less warm. That has changed with the MxV upgrades, and I am tempted to phone a reader who found the previous generation of M400s too edgy. These sound positively cuddly.