Continuum Obsidian/Viper Turntable/Arm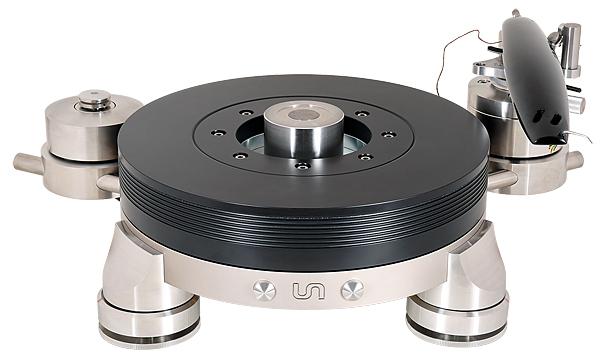 Continuum's third LP-spinning package, the Obsidian and Viper, departs from the template of its vacuum-equipped predecessors. Can the brand do 'conventional'?
Looks can be deceiving, especially if you first see a Continuum Obsidian turntable and Viper arm fully-assembled. Its three-legged, dust-coverless design recalls innumerable open-plan decks from affordable up to high-five-figure absurdity. Then you note the Continuum's price tag and realise it's of the latter: the Obsidian sells for £39,998, the Viper £11,998. Generously, you can save a grand buying the pair for £49,998.
As this is a print article and not a video, you can neither hear my sharp intake of breath nor see the shaking of my head. Yes, ol' KK, who's been apologising for obscenely-priced gear for nearly 40 years, is reaching his militant capitalist limits. The problem? Next to the Obsidian is the TechDAS Air Force III Premium [HFN Jun '19], one of its more obvious rivals, and a must-compare for any potential customer.
What I do not see are the air bearing, vacuum hold-down, complex suspension or myriad other features supplied by TechDAS for £29,998 (less arm). That's ten grand below the Obsidian, and it challenges the thought that worth can only be defined by the customer, and if he/she can afford a given item. It took effort on a par with quitting smoking to stifle my antipathy toward the Obsidian, based on perceived value. I had to will myself to abjure any need for placing it in a financial context.
Close To Perfect
Despite this unit looking much simpler than it actually is, any dream of easy installation is undermined by the cleverly-concealed complexity. It comes in a single, massive flight case, everything securely packed in fitted foam. The weight is an imposing 30kg without arm, of which 10kg is the nested, multi-part platter. The bearing is so perfectly engineered that you will rejoice in watching how long it takes to settle. Crucially, you then notice that which eludes audiophiles obsessed solely with sound-uber-alles.
For those weaned on audio during the 1970s and 1980s, the audiophile value system dictated that the only thing that mattered was what came out of the speakers. All else was superficial, thus enabling excuses for tonearms with bearings that make Lego blocks look like medical equipment and plinths with the structural integrity of a takeaway pizza box.
Continuum's standards, on the other hand, suggest that someone spent a lifetime in Switzerland. In essence, the build quality of the Obsidian – in direct contrast to the Viper, which I will get to – is as close to perfect as I have ever seen. The engineering, machining, fit and finishing are flawless. Aside from the Delrin platter's susceptibility to the oil from one's fingers (a reason not to touch it), this turntable is a visual and tactile treat; for once, the styling matches the integrity of the build.
Above Reproach
Everything is top-grade, from the motor pulley to the feet, the platter to the screw-down puck, the tonearm base and adjustments – none of it would shame a camera lens maker. Its weight inspires confidence as such a detail always does, while the outboard power supply, the speed controls, the umbilical wires and the auto-lift mechanism (recalling the Audio-Technica Safety Raiser of yore) are above reproach.
Once more, appearances can be deceptive, as this goes way beyond being merely a motor and platter in a skeletal chassis. The absence of a conventional plinth places the tonearm and motor on separate, mechanically-isolated mounts, for damping or re-channelling vibration. Continuum was generous with the tungsten, chosen for its strength, density and natural damping characteristics.
On The Quiet
What the eye also doesn't see is that the entire arm mechanism is magnetically attached to the base of the Obsidian, using tungsten contact points instead of fixed mechanical means, eg, bolts or screws. Continuum says that, 'In a sense, the mechanism floats on these tungsten contact points'. Tungsten is also used in the bearing shaft, the bearing itself being a magnetically-opposed, if non-floating design. Continuum fits a 60V, servo-controlled, 'zero-cogging DC motor' designed and constructed specifically to accommodate the Obsidian's platter and which is said to possess the highest power currently available in a motor of its size. The motor – dubbed 'The Quiet One' – uses stainless steel, pre-loaded ball bearings, and graphite brushes for better current conductivity when driving a heavy platter. Best of all, the motor is indeed super-quiet, and gets up to speed quickly.
Then we come to the arm. While I admit that conditioning, ignorance and prejudice are at play, this 3D-printed 'ABS terpolymer' construct of an arm wand is as alien to me as cooking with an AGA instead of controllable flames. From the unipivot down, it is a beautifully-machined, complex structure with precise adjustability on offer. But that ludicrous black plastic banana, in contrast to the deck to which it is fitted, inspires no wonder in this observer, nor any sense of looking at twelve grand.