Constellation Audio Pictor/Taurus Stereo pre/power amplifier

Based on the popular Inspiration series, the new Revelation range offers upscaled performance for gimmick-averse audiophiles. Its new pre/power is a formidable package
High-end hi-fi offers many flavours of weird and wonderful design, technology and functionality. In a sense, that's what it's there for, in order to differentiate itself from more prosaic, modestly priced products. Yet it's all too easy to get lost in 'surprise and delight' features, wild styling or wilfully alternative engineering – and lose the plot.
When all is said and done, esoteric audio has to sound the part, and that's where Constellation has delivered. Keeping its eyes on the prize, it offers a clearly delineated range of products devoid of fripperies or gimmickry. Instead, it's back-to-basics for this Californian company.
Dream Team
This philosophy has served founders Murali Murugasu and David Payes well. They assembled a 'dream team' including electronics guru Peter Madnick (formerly of Audio Alchemy) and talented industrial designer Alex Rasmussen, and over the past few years the company has been carving out its very own place in the high-end firmament. The Pictor/Taurus Stereo pre/power is in the vanguard of the brand's new Revelation series – the two-box Pictor preamp (£21,998) looking like a tricked-up version of the Inspiration preamplifier [HFN Jul '15], with much of the core design retained but utilising an outboard power supply. Similarly, the new Taurus Stereo (£23,998) is based on the Inspiration power amp but with a larger and quieter power supply [see PM's Lab Report].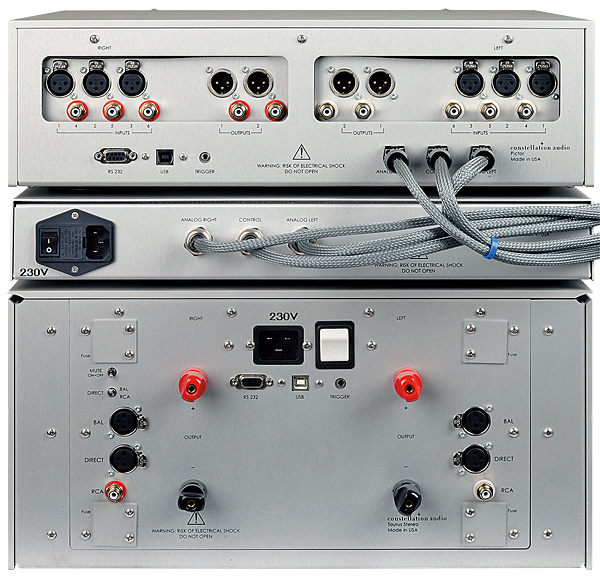 The Pictor preamp also gazes towards the heavens of the Constellation range. So, like the Performance series Virgo III line stage, it has dual mono, fully balanced circuitry, suspended circuitboards (to counteract vibration), and an external power supply sporting two R-core transformers that feed both analogue channels, plus an EI-type transformer for the control circuitry.
These connect to the preamp by three stout-looking PC-OCC cables terminated with plug-in Hypertronics connectors. Originally developed for the Reference Series Altair range, Constellation Audio's proprietary Line Stage Gain Module is also used and this employs ultra-low noise J-FETs in a fully balanced configuration.
Both the Pictor and Taurus are solidly constructed from aluminium panels and adhere to the now-familiar 'Constellation aesthetic', although some bonnet edges were unexpectedly sharp.
A Big Beastie
The standard Constellation preamp user interface is fitted, which is decent enough to use with its paper-white LC touchscreen control system – but can sometimes feel a little slow. Hidden underneath the display panel are minor controls dealing with input gain, mute, phase, home theatre bypass and screen set-up. Volume control is via the large knob on the right, and key functions are duplicated on a high quality aluminium-bodied remote. Three XLR and three RCA stereo inputs are offered, but the USB port is for control purposes only – there's no built-in DAC!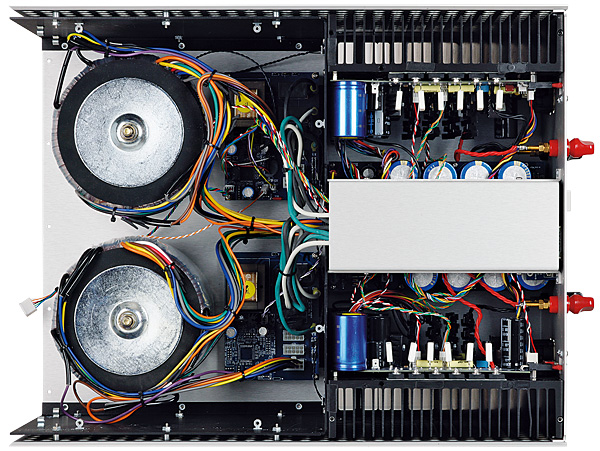 The Taurus Stereo power amplifier is essentially an uprated Inspiration Stereo 1.0, with which it shares the same twin 125W 'single-ended' power modules working in the company's classic balanced bridged mode [see Irv Gross interview]. A full 250W/8ohm and 500W/4ohm is claimed and more than borne out by PM's independent tests.
Constellation's Taurus is big beastie, with striking styling and the company's trademark perforated casework facilitating the cooling of its internal, deep-finned heatsinks. Under the bonnet [see pic, above], two sizeable toroidal power transformers deliver the juice and there is substantially more storage capacitance to support the Taurus's higher power rating over the Inspiration, says the manufacturer. Two RCA inputs are fitted alongside four XLRs – one pair for 'Direct', an option that bypasses the input J-FET gain stage and connects the preamp directly to those single-ended power amp modules.
In use, the only criticism is that it takes longer to cycle through its warm-up procedure than do most amplifiers. Holding the power-bar on sees the power LED go red, then it flashes green, then stays solid green, then finally blue. It works perfectly when paired with the Pictor, but considering the cost of this three-box combo some potential purchasers may find it lacks the exquisite 'feel' of certain price rivals that have graced these pages.

Doubts Dispelled
Any vestigial doubts I had about the build and ergonomics of the Pictor and Taurus were assuaged when I began listening in earnest. Initial impressions were highly positive, and things just got better. In a nutshell, this is a super-sounding pre/power that offers an unshowy yet beautifully resolved sound, with abundant power allied to great poise.