Class Distinction Also in HFN this month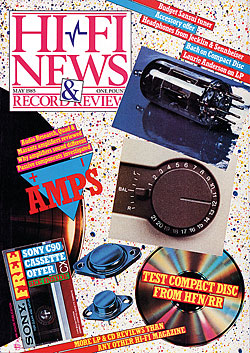 Also in HFN this month in 1985
LETTER FROM JAPAN
Martin Colloms reports following his lightning visit to the Land of the Rising Sun.
AMPLIFIERS
Should they sound different? Do passive components affect sound quality? Martin Colloms takes time off from his test gear but ends up with more questions than answers.
INTO THE AETHER
Ken Kessler spends time with a budget digital tuner – the Sansui TU-D33XL.
CANNED MUSIC
John Atkinson tries seven pairs of stereo headphones: the HD410SL, HD414SL and HD420SL from Sennheiser, JVC's H-710 and H-810, plus the Jecklin Float Model One and Model Two.
NEW TUBES
Martin Colloms reviews Mkll valve models from US company Audio Research in the form of the SP-8 preamp and D-70 and D-115 power amplifiers.
QUAD 34/405-2 REVISITED
Ivor Humphreys takes a listen to the latest versions of Quad's amplifiers: the Quad 34 preamplifier and Quad 405-2 power amplifier.