Cambridge Audio AXC35 / AXA35 CD Player/Amplifier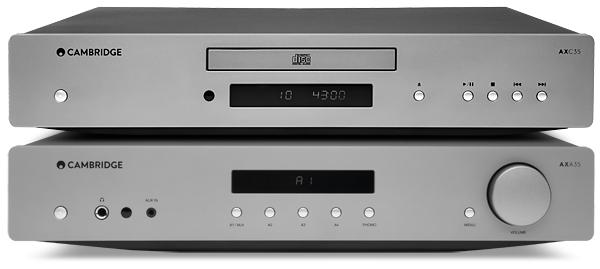 Is the no-frills CD player/amplifier combo making a comeback? Cambridge Audio is not alone in thinking so, but its latest AX series also looks to offer uncommonly good value
Whether a car, hi-fi component or a general electronic gadget, the promise of 'trickle-down' technology from a flagship model is always an alluring prospect. Cambridge Audio is the latest to claim such an advantage, with the assertion that its new AX models 'take design and innovation cues from the CX and Edge [HFN Nov '18] hi-fi ranges'.
The AX series replaces the Topaz range and currently consists of a six-strong lineup. First up are the £229 AXA25 and £299 AXA35 stereo amplifiers, accompanied by the matching AXC25 and AXC35 CD players, also £229 and £299, respectively. According to parent company Audio Partnership, the AX range will shortly be completed by the £349 AXR85 and £449 AXR100 stereo receivers.
Apart from the neat styling, smoothly sculpted fascia edges and the use of a front support bar rather than individual feet (which, admittedly, does look very smart), I did struggle to find much to relate the AX models to their top-flight brethren, and Cambridge Audio itself didn't have much to say on the subject either. The only other exception is that the silver model is no longer silver – it is 'Lunar Grey' – a very appealing colour that ensures the AX components stand out from any bog-standard silver competition.
Heart Of Texas
The AXA35 amp is a sleek-looking model boasting a power rating of 35W/8ohm from a pair of Texas Instruments output modules – 10W up on the cheaper AXA25. In the centre of the front panel is a digital display that carries information about source selection, volume level and various menu items. There are four line level inputs available, on RCAs, labelled A1-A4. A fifth, 'Aux In', is available on the front panel through a 3.5mm jack socket, and has an additional 10dB of gain to improve compatibility with the (typically) lower output of portable audio players. Plugging into this front panel socket automatically selects the input but as the selector button is shared by the A1 input, you cannot forcibly select 'A1' while a plug is in 'Aux In'.
The rear-mounted USB-A socket might also be a source of confusion because the AXA35 has no internal DAC – this port is offered purely as a charging socket for your USB devices. Also at the rear are a set of good quality loudspeaker binding posts, while Cambridge continues its tradition of labelling inputs both the right way up and upside down, a simple but incredibly handy feature when leaning over the back of the amplifier trying to identify which is which.
External DAC
Better news still is that the AXA35 comes pre-fitted with a MM phono input that will also accommodate high-output MCs. Bearing in mind Cambridge Audio's outboard phono stages have typically fared very well indeed, having one included in this amplifier is potentially a big bonus. Finally, the unit has a front-mounted 6.35mm headphone socket that, like the phono input and digital display, does not feature on the cheaper AXA25 model.

The partnering AXC35 CD player is another stylish, well-finished unit and this will play CDs, CD-Rs, CD-RWs and home-burned discs hosting MP3 and WMA files. It makes use of a Wolfson WM8524 DAC to service its unbalanced outputs, but a coaxial digital S/PDIF output is also fitted should you wish to upgrade through an external DAC. This latter connection is not present on the more affordable AXC25 player.
The amp and CD player are both supplied with Cambridge Audio's system remote control which, though perfectly functional, lacks the metal top plate of the handsets from the Azur range. Both items are slick and refined, with only an occasional delay on the CD player's eject function betraying the affordable price of these separates.

Coming Clean
With the AXC35 and AXA35 paired up and feeding Usher S520 loudspeakers on Atacama SL-600 stands, I was reminded why Cambridge Audio has a reputation for good quality budget designs. The AX35 combination served up a clean, detailed and flowing sound with a pleasing weight and sense of impact to their performance that can often be lacking at this price level.