Burmester 111 Musiccenter (£26,800)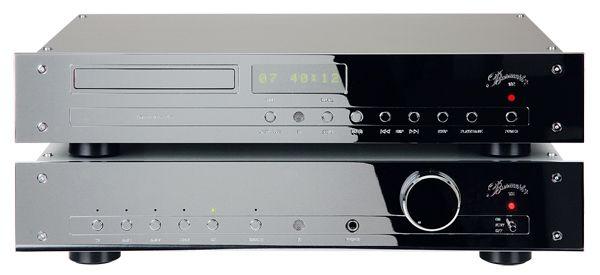 The 111 can be considered a work that's bound to evolve, upgraded via software updates and if the price is not a barrier, then the 111 Musiccenter delivers a truly fabulous sound
The 111 is Burmester's take on what a 21st century music centre might comprise, albeit with an eye-watering price tag. It is a high-end analogue preamplifier with a built-in DAC and a slot-in CD drive for playing CDs; it can rip CDs to its HDD, and since it has both Wi-Fi and Ethernet network connectivity it has internet radio functionality built in.
Once music is stored as a 'digital library' on its internal 3TB HDD, the 111 can further function as a music server to distribute music around a networked home. It's driven via an iPad that is included in the price (Burmester's iPad app is attractive and works well).
The lavish build quality is right up there with the best of high-end marques; it's the size of a big amplifier and weights 28kg. A 7in colour LCD screen (800x480 pixels) dominates the fascia. Below this is the CD slot – the 111 employing a slim profile CD-ROM drive sourced from TEAC. Its DAC section is apparently based on that used in Burmester's flagship 069 CD player, while the balanced preamplifier employs circuitry derived from its 077 model. XLR-to-RCA adapters are provided for connecting single-ended sources to the 111's analogue inputs. Although designed to be connected directly to power amplification, it can be hooked up to an integrated amp, via various 'audio profile' menu presets.
The 111 can thrill
Using the Musiccenter first as a CD player, we experienced a smooth, creamy and luscious sound quality that's typical of the marque. However, Burmester considers this functionality to be an 'add-on', the main purpose of the CD loading slot being for ripping discs. So how do CD rips sound? The answer – fabulous! The 111 has a sweet and subjectively warm midband, coupled with an exceptionally smooth treble, and it delivers a deep, laid-back soundstage perspective that's redolent of the finest tube gear.
It's also quite flattering, and forgiving of raucous pop/rock recordings that often grate. We ripped Tori Amos's jangling 'Cornflake Girl' 1994 CD single: a track we often use to test a system's ability to handle hot, splashy pop fare. Played out from the 111's HDD storage it sounded bold and vivid, the tambourines and cymbals displaying little hint of coarseness or unpleasant grain. The piano – and Tori Amos's voice – sounded rich and full-bodied.
The Burmester has the ability to thrill in spades. We listened to a track ripped from Other Worlds In A Small Room [Medium Productions] entitled 'A Disturbed Sense Of Distance'. Dark, brooding and atmospheric, this has immense bass energy which the Musiccenter's HDD made more than merely visceral: it had texture, depth and fabulous detail resolution.
Is there a difference in sound between the 111's CD playback quality and rips of the compact disc played off the HDD? You bet! With the familiar classic, Jazz At The Pawnshop and playing the CD, the Musiccenter was guilty of sounding a little too warm and syrupy, its polite balance robbing some sparkle and vibrancy from cymbals. From its HDD the sound was faster and tighter, with improved bass clarity, a little more air, more 'zing'.
Verdict
The 111 can be considered a work that's bound to evolve, upgraded via software updates. We said of Burmester's flagship CD player that you don't have to spend in excess of £30k in order to enjoy CDs, and the same goes for experiencing high fidelity from computer-based audio. But if the price is not a barrier, then the 111 Musiccenter delivers a truly fabulous sound.
Originally published in the 2013 Yearbook