Burmester 102/101 (£4357/£5088)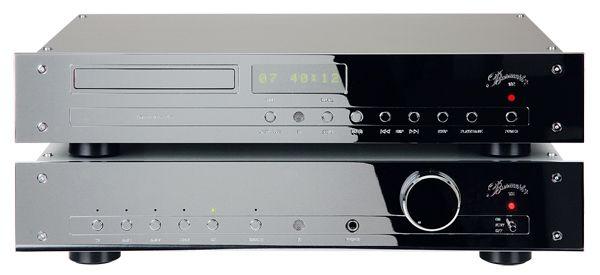 This is a powerful and smooth-sounding combination that offers better value than many a competitor
Many designers have tried to give their products a unique visual identity, but few have succeeded as well as Dieter Burmester. The 101 integrated amplifier and 102 CD player/DAC comprise Burmester's current entry-level range, the latter a slim standard-sized unit, which would look conventional if it weren't for all that chrome.
Behind its shiny metal front, the CD drawer has a plastic tray, but it operates with a solid and reassuring precision when you touch the leftmost button on the fascia. The fascia button marked 'Audio' switches the player's upsampling between 96kHz and 192kHz, and another switches between coaxial and optical digital inputs.
Functional as it is, the display is rather basic: it won't show sample rate information, for example. Handset-only CD functions include direct track selection and programmed play using the numeric keypad, track or whole-disc repeat, display dimming and fast-forward or reverse search. (Burmester's metal-bodied system controller will also operate volume and source selection on the 101 amplifier.)
Turning to the back panel, there is a Toslink optical input, but the only electrical digital input is a coaxial (phono) connector, so to use the 102 with computer sources you will need a suitable USB-to-S/PDIF adapter. For analogue output, there are Burmester's usual balanced connectors as well as unbalanced (RCA) phonos, plus a second pair of these as a record output.
The 101 Class D integrated amp is slim and compact too. Once again, the fascia is immaculate, the controls clean-looking and straightforward, with all legends engraved rather than silk-screened. The superbly-finished volume knob is a 'proper' old-fashioned rotary control – motorised, it works very sweetly from the up and down keys on the remote. Once again, a neat row of control buttons is punctuated by the remote-control IR receiver window, and alongside this is a headphone jack. The fascia button 'Smooth' is a form of subtle loudness compensation for low level replay.
Poise and power
Once warmed up, the Burmester combination showed its sheer class on every kind of music we tried. We plunged into Stevie Ray Vaughan and 'Ain't Gone 'n' Give Up On Love' from The Real Deal: Greatest Hits 2
[Epic]. The sound was poised and powerful, with massive bass and punchy drums behind SRV's creamy, purring vocal and stinging guitar.
Although the 102 CD player allows you to switch its upsampling on the fly, Burmester recommends sticking with 96kHz. But after repeated trials with 'Kalerka' from Rebecca Pidgeon's The Raven [Chesky] we felt that the 192kHz setting was giving just a little more luminosity to the vocal, and it seemed a little easier to follow the rather buried rhythm guitar pattern.
On a Tony Faulkner orchestral recording, Rachmaninov Symphonic Dances, we were impressed by the Burmester's ability to provide flawless deep bass, conjuring up almost subterranean sounds from a truly black and hash-free background. And we found that the 102/101 combination could really give convincing weight and scale to a concert grand piano – we really enjoyed Patrick O'Byrne playing Ravel on Stockfisch Records.
'La Vallée des Cloches', showed off the bottom-end of the piano to great effect, the lowest notes, the most distant and solemn clock bells perhaps, sounding full of substance.
On a good live recording, the Burmesters could really give you the space and ease of a concert venue, as with Quercus, by the group of this name [ECM]. June Tabor's voice is heard enveloped by the acoustic of the hall, but there's a closer view of piano where the sonority of its low notes was very well presented.
Verdict
This is a powerful and smooth-sounding combination, strong on precision but not lacking warmth. In terms of material content and engineering quality, it offers better value than many a competitor.
Originally published in the 2014 Yearbook