Bo Diddley: Bo Diddley Page 2
Like most long-players of the time, it was a catch-up compilation of tracks previously released to stores, jukeboxes and radio stations, singles being the most lucrative musical currency of the era. It should go without saying that 'WDYL?' alone is reason enough for any connoisseur of rock 'n' roll to own a copy, but the other beauties that accompany it hardly come up short.
There's 'Bo Diddley' itself, one thrumming, thrilling shameless hymn to self-promotion. Then 'Hey! Bo Diddley', which is more of the fabulous same. And lest we still need reminding who the guvnor is around these parts, there's 'Diddley Daddy' which Brian Jones later stole pretty much wholesale for the riff to The Rolling Stones' '19th Nervous Breakdown'. Oh, and there's 'Diddy Wah Diddy', more glorious nonsense, carrying a similar strutting disregard for common sense, scrutability and convention of meaning and language as the 'A-wop-bop-a-loo-bop-a-lop-bam-boom' that Little Richard employs in 'Tutti Frutti'.
What it's easy to overlook in all his exhilarating preening and bragging is that Bo Diddley is one of the few human beings who can lay claim to inventing an influential musical style. It's hard to describe in words the Bo Diddley beat, but, to have a crack, it's based on hambone, which is a bit like skiffle in that the musician/singer uses anything at hand to bash out the rhythm, including beating out the groove on parts of their body.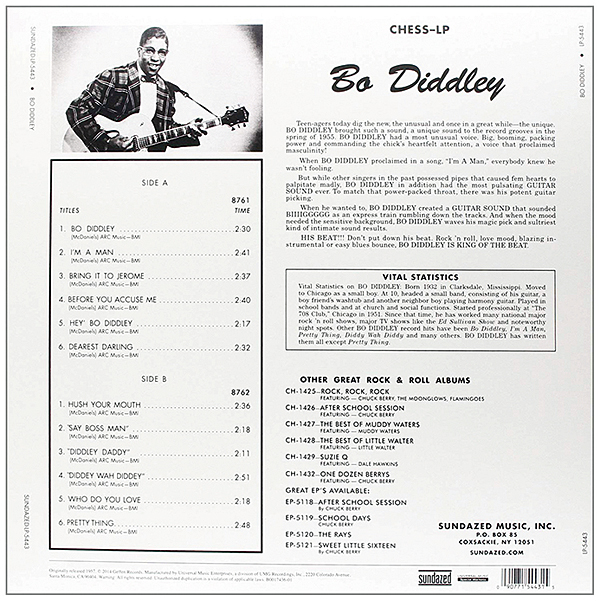 Even if you've never heard Bo you know it if you know Buddy Holly's 'Not Fade Away', later covered by The Rolling Stones, or Johnny Otis's 'Willie And The Hand Jive', later covered by Eric Clapton, or The Strangeloves' 'I Want Candy', later covered by Bow Wow Wow, or The Who's 'Magic Bus', or Bruce Springsteen's 'She's The One'… Many have adopted the riff down through the ages but none have ever bettered Bo when it comes to bashing it out, backed by maracas, restless and raw. Who else can you name who's authored such a signature style? I'm scratching my head. Maybe James Brown and funk…
Jewel In The Crown
Eventually they called Bo 'The Originator', not only for his riff but for his whole darn schtick including his self-created tremolo effect and his signature rectangular cigar box guitars – self-made at first, then designed for him by manufacturer Gretsch and gaudily customised in fur and leather.
'WDYL?' may be the jewel in Bo Diddley's crown but the B-side runs it mighty close. 'I'm A Man' was a bit of mischief penned by Bo to deliberately upstage the Willie Dixon/Muddy Waters self-mythologising voodoo-soaked R&B hit 'Hoochie Coochie Man'. 'All you pretty women,' Bo commands, 'Stand in line/ I can make love to you baby/ In an hour's time… The line I shoot/ Will never miss/ The way I make love to 'em/ They can't resist…'
Muddy didn't take it lying down. Next thing you know, he's written a response to Bo's response, as it were. It was called 'Mannish Boy', it was truly incredible and it featured the line, 'I'm a rollin' stone' which a clutch of snotty-nosed youngsters over in London took for the name of their fledgling beat group a few years later.
Believe me, Bo Diddley is such a great album that I haven't even mentioned the fabulous 'Pretty Thing' ('Purdy Thing', as Bo sings it). In fact, were it not for the absence of 'Mona' and 'Road Runner', this would be pretty much the definitive Bo article.
'I don't like to copy anybody,' the great man said before his demise from heart failure in 2008. 'Everybody tries to do what I do, update it. I don't have any idols I copy. They copied everything I did, upgraded it, messed it up. It seems nobody can come up with their own thing, they have to put a little bit of Bo Diddley there.'
Re-Release Verdict
Bo Diddley, the first of his LPs and preceded by the 'WDYL?' single, was released in the States in 1958 on the Chess label [LP 1431; mono]. It appeared in the UK the same year, while the CD arrived in 1993 on MCA Records. Our 180g LP reissue is from Sundazed Records and you can sample all 12 tracks at its website (and read an amusing overview). 'Audiophile pressing from the original Chess/Checker masters in glorious mono,' it says. The sleeve features the original artwork and ours was a flat, quiet copy. HFN