Bel Canto e.One Stream Network Bridge/DAC

Part of the Minnesota brand's compact Evolution One series, this 'Asynchronous Network Bridge' can feed a DAC with streamed music, or be used straight into an amp
Why can't products just be what they claim? Elsewhere in this issue you'll find a high-end network player that's also a very fine DAC, and a very affordable preamp that comes with a built-in tuner and power amplification. It's all very confusing – and then along comes Bel Canto's £1500 e.One Stream, launched at last year's Hi-Fi Show Live in Windsor, and demonstrated in an all-Bel Canto system with YG Acoustics speakers. An unassuming compact component, its 'half-width' casework impeccably finished in a choice of black or silver, the e.One Stream purports to be an 'Asynchronous Network Bridge'.
We've looked at such devices before in these pages. They're designed to sit between the end of an Ethernet cable and the digital connection to a DAC, or an amp with onboard digital conversion, thus bringing streaming music to a system without the need for an entire network music player.
Erroneously but increasingly frequently called 'streamers' these days, there are a few such devices about, including dCS's Network Bridge [HFN Jun '17]. The intention of all is much the same – to update legacy digital systems purchased when the only connection a DAC recognised was S/PDIF on coaxial or optical, typically from a CD transport or player.
Analogue Outputs
Actually, that's what the e.One Stream does: it has an Ethernet port to connect to your network, and a USB-A port to connect storage devices, plus digital outputs on AES/EBU, optical and coaxial connections. Except there's more, for on the rear of this US-built unit there's also a pair of analogue output sockets, fed from an internal DAC. So what we actually have here is a network player in bridge's clothing, and one compatible with MQA and DSD64 as well as PCM-based file formats up to 192kHz/24-bit.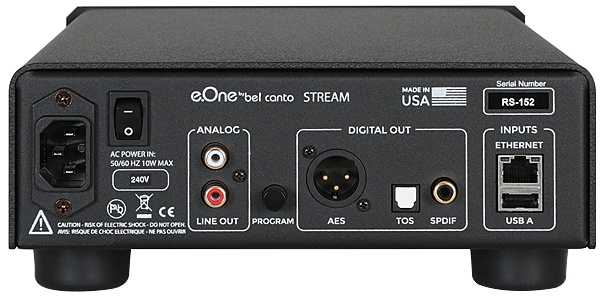 In adding that analogue capability, and the USB port, the e.One Stream replaces the previous REFStream model, which really was a network bridge – or 'Asynchronous Ethernet Renderer' – with purely digital outputs. The company's Seek app, currently only available for iOS devices, is used to 'drive' the device, whereas the older model relied on third-party UPnP/DLNA control software to play music on the home network. What's more, when used with the Seek app, the e.One Stream can also play Internet radio via the vTuner platform or – with the appropriate subscriptions in place – integrate the Qobuz and Tidal streaming services, as well as managing music the user has cloud-stored using Dropbox or OneDrive.
The idea is that this unit will bring together all your streaming requirements on one seamless platform, and if that pitch sounds familiar, yes – it can also function as a Roon endpoint. And that's almost it as far as the description of the e.One Stream goes, except that the one physical control here isn't quite what it says.
Hide And Seek
Located between the analogue and digital outputs, the 'Program' button doesn't actually program anything. In fact a press of around two seconds will send the unit scurrying off to the Internet to check whether any firmware updates are available for it. The same button also toggles the Stream's output between analogue and digital, with a line on the display showing which of these is selected.
The front panel also indicates the source of the content being played, and the format in which it is being received, and can be switched to display track information. Frankly, all that information is on the app, which is much more comfortable than peering across the room. The Seek app is a good example of its kind, and makes the e.One Stream a pleasure to use, allowing relatively seamless transitions between the various streaming services and music stored on the home network.
The app might not offer the comprehensive integration of Roon, for example, as it presents content from a local library, Internet radio, Qobuz and Tidal on separate screens. However, unlike some simpler designs, which might involve some juggling between apps, this one at least puts all the services in one place, making it simple to flick between them. Furthermore, here you have hardware capable of handling both Tidal's MQA-based Masters and Qobuz Sublime+ streaming, given the relevant subscriptions, so there's no need to settle for lesser formats when you rely on streaming to play your music.