AVM Rotation R 5.3 Turntable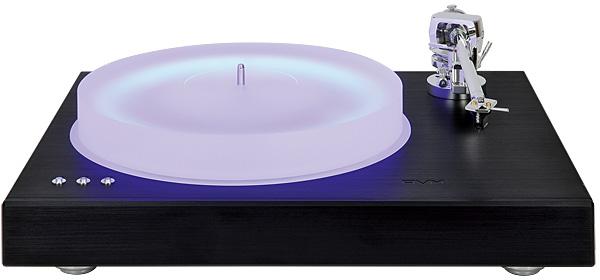 Employing a novel dual-pulley drive system and a bespoke 10in tonearm, AVM's first deck is a flamboyant addition to the rapidly expanding pantheon of high-end turntables
Ibuilt a unique record player for my son's 18th birthday,' says Udo Besser, Managing Director of AVM (Audio Video Manufaktur) GmbH, 'and that's what sparked the development of this turntable'. What then kept the fire burning, he told HFN, were the numerous requests for a vinyl spinner from his customers, adding that, 'also, turntables are my passion'. So Udo set about designing his own deck from scratch, and the £5490 AVM Rotation R 5.3 you see here is a clean-sheet design, new to the market.
Interesting as it may be, there's no denying that it's a little late to the party – given that many electronics manufacturers have rediscovered their love of vinyl over the past decade or so, and launched record players with varying degrees of success. Turntables are relatively straightforward engineering propositions, but designing and manufacturing them doesn't necessarily fit hand-in-glove with CD player/DAC/amplifier production.
And Tonearms Too
Udo admits it was a challenge, adding that, 'it was a task to blend the technical aspects into something that was distinctively AVM, and also to create and design our very own tonearms (9in for the smaller R 2.3 deck and 10in for the R 5.3). I felt just relabelling a product was not enough so I wanted to do it my way. Development on the deck started in 2013 with numerous prototypes reflecting its evolution. It was the most expensive R&D project so far in the company's history'.
Although the manufacturing has been outsourced to a specialist European turntable manufacturer, all design has been done completely in-house. Indeed the Rotation R 5.3 sports a novel variant of the belt drive system, the so-called 'Elipso-Centric Belt Drive'. AVM's tonearm is also noteworthy for being a new design, rather than a rebranded item. In other respects though, it's a pretty conventional non-suspended subchassis/heavy plinth belt-drive deck – the like of which we've seen many times before.
The R 5.3's largish 470x390mm (wxd) base is made of high-density fibreboard, and proves to be both solid and acoustically inert, if my knuckle knock test is any guide. The top and front are decorated in a layer of brushed aluminium that's glued to the fibreboard base. 'The resulting sandwich construction turned out to be a match winner for us,' says Udo, 'as it silences the entire table to an extreme degree.' He adds that the screw-on damping feet were specified along with the massy plinth to keep resonance low.
On top of this base sits the large 5kg acrylic platter, resting on a metal inner platter that rotates within the main bearing housing mounted into the chassis. An offboard 'wall-wart' PSU connects to the deck via a socket at the rear and, once powered-up, speed is selected by means of three small switches on the front left of the plinth. An electronically-governed DC servo motor is fitted.
Dazzling Deck
AVM's partnering 10in tonearm, a medium-to-heavy effective mass design, is made of chromed aluminium alloy – 'I admit this looks a bit flashy,' says Udo, 'but many visitors to my company who saw it liked it and so I decided to put this finish into production. It comes at a price because it is complicated to build'. The arm comes pre-installed so it's just a case of connecting up your phono leads to the RCAs at the back of the deck. The lockable counterweight is also used to set the tracking force and in standard guise it'll accept cartridges from 5 to 8g in weight, or 8 to 16g when the cylindrical insert is added. There's a range of other adjustments, including azimuth, VTA and bias – the latter via a tiny pulley and weight arrangement – while the large headshell ensures a firm connection with almost any choice of cartridge.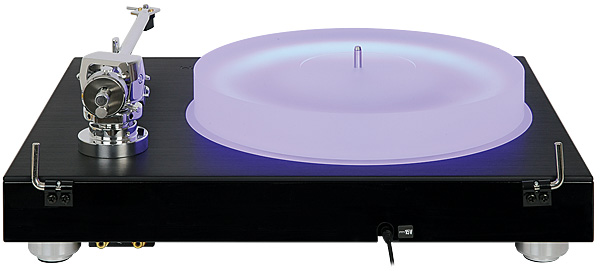 Our R 5.3 was supplied in its 'Aluminium Black' finish, but there's also a neutral 'Aluminium Silver' version, and the optional Cellini Chrome Silver finish should you wish to dazzle your friends. The deck's built-in illumination ring is similarly dazzling, this 'under-platter' blue LED lighting governed by a rocker switch situated under the plinth, beneath the speed controls. Of this, Udo Besser candidly admits, 'this is just a gimmick, and you can switch it off'.
Supplied largely set up – the belt, counterweight and bias lever needing fitting – all that's left is a little fine-tuning before the R 5.3 is ready to play. It gets up to speed quickly and there are no groans from the drivetrain, while the arm feels nice to hand-cue. My main criticism of our sample was the poor quality glued rubber drive belt supplied, but AVM says that all versions now on sale have a higher quality continuous type fitted as standard.

Suited And Booted
The AVM Rotation R 5.3 is a robust sounding turntable, and one that has much going for it in many ways, yet in my view it still struggles to match the overall performance of many peers. As the stylus hits the groove, you're instantly aware of its big, solid sound, so this isn't one of those weak, anaemic performers that you have to kid yourself sounds confident. Instead, it is broad-shouldered, barrel-chested and wears big boots – metaphorically speaking, of course. It plays LP records in an upfront, powerful and unselfconscious way, albeit lacking some of the finesse and artistry demonstrated by price rivals.