AVM Ovation CS 8.3 Black Ed. All-In-One Solution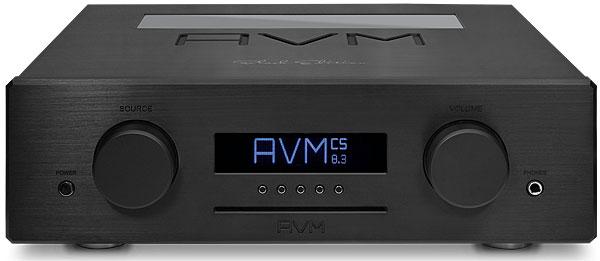 AVM's flagship all-in-one network/CD music system combines cool-running power with huge flexibility while the top 'Black Edition' features a custom finish and selected tubes
Nowadays there's a wealth of all-in-one units available but AVM was one of the brands to spot the trend early on. That partly explains why, even in an industry that loves extensive model ranges, the company has an impressively large product offering – including five streaming receiver solutions. And there's little concession to price in this range, so the top-of-the-line £14,950 Ovation CS 8.3 model boasts ample power reserves, a full range of streaming capabilities and a slot-loading CD player.
It's the successor to the CS 8.2 [HFN May '17] and still employs Class D amplification from Pascal – a well-known supplier to pro audio brands, and recently featured in Dynaudio's active Focus loudspeaker – next to an ESS-based DAC. The Pascal module is driven by a triode tube line/preamp stage in the CS 8.3, unlike the £12,950 Ovation CS 6.3, for example, which is solid-state throughout.
Shipped in its own bespoke flight case, the £15,950 Black Edition we have here takes the standard CS 8.3 model and gives it a discrete makeover with an exclusive finish and selected tubes. And no, although 'Black Edition' makes it sound like a limited offering, this flagship is here to stay.
Paint It Black
AVM's hardware has always featured superb build quality and the German brand has recently upped its game further by moving production closer to its home base in Malsch, just south of Karlsruhe and west from Stuttgart. And it shows, as the quality of the CS 8.3 Black Edition's casework is exemplary. From the chamfers softening the corners on the aluminium chassis to the way everything fits seamlessly together, there's not a screw in sight.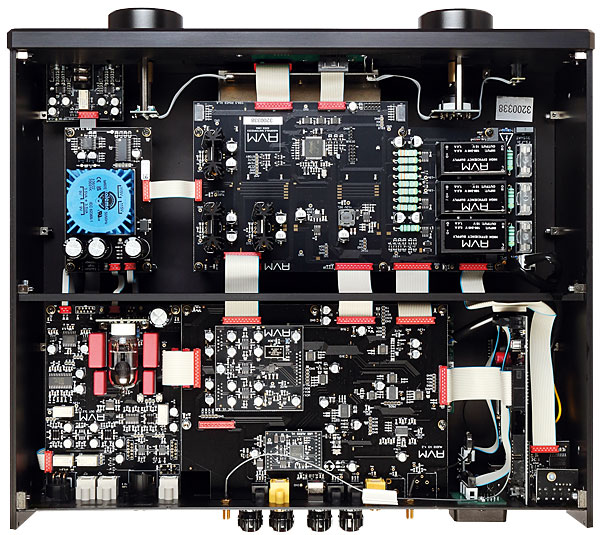 This Black Edition does not have the regular black finish of the CS 8.3, but a classy hand-brushed matt anodising that oozes understated luxury. It's very much the antithesis of AVM's highly reflective Cellini Chrome finish, available on other models. To emphasise the desirability of the new unit, 'Black Edition' has been scrawled on top in a subtly applied signature, only noticeable when the light falls just in the right way. As with other AVM products, there's also a large angular AVM logo cut into the lid.
Low-Key Looks
Source and volume controls are dressed in the same matt black finish, so there's very little grabbing your attention. The central display showcases low-key blue characters; you'll see streaming metadata appear here, and you can control the CD player or quickly peruse the settings via a row of five buttons, with their context-related functions appearing on the screen above. There's not actually a huge number of options you can play around with, but two digital filters and tone controls are there to add seasoning to the sound.
Even though the Ovation CS 8.3 Black Edition is positioned as a flexible, super-integrated amplifier, it possesses wide-ranging connectivity. Sure, there are streaming options galore and that slot-loading CD player on board (no Super Audio CD here), but you can also connect external sources via the multiple digital inputs (coax, optical and USB-B) and a double set of analogue ins.
A balanced XLR input is included for connection with a high-end source or AV processor, and you can slide the Black Edition into a larger system via balanced and unbalanced line outputs. Therefore, it's even possible to add extra horsepower in the shape of – say – AVM's monstrous Ovation SA 8.2 stereo amplifier [HFN Mar '18]. It's good to see the CS 8.3 is not an entirely 'closed box'.
Future-Proofing
On the subject of upgrading, the maker says the player's DAC stage (and XMOS input board) are replaceable, paving the way for hardware changes in the future. That said, the fitted converter – an ES9018K2M – can handle pretty much all the hi-res material out there.