AVM Inspiration CS 2.3 All-In-One Solution Page 2
If all that gives the impression of a device both skilfully designed and thoroughly considered, that's exactly what the Inspiration CS 2.3 is, right down to AVM's superb standard of finish. Indeed, the only fixings visible are screw-heads hidden away to the rear and below, giving the whole thing an impression of solidity and quality. And that's how it sounds when used with a variety of speakers and external components: just like a much larger system, but rendered in miniature.

Big-Boned Streamer
Whether with CD, streaming services, music from local stores or indeed vinyl, the sound is smooth and precise, and while there are systems out there able to extract more detail from what's being played – the Naim Uniti Nova [HFN Nov '17] and NAD's mighty M33 [HFN Aug '20], both of which undercut the CS 2.3 – there's no arguing with the confidence and sheer musical impact the German-built system can muster. That it does all this from so small a package while directing the attention on the performance, not the minutiae of the hi-fi experience, is testament to the focus of AVM's engineers.
Playing the stripped-down arrangements of The Specials' Protest Songs 1924-2012 set [Island Records 3840699], the system, driving Neat's Iota Xplorer speakers [HFN Jul '18], delivers a big-boned presentation of the heartfelt performances, notably the cover of Talking Heads' 'Listening Wind', in which the spare instrumentation is rendered as impressively as the close harmonies and the hushed vocals of Hannah Hu. And with Lynval Golding's take on 'Get Up, Stand Up', the AVM system treats us to just the right balance of intimacy and passion.
That fine handling of timbres and textures is also much in evidence with the Bernardi Fumagalli Gattone Trio's jazz take on Leonard Bernstein's West Side Story [Forward Music FMICA990012101; DSD128]. Here AVM's Inspiration CS 2.3 does an impressive job of conveying the live, straight-to-DSD recording process with an immediacy to the sound that's enhanced by the speed and control of the rhythms of all three performers. This system may be warm and refined rather than upfront, but it boasts a deftness of touch and dynamic ability that gets into the heart of whatever you choose to play, presenting this excellent recording with crispness and control, and allowing the listener to appreciate the quality of the musicianship on offer.
Funky Feeling
That combination of insight without overt 'hi-fi-ness' is what this system does so well – yes, there's plenty of information on offer, and the sound is always precise as well as rich and sumptuous, but what all this does is contribute to the music, rather than distracting from it. That's just as true with the blue-eyed soul of Robert Palmer's 1974 album Sneakin' Sally Through The Alley [Island CID 9294], where the quality of Palmer's voice is as striking as the tight, funky band assembled round him.
This tight control plus room for the music to breathe is equally effective with the atmospheric From Spirits And Ghosts set by Tarja Turunen [Ear Music 0215399EMU], with its chilly, ethereal take on seasonal music combining the singer's voice in all its brittle clarity with rich, gothic orchestrations. It's more ghostly spirit than festive cheer, but the Inspiration CS 2.3 brings out all the ambience – even if it was recorded in a Caribbean summer – to the extent that listening alone on a cold evening is perhaps not to be recommended!
Moving upbeat with the slightly odd Total (From Joy Division To New Order) compilation CD [Rhino 5052498647958], which is a not entirely cogent attempt to bring the two bands together in one sequence, the CS 2.3 shows it's not all about an even-handed delivery of super-clean recordings. Here it's just as adept when it comes to slamming out the dense lo-fi mixes of 'Love Will Tear Us Apart', 'Temptation' or 'Blue Monday' at room-shaking levels, and generating plenty of excitement in the process.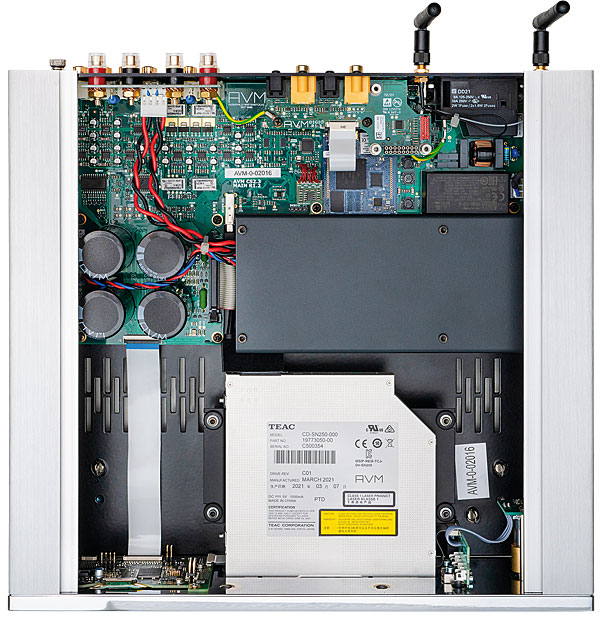 With its mix of warmth, control and seemingly unburstable power, it's hardly a surprise that this little system is well-suited to the demands of classical music, whether a tight little chamber ensemble or a 'big-band' symphony. It flows beautifully through the largely unfamiliar works on The Hague String Trio's Celebrating Women recital [Cobra Records COBRA0083; DSD128], all that definition serving well this recording of an all-female ensemble playing works by female composers.
Big Guns
While notable with Dame Ethel Smyth's lushly romantic string trio, it's just as convincing with the orchestral big guns of the Pittsburgh Symphony/Manfred Honeck's 192kHz recording of Brahms' 4th Symphony [Fresh! FR-744]. Not only does it give the listener a well-judged sense of an ensemble located in a realistic acoustic, it also has a lovely generosity of sound to complement all that clarity and definition.
Hi-Fi News Verdict
Some may wish for a bit more bite, but the Inspiration CS 2.3 is all about generous, beautifully controlled music-making, ensuring listening is as easy as it is rewarding. Add in superb build quality, a comprehensive feature-set and ease of use via the new RC X app, and this unashamedly luxurious little system has the wherewithal to win over buyers, even in the face of more keenly-priced competition.