Audio Analogue Bellini/ Donizetti Anniversary Pre/Power Amplifier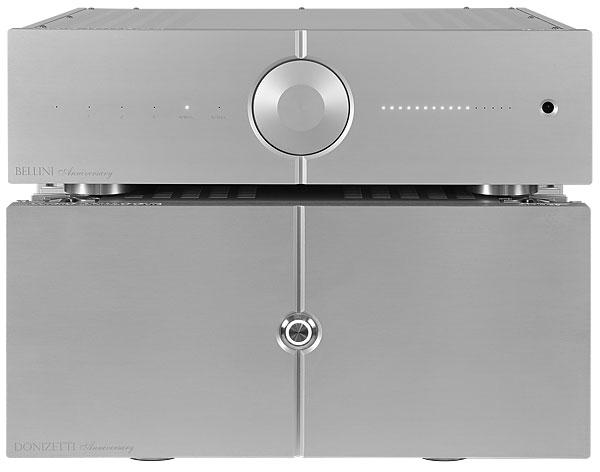 While the industrial design is familiar, the Bellini preamp and Donizetti power amp boast entirely reworked internals for this 'Anniversary' guise. And power is prodigious!
It was back in 1995 that the Italian brand, Audio Analogue, launched its first product – the Puccini amplifier. A no-nonsense stripped-down integrated, it offered little more than an input selector and a volume knob, yet its no-frills approach won many fans. Subsequently the company has built a well-deserved reputation for providing a range of fine-sounding and stylish-looking amplifiers, and has also taken to the CD player market with models such as the Maestro and Crescendo.
Then, to celebrate its 20th anniversary in 2015, Audio Analogue decided to take a fresh look at some of its most noteworthy amps, redesigning them from the ground up to create a new flagship range. The results were the Maestro Anniversary [HFN May '16] and Puccini Anniversary [HFN Jun '16] integrated amps, plus the newer £4999 Bellini and £8999 Donizetti Anniversary pre/power amps we have here.
Control Freak
The Bellini Anniversary preamplifier is a line-only design that weighs in at a not inconsiderable 12kg, its front panel a beautifully sculpted block of metal that sports a large central multi-purpose control flanked by no fewer than 22 LEDs. The six to the left of the control indicate which input has been selected or whether the unit is in standby mode, while the 16 to the right show volume level. The master control covers all of the unit's functions, but does take some familiarisation.
The control is pressed briefly to bring the unit out of standby mode, after which it can be rotated to change volume. Press it for three seconds to change between inputs and for five seconds to turn the unit off. Even more oddly, the actual input change happens on the control's release, not the push, so it easy to convince yourself nothing is happening. It is equally easy to press too long and inadvertently switch the unit off, or press too briefly and get nowhere. Even when you have this off pat, you'll discover that the control scrolls through the inputs sequentially, so changing from number one to number five takes 12 frustrating seconds. Fortunately, the preamplifier's solid-metal remote control sports separate buttons for volume, source selection and power that act instantly – much to my relief!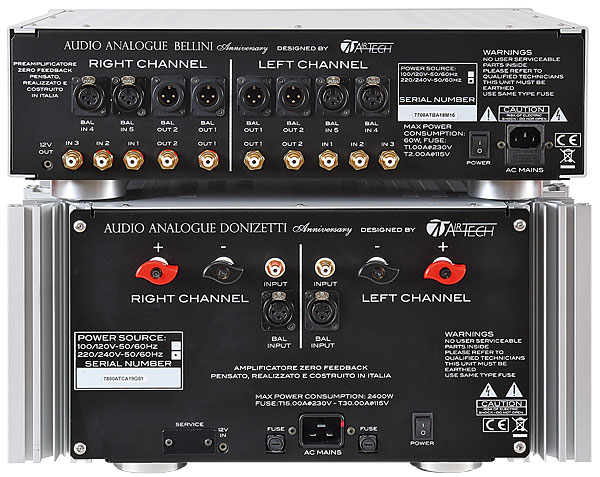 At the rear, five line-level inputs are provided. Numbers one to three are on single-ended RCA phonos, but number four and five are balanced XLR types. There are also two pairs of single-ended (unbalanced) outputs and two pairs of balanced ones, so you could connect the unit to multiple Donizetti Anniversary power amplifiers should you have sufficient money, space, loudspeakers and the desire to entertain your neighbours with the hi-fi high life.
Internally, the preamp is based around a newly-designed power supply equipped with extensive filtering to minimise the impact of mains noise and RF interference on sound quality. The audio circuitry utilises Audio Analogue's proprietary 'SeGeSTA' (Single Gain Stage Transconductance Amplifier) topology, which is fully balanced and eschews overall, or global, feedback.
Beauty And The Beast
Instead, the unit relies on judiciously applied local feedback to maintain stability and reduce noise. The components are assembled onto a four-layer PCB and include audio-grade capacitors and military-grade, through-hole resistors. The volume control, meanwhile, is a form of rotary encoder that governs output level via a resistor ladder, just as the various inputs are selected/switched locally by high-quality relays.
But what of the partnering Donizetti Anniversary power amplifier? Frankly, this is something of a beast! Its 41.2kg weight strongly suggests a two-person lift, and those persons might want to wear gloves as the edges of the heatsinks are not exactly smooth to the touch. Much of the power amp's weight comes from its two 1200VA transformers and, again, no global feedback is used in the amplification stages. As per the Bellini Anniversary, the circuitry is fully balanced and similar through-hole, military- and audio-grade components are used throughout.
The minimalist front panel is home to only a power switch and associated LED indicator, but things are a little busier round the back. The unit has both balanced XLR and unbalanced RCA inputs plus one set of speaker output terminals using some of the most stylish binding posts I have ever seen. As a plus, their chunky size and decent spacing makes them easy to grip should you wish to use bare-wire connections.

Warm Love
After carefully heaving the amps into my Atacama Equinox equipment rack, they were hooked up to a Naim CD5 XS CD player with FlatCap XS power supply and PMC Twenty5.24 speakers [HFN May '17].