Astin Trew At8000 (£880)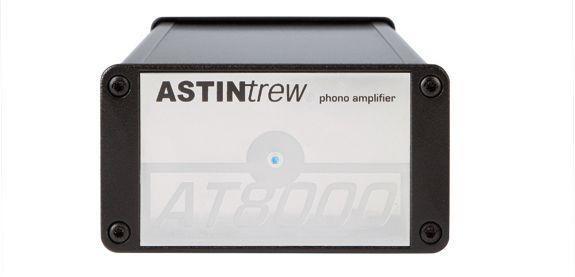 Some clever ideas but a little too laid back sonically.
Established in 2003, Astin Trew is a British hi-fi company with a product portfolio that includes amps, CD players, cables and its first phono stage: the AT8000. Astin Trew's philosophy is simple: 'create very high quality mid-priced home audio products that convey the emotion and passion of real music as naturally as possible.' To achieve this the AT8000 sports a number of well thought-out design features, such as gold-plated thick copper tracks for the circuit boards with amplification and RIAA stages housed in a solid 'Faraday cage' to isolate them.
The AT8000 phono preamp is claimed to have 'very linear' low-noise precision resistors and polystyrene capacitors in its RIAA and feedback stages, along with 'audiophile grade polypropylene capacitors and over-rated power supplies in signal circuits'.
Cartridge gain and load settings are controlled via three banks of dip-switches on the underside of the circuit board. Two banks offer resistance loading for left and right channels respectively, while the third bank controls gain via six switches (three for each channel). The Astin Trew has seven cartridge loading options: five resistance settings for MC types, ranging from 100ohm-20kohm, and two capacitance options for MM (150/300µF), plus four gain settings [see Lab Report]. Some of the settings are not obvious from the switches, so owners will need to keep the manual nearby…
EXTRA WARMTH
Perhaps the most noticeable aspect of the Astin Trew's sound was its warm treble which, while softening harsh edges, had a tendency to muddy the sound in higher registers. For example, on Roman Festivals played with the Nagaoka cartridge, trumpets had a tendency to blur in the more demanding sections, although they decayed with a convincingly sustained reverb. Moving further down the sonic range, on Antony's 'Spiralling' the Astin Trew enabled the percussion parts to play a key role in driving the track along with impact; however it was also during this track (played via the Benz with gain set to 'low'), that I noticed some midrange bloom tarnishing the sound. Repeating this track with the Shiraz and gain set to 'high' made the bass sound lighter and lacking in depth, when compared to the sound I had before. However, using the Shiraz with gain at the 'med' setting brought the bass on strongly, although it seemed to go up an octave and began to encroach on the midband, which inevitably coloured the sound.
The Astin Trew is quite a laid-back performer, which worked well with Neil Young's rhythmical singing, making it sound full-bodied with decent tonal texture – although in comparison to the Primare (its nearest price rival), it lacked the clarity and emotional honesty the R32 had conjured.
Overall, there was the promise of an organic sound, but it was far too easily overwhelmed with complex and demanding material.

Originally published in the January 2012 issue