AKG N5005 headphones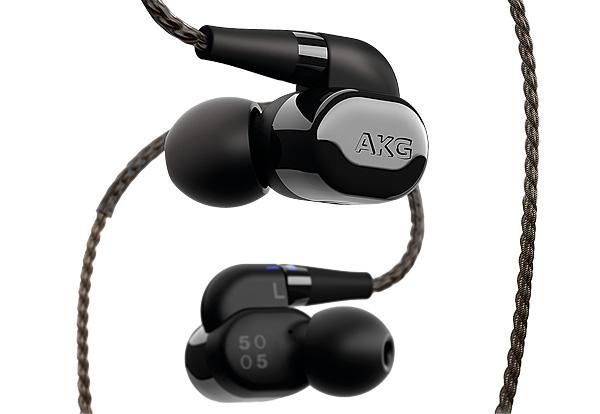 An engineering tour-de-force informed by the latest research in 'targeted sound curves', the miniature N5005 in-ear headphone features no fewer than five drivers
The hi-fi industry throws up some wonderful contradictions. If this were a review of a five-way loudspeaker you'd expect it to be a monster and question whether five-way wasn't one way too many. If the subject of the review were a five-way over-ear headphone you'd think the world had gone mad: most over-ear headphones make do with a single drive unit, and while there have been two-way models they have rarely been successful. Yet going down the size scale one more notch to the insert earphone (aka in-ear headphone), here we have a new £800 flagship model from AKG boasting, yes, five drive units within its compact exterior dimensions.
Numbers Game
For headphone aficionados, this won't come entirely as a surprise since this has been AKG's trajectory for some time. When AKG introduced its previous statement in-ear model seven years ago – the K3003i [HFN Apr '12] – it was a three-way and considered a triumph of micro-engineering. Since then, the numbers game has become silly. As far as I know the insert earphone currently boasting the most drive units is the InEar ProPhile-8 that boasts, indeed, eight drivers in a four-way configuration.
In AKG's N5005 the distinction between 'five-driver' and 'five-way' is somewhat blurred as the operating ranges of the single moving-coil driver and four moving-armature units overlap somewhat [see Five Go Mad In-Ear sidebar], but you have to suppose that this trend to drive unit profligacy must surely be reaching its zenith.
While its price, its five drivers and its sleek and hardwearing black ceramic finish will be the features that garner most headlines, the N5005 will earn a place in headphone history for quite another reason. Over the past six years Harman Research Fellow, Sean Olive, and colleagues have been hard at work pinning down exactly what the ideal frequency response for a headphone should be. They began with over-ear headphones, and at the Audio Engineering Society convention this May will describe their latest, updated 'target response' for these. In 2016 they unveiled their equivalent for in-ear headphones, and the N5005 (AKG is a Harman brand) is the first insert headphone to adhere closely to it.
Dialling Your Sound
As I've remarked on many occasions, there are almost as many takes on the ideal headphone frequency response as there are headphone manufacturers, resulting in a plethora of different tonal balances – a plethora that would be unimaginable in loudspeakers. For the consumers' sake it's high time order was brought tothis chaos, and that's exactly what Harman is trying to do. Its chance of success is slim, but that's no reason not to try. Or to fail to applaud the attempt.
This is not to say that the N5005 is unbending in its adherence to Harman's target response. When you open its immaculate packaging you find that the top layer of foam contains not just the two earphones and a hard-shell zip-up carrying case sporting your product's unique serial number but additionally a small metal plate that carries four pairs of screw-in acoustic filters, via which tonal balance can be adjusted to taste.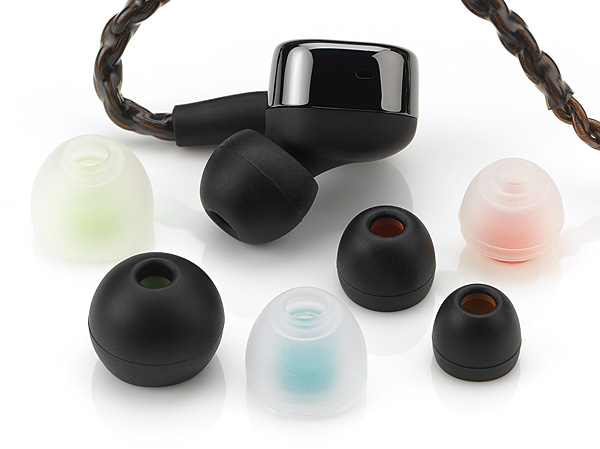 The Reference Sound filters, which provide a close match to Harman's target response, are factory-fitted. The three other pairs, labelled Bass Boost, Mid High Boost and High Boost, all affect the same frequency range above 1kHz. Attenuating this part of the spectrum makes the bass appear more prominent while boosting it will suit listeners who like a brighter sound or who suffer HF hearing loss.
Two connecting leads are supplied, both 1.3m in length. The first, terminated in a 2.5mm TRRS jack plug, has no inline remote control but facilitates balanced drive of the two earpieces if available. The second, terminated in a 3.5mm TRRS jack, has a three-button remote/mic compatible with Android and iOS source devices, selectable by a small slider switch on the back. Connection to the earpieces is via gold-plated MMCX push-on connectors, which allows the substitution of aftermarket cabling should you wish. AKG's chunky bronze-coloured cable resembles a twisted pair and rather than hanging down from the earpieces, loops up and around the back of each ear.
Dongle Update
For wireless connection a Bluetooth 4.1 dongle is supplied. This provides aptX compatibility but does not support the latest aptX HD codec, although AKG promises to accommodate this in an updated dongle in due course. Claimed operating and charge times for the dongle battery are eight hours and just less than two hours respectively, and a short USB charging lead is supplied.