Affordable Audiophile Amp


Can Audiolab's 8000A redefine the market? Martin Colloms finds out...
The new Audiolab range is introduced by the 8000A integrated amp, which sells for around £250. Trade rumours are that the first batch was sold out even before any press mention of the product, and that the few dealers appointed so far are finding it impossible to hold any stock. In these commercially depressed times it is certainly refreshing to cover a success story such as this, though I suspect that this model may be in short supply for some time to come.
Built in a full-width, low-profile metal case, finely finished in dark grey metallic, the 8000A offers a specified 50W per channel (17dBW) at a low distortion level, 20Hz to 20kHz. The well balanced and elegant front panel is sensibly laid out. Rotary selectors occupy the lefthand section, one for input, and the other for the record-out terminals. Selection may be made from moving-coil and moving- magnet disc, auxiliary/tuner, CD, tape 1 and tape 2.
Wired For Sound
Meanwhile, bass and treble controls have deliberately limited range and a defeat/flat switch. The complement is made up by the balance control, a visually dominant volume control knob, speaker selection switch, and headphone socket. One set of 4mm socket/binding post type speaker terminals is permanently hardwired for the best sound, while the second set is controlled by the speaker switch, allowing convenient muting for headphone operation if desired.
The rear panel has a liberal array of DIN input sockets, which would not be my favourite choice. I can appreciate that DIN are mechanically and electrically superior to phonos, and recognise that their modest component price reduces assembly costs, but it must be pointed out that few signal sources these days come with DIN sockets or cables. Consequently it will probably be necessary to use a number of DIN-to-phono adapters. Better news is that Audiolab will be able to supply these as moulded one-piece assemblies rather than the more usual flying lead types.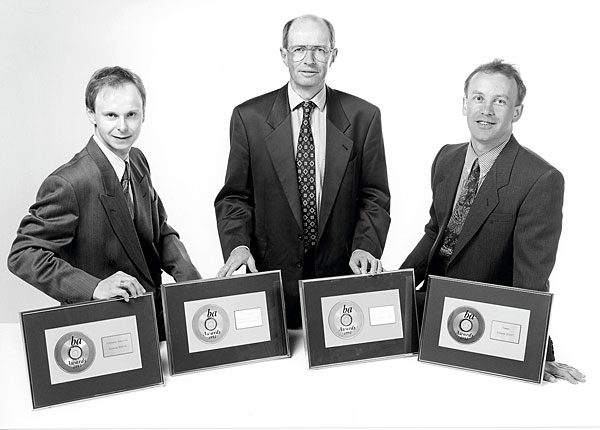 Considerable care has been taken over the ergonomics and appearance of the amplifier, with properly tooled panels and controls that fit and work very well, while there is great attention to detail. Other small touches also impress, such as the placement of legends above the controls where they can be easily read. All too often one has to crouch in front of a product to read the labels and indicators.
The moving-coil input has a fixed loading of 100ohm, in parallel with 4.7nF of capacitance, but can easily be modified by a dealer if desired. The moving-magnet input has a second parallelled socket into which an optional loading plug may be inserted for optimum matching.
Sympathetic Tone
Pre and power amplifier sections are normally wired together on the PCB, but a patch socket is installed on the amp's rear panel and changing a few links provides external independent access to pre and power amps. This was done on the review sample to aid assessment of each section, though the preamp lacks anti-thump circuitry for switch-on transients, as this is part of the power amplifier.

This innovative design is built around a series of very high-quality, high-linearity operational amplifiers, constructed using sealed discrete components. The amplifier remains non-inverting via any combination of input, mode or output, which is a happy but rare occurrence.
The design framework was established following extensive market research, which indicated that a comprehensive unit with tone controls was required to satisfy customers all round the world. Hence the inclusion of such facilities as headphone socket, secondary speaker switching, bass and treble adjustment, and flexible disc inputs.
Such a design could not have been economically manufactured without a broader marketing strategy.
All Tooled Up
Meanwhile, high-grade metalwork and tooling have been devised that can also be used for separate preamps and power amps with only small changes, and these are expected soon. In fact, the designers say that the preamp and power amp were fully designed and prototyped first, and formed the basis of this integrated with only minor compromises.
The design was conceived from the belief that highly linear, low noise, wide dynamic range circuits ought to sound good, and that the discipline required to achieve this would result in high standards for crosstalk, unwanted coupling, common mode rejection and the like. In particular, the effects of power supply harmonic spectrum, its variation with music programme, and its effect on other circuits was analysed in great depth.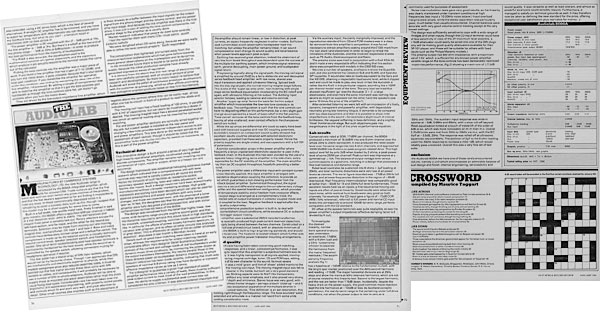 Details such as good input matching were taken in hand at an early stage, whereas the requirements for output matching needed considerable effort. Here designer Derek Scotland, who founded Audiolab along with Philip Swift in 1983, pursued an analysis of the current and voltage needs of real speakers under dynamic music drive conditions, by monitoring the power drawn at the output transistors themselves. His results parallel those in the Otala-directed paper on the dynamic impedance of loudspeakers, indicating that multi-way speakers of nominal 6-8ohm rating may have dynamic or transient effective impedance values as low as 2ohm.
For a designer to guarantee a given high standard of power amplifier performance into a variety of loads, there must be sufficient peak output current to meet most of the load probabilities. In this case, the ability to supply a substantial peak current was not considered the only criterion. It was also thought important that the amplifier should remain linear, or low in distortion, at peak currents, an aspect frequently neglected in other models. Sufficient peak current does avoid catastrophic loudspeaker load mismatching, but unless the amplifier remains linear, it can sound compressed or even change its sound quality and tonal balance when power levels approach peak output.
Earthing has also received great attention here. Indeed, the attainment of very low hum levels throughout was dependent upon the success of the multiple-tier earthing system, which involves signal reference earth, general decoupling, main power ground, and loudspeaker signal return.
Head Gear
Progressing logically along the signal path, the moving-coil signal is amplified by around 25dB by a fairly elaborate and well decoupled series feedback head amplifier, with low noise, shared area input transistors and applied ultrasonic filtering.
Spliced back into the disc signal path, the normal moving-magnet stage follows. This is one of the 'super op-amp units', non-inverting with single stage series feedback equalisation incorporating the IEC rolloff and again, with ultrasonic filtering at the output. The dubbing input selector follows, leading to balance and volume controls.