YG Acoustics Cairn Loudspeaker Page 2
High-quality spikes are provided, drilled through and with an Allen key supplied to use as a miniature tommy-bar to tighten them in place. Note that the shortness of the spikes and a lack of locking nuts might make it slightly tricky to adjust them if you have very uneven floors. Spike-cups are also provided to protect precious flooring, and once the speakers' feet are nestled into the recesses on the stands' cutaway top plates – there's no additional connection between the two – the whole assembly feels solid, stable and 'of a piece'.

Big And Bold
Coming to these YG Acoustics speakers shortly after finishing auditioning the massive DALI KORE floorstanders was something of a culture shock – the Cairns are small by standmount speaker standards, but positively minute compared to the larger-than-life DALI models. But any expectations that they'd also sound rather small and weedy were immediately dismissed…
Listening on the end of my longstanding Naim pre/power system, and despite the relatively modest output of my very familiar NAP250 amplifier, these little speakers immediately proved themselves capable of a developing a big, bold and wonderfully coherent sound.
The company claims a relatively deep 40Hz bass extension for the Cairns, and a fairly easy-going combination of 86dB sensitivity and 8ohm 'average' impedance. The result is that they presented no problems whatsoever for the NAP250's 2x80W output. True, they won't fill a huge room with ear-splitting sound, but these are truly exceptional small/medium room speakers that, by the standards of some of the high-end compact competition, are not unreasonably priced.
Holly Good Show
Playing the various instrumental test-tracks on The Audiophile's Guide: The Loudspeaker, from fellow Coloradans PS Audio's Octave label [OCT0021; DSD/DXD], demonstrated both the tonal purity of the Cairns, and their ability to create a superbly realised soundstage. This was also borne out by 'If We Make It Through December' from Holly Cole's gorgeously remastered Baby It's Cold Outside And I've Got The Christmas Blues [Alert Music download]. There was a luminous view of Cole's voice, the darling of many a hi-fi demonstration, and instruments both crisply rendered and persuasively placed.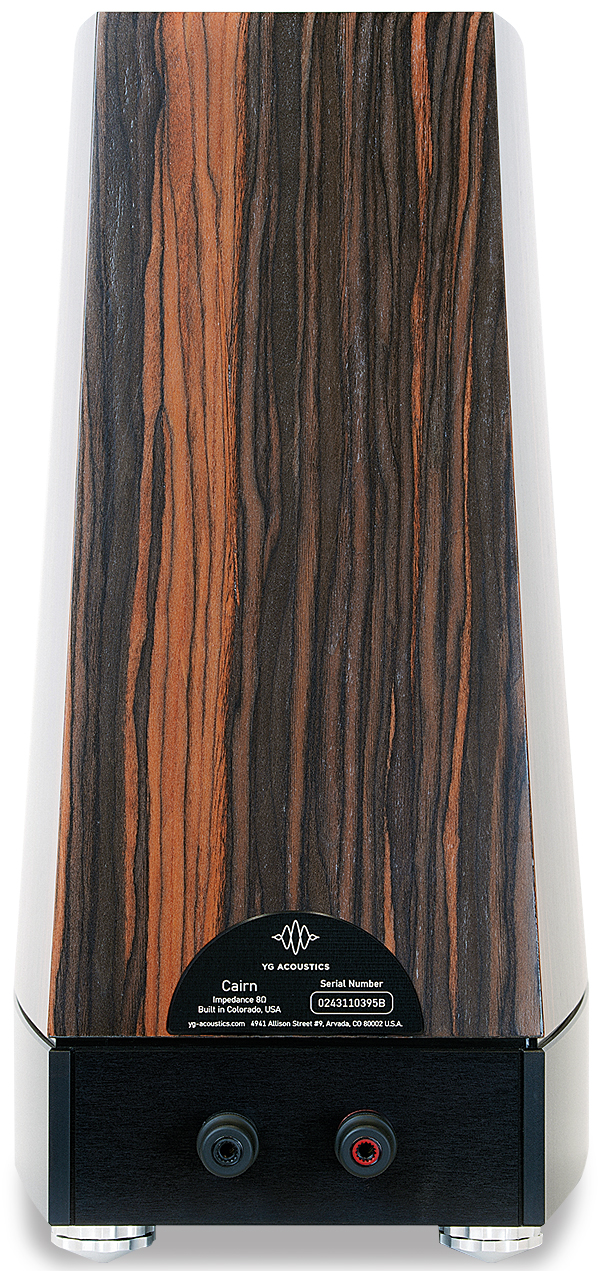 And they're just as captivating with the lush, heavily orchestrated new Arctic Monkeys set The Car [Domino WIGCD455]. The Cairns' ability to deliver weight and scale beyond their size, allied to a clean, focused presentation, was very much in evidence from Alex Turner's falsetto vocals to the flexibility of the drumming of Matt Helders.
Deep Dive
The ominous distorted bass underpinning the 'Sculptures Of Anything Goes' didn't faze these diminutive cabinets, and neither did the dense electronic soundscapes of Max Cooper's Unspoken Words album [Mesh MESH077], where the clarity and fine driver-integration of the Cairns allows the listener to take a good deep dive into the multiple layers of sound. That's an ability also deployed to good effect with the Britten Sinfonia/Thomas Adés reading of Beethoven's symphonies on Signum Classics [SIGCD687, 96kHz/24-bit], from the measured allegretto of Symphony No7 to the powerful final movement of the 9th.
YG's Cairns delivered the dynamics of this music with a freeness unusual in speakers of this size, with no sign of thickening up on the peaks – so to speak! I was left with the overwhelming impression of listening to loudspeakers endowed with rather more driver acreage, so well was the weight and scale handled.
Sticking with the Britten theme, a mix of warmth, clarity and air served well the composer's 'Variations On A Theme Of Frank Bridge', played by Ensemble Allegria [LAWO LWC1241; DXD] – think excellent drama and string timbres delivered with real vivacity.
Peaky Blinders
Frankly, the way these little speakers, aided by the slightest of toe-ins, rendered the musicians before me in a soundstage as focused as it was well-scaled speaks volumes for all that computer modelling, not to mention the extensive listening, involved in their development. Yet for my part, that was all but forgotten as I listened to the Cairns sliding through the all-too-brief 'Romance' variation, before captivating with the 'Fugue and Finale' with which the piece ends. Small speakers have rarely offered such a big-hearted sound.
Hi-Fi News Verdict
In every way small but beautifully formed, the Cairns show all the benefits of their manufacturer's integration of extensive analysis and modelling in the design and manufacturing processes. They're precise without ever being clinical or sterile, and have a weight, depth and finesse that belies their compact dimensions. Few small standmounts will fill modestly proportioned rooms with such authority. They are little crackers!