Yamaha R-N2000A Network Receiver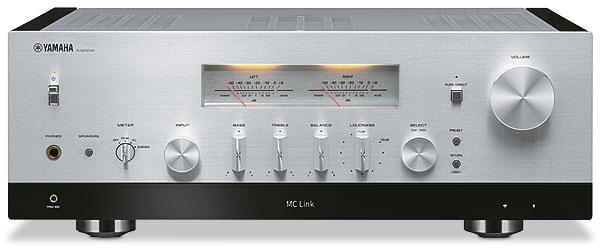 Marrying old-school Yamaha looks with new-fangled digital functions, the R-N2000A streaming amplifier offers convenience in a package to delight vintage devotees
Few audio brands have escaped the component shortages and wonky logistics of the last few years, including Yamaha, but the company is putting all that behind it with a slew of new products. The £2895 R-N2000A is in the vanguard of a new series from this venerable Japanese manufacturer, one or two sneak-previewed at High End Munich 2022. The 2023 show then saw the launch of its lower-tier R-N1000A and R-N800A network-attached amplifiers, sharing many features with the flagship model reviewed here. Yamaha is also offering a range of speakers to match, so if you want to go full Yammy then matching high-gloss piano black NS-2000A floorstanders are available to pair with the R-N2000A. This fits with the brand's efforts to re-establish its once-familiar position in the two-channel hi-fi scene.
Complete Package
These 'R-N' integrated amplifiers live next to the more purist 'A-S' models in Yamaha's stable. The difference between the two ranges? The A-S1200, A-S2200 and A-S3200 [HFN May '21] are purely 'analogue' and are meant to be combined with source components. The R-N2000A and its more affordable brethren are complete packages, adding digital inputs, built-in streaming via MusicCast, Bluetooth and AirPlay 2, room correction and (sometimes) HDMI ARC to the mix.
This isn't new territory for Yamaha. Five years ago, the EISA Award-winning R-N803D proved there was consumer interest in reasonably priced hi-fi amps with integrated streaming and room correction. Arguably that model illuminated the way for do-it-all units from other brands; there's certainly competition for the R-N2000A now out there, including Naim's Uniti Atom and Marantz's Model 40n [HFN Apr '22].
The retro-inspired visage also makes Yamaha's amp an alternative to the Dirac-enabled NAD C 3050 LE [HFN Apr '23].The R-N2000A is very new but classically 'Yamaha' in appearance, and that applies to the exterior as well as the balanced analogue amplifier topology within. Of course, this is on-brand for a Japanese company that typically resists embracing gimmicky trends. Big, colour touchscreens or minimalistic front panels? No, thank you. Power meters and large switches for tone controls that hark back to the '70s? Yes, please.
Heritage Hi-Fi
When you encounter this solidly built unit it's easy to see a likeness to the A-S2000 from 15 years ago [HFN Mar '08], and continuing in a straight line back to the CA-1000 from 1974 [HFN Apr '74]. Yamaha is rightly proud of its heritage, but the R-N2000A does break the mould somewhat by adding an OLED display. This is very small and discreetly applied, hidden behind a black glass strip that runs along the base of the front panel, and as such is very easy to miss. The display lights up only briefly during set up, changing volume or during streaming operations. The impression is that Yamaha wants to downplay this modern feature for fear it conflicts with the amplifier's retro aesthetic.
When it comes to connectivity the R-N2000A takes an all-bases-covered approach. The rear panel is neatly laid out, with four pairs of substantial gold-plated brass binding posts that, true to the vintage vibe, support both an A and B pair of loudspeakers. Four analogue inputs, including MM phono, are complemented by four digital inputs, including USB-B for hi-res audio from a computer or network transport. Yet there's very little reason to use one of those, as the R-N2000A has Yamaha's MusicCast-platform built-in. This allows you to stream PCM up to 384kHz, and DSD256, via DLNA or the MusicCast Controller app. An HDMI ARC port for TV connection, plus preamp and subwoofer outs, add to a very complete offering. All that's missing is a USB-A port for external drives.
While Dirac Live room correction might be popular with a lot of brands, the R-N2000A includes the somewhat more user-friendly Yamaha Parametric room Acoustic Optimiser (YPAO) system. There's no support here for YPAO's multipoint measurement, but for a stereo set-up that's quite acceptable – it keeps complexity low and the process hassle-free. After placing the included puck-sized mic at your listening position, you get a ten-second warning before fairly loud test tones are played, reminiscent of a bird seeing its favourite tree being bulldozed. After which – in our case – slight modifications were applied, mainly to the low-end.

On The Move
While Yamaha is conservative in many things, its sound tuning has shifted a little in the last few years. Rather like the A-S2200, the R-N2000A sounds a lot less 'traditional' than say, the A-S2100 [HFN Dec '14]. The difference should not be overstressed, but the brand has definitely moved away from the more analytical end of the spectrum it used to inhabit.