VPI Prime 21+ Belt-driven Turntable Page 2
VPI claims its deck can be set up in under 20 minutes but once you factor-in the time to fine-tune VTA and bias – not to mention experimenting with motor placement – well, it took me nearly an hour. Still, this also reflects the deck's great flexibility! I should also mention that the supplied metal tonearm-alignment jig puts the typical paper/plastic efforts to shame, while the screw-on steel/Delrin record clamp is a precision-built accessory.

Something Special
Connected to my Anatek MC-1 phono stage, Naim Supernait amplifier [HFN Oct '07] and PMC Twenty5.24 loudspeakers [HFN May '17] it took barely a half-side of an LP for me to realise this turntable really is something quite special. The Prime 21+ instantly announces itself as a big and confident performer, but one never hurried or likely to be flustered in its music-making. Neither is it heavy-footed in its unaffected sense of ease and solidity, no matter what kind of material you throw at it.
This presentation is part-and-parcel of the deck's confident-sounding bass, which is typically deep, solid and rich. The Prime 21+ is more than able to rattle ornaments when required, but feed it an intricate bass line and it rises to the challenge magnificently, resolving fine low-end details with precision even with challenging – read over-complex – recordings.
The big bass notes on 'Roulette' from Night Flight's eponymous debut LP [CRC Records CRC07V] were warm and fulsome, while the introductory piano had a fine sense of realism. Samuel Holmes' vocals sounded as compelling as I could have wished for as the Prime 21+ set him up in his own space within a realistic acoustic.
Rich Pickings
As the track builds to a peak just prior to the guitar solo, the soundstage is nothing if not crowded, and I have heard more than one turntable throw in the towel at this point, failing to maintain the earlier ease and spaciousness. Not so here as the Prime 21+ maintained the prevailing atmosphere while also reminding me of the recording's limited audiophile potential…
More generally, I'll admit to having a slight nagging feeling that the Prime 21+ sounded a little richer than I'm used to. There's a subtle upper-bass bloom that seemed to persist whether I used the clamp, or not, or whether I swapped out the mat for alternatives. This is a suggestion of 'character' rather than an unwelcome imposition, and never intruded on the musical performances that captured my attention over weeks of listening.
Otherwise, the ability of the Prime 21+ to find the best in less than stellar recordings is a great strength – if there's just the merest hint of a gold nugget deep in your record's grooves, it will dig it out. And when you feed the deck a truly fine recording, it comes fully to life.
Strong And Stable
'Your Heart Is As Black As Night' from Melody Gardot's My One And Only Thrill [Verve 1796787] was electrifying, Ms Gardot's vocals sounding both husky and intimate. Equally, the backing double-bass enjoyed a firmness and resonance that evoked the sense of a real, palpable instrument in the room. This impression was reinforced by a strong and stable central image and deep – very deep – soundstage that flooded out between and behind my PMC floorstanders. So while the Prime 21+ might not throw the sound forward of the speakers with any degree of exaggeration, the atmosphere it creates between and behind them is cavernous.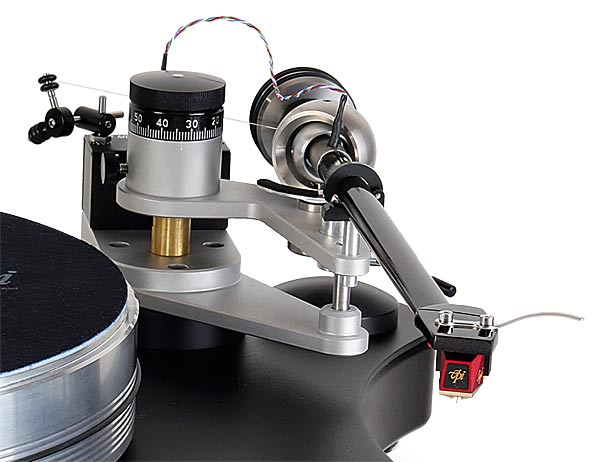 Gerry Rafferty's 'On A Night Like This' from North And South [London Records LONLP55] had me grinning from ear to ear. Rafferty's voice was strong and focused, but best of all was the backing percussion. This bounds around behind the main instruments like an excited puppy. Bongos on the right? Check. Kick-drum slightly left of centre? Absolutely. The Prime 21+ captured these elements with ease and highlighted them, albeit with subtlety, making it a delight to follow their appearance as the track unfolded. The bass line also had a pleasing presence, underpinning the song in a fluid and easy manner.
Finally, I swapped the Shyla cartridge for my regular Clearaudio MC Essence [HFN Aug '17]. The Clearaudio pick-up's excellent bass tightened up the lower registers very slightly, even though it didn't disguise the deck's signature upper-bass warmth. It also revealed a little more treble sparkle than the Shyla, at the expense of the latter's rich midband quality and its more general sense of cohesion. Clearly, VPI has voiced its cartridge well – the Prime 21/tonearm/Shyla trio making for a compelling one-stop vinyl-playing solution for the enthusiast on the upgrade trail.
Hi-Fi News Verdict
While its assembly and set-up might not be as brisk as VPI would imply, and there are a few quirks to be encountered along the way, once up and running the Prime 21+ is a magnificent-sounding turntable package. It brings out the best from less-than-perfect recordings while also ensuring your well-produced LPs will shine. What's more, the custom-made Shyla cartridge complements it superbly.