Vivid Audio Giya G1 Spirit loudspeaker

It may not look as outrageous as the iconic B&W Nautilus, but this is its younger, and arguably superior offspring
When B&W introduced the Nautilus in 1993 it created what is surely the most iconic loudspeaker any of us will ever see. Its 'snail on steroids' look projected it on to countless magazine pages around the world and gave B&W the kind of PR boost company CEOs dream of. Only it wasn't a PR man that contrived the Nautilus, it was B&W's then senior design engineer Laurence Dickie. And though it looked like something created by H R Giger for the set of Alien, the Nautilus was actually an exemplar of the Bauhaus diktat that form follows function. It looked that way because it needed to be that way.
As much as the Nautilus was a star for B&W, its looks were considered too outlandish. So in spinning off its Nautilus technology into the 800 Nautilus series, B&W went for more conventional looks, abandoning the curved and tapered transmission line behind the bass unit that so defined the original aesthetic. But the spirit of a full-on Nautilus didn't die.
Keeping The Spirit
Laurence Dickie, who left B&W in 1997 to work in pro audio, became engineering director of Vivid Audio in 2004 and picked up where he left off, culminating in the current flagship Giya G1 Spirit reviewed here. It's yours for £64k in black or pearl white gloss, or £68k with external crossover, plus another £3950 for custom colours. It doesn't replace the existing Giya G1 but slots in above it, and while it looks very similar it's actually deeper and shorter to maintain the same internal volume while lowering the tweeter axis.
Visually distinct from the Nautilus, the Giya G1 Spirit is still another example of form following function. Forget slab-side box cabinets that are prone to panel resonances and undesirable diffraction effects: this is a curved, organic form designed to be both structurally stiff and to avoid secondary radiation from right-angle baffle edges. Stiffness is further enhanced by the cabinet's internally-braced sandwich of GRP skins with a balsa wood core.
Keynote Speaker
Reminiscent in side view of a treble clef, the G1 Spirit lacks the G3's and G4's externally visible exponential horn absorbers behind the two dome drivers because, being taller, it is able to accommodate them out of sight within the cabinet. But they are still there, as are larger equivalents for the lower-mid cone driver and twin bass drivers, the latter of which runs upwards through the cabinet's top loop, before curling itself up like a snail shell, just like that of the Nautilus.
Unlike the Nautilus, however, which had a closed-box bass section, the G1 Spirit is reflex loaded and by combining this with a tapered rear absorber, realises the benefits of both [see interview]. Reduced LF distortion is promised along with improved LF output capability and an improved trade-off of sensitivity and bass extension (courtesy of reflex loading) plus effective suppression of internal air volume resonances (thanks to the absorber).
As in the original G1, twin bass drivers, with a brace between their magnets, are used to provide force cancellation, and this principle is carried over to the reflected banana-shaped reflex ports arrayed on either side of the cabinet. All Vivid's drivers are designed and assembled in-house using bought-in diaphragms and voice coils. With the current 225mm bass units, now with larger 100mm voice coils, Dickie has incorporated a lesson learnt in his days working with pro speakers, which he found delivered tighter-sounding bass as a result of being 'over-shoved', ie, having greater motor force than necessary for a classically optimal bass alignment.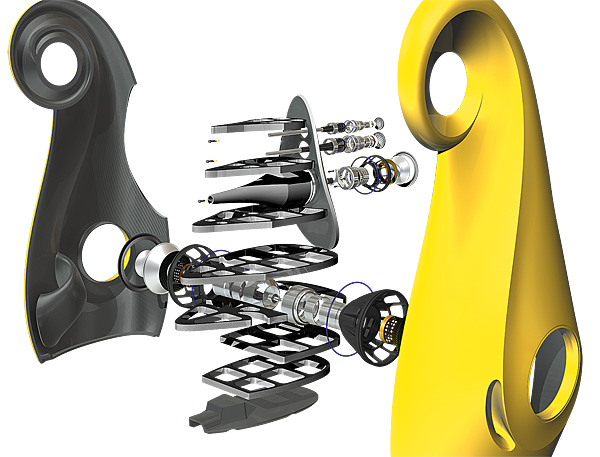 Like B&W's Nautilus the G1 Spirit is a four-way design, the twin bass drivers handing over to an improved 125mm cone lower-mid unit, 50mm dome upper-mid and 26mm dome tweeter at 220Hz, 800Hz and 3.5kHz respectively. Fitment of a larger, 75mm voice coil to the lower-mid driver has increased power handling, and carbon fibre composite stiffening rings added to the neck and outer diameter of the diaphragm have raised the first breakup frequency from 4.3kHz to 10.5kHz.
In the two dome drivers, carbon fibre rings complement the unique dome shape. Whereas dome diaphragms typically take the form of a spherical cap, so that their cross-section is an arc of a circle, Vivid's finite element optimisation process identified the optimal dome cross-section to be a catenary – the shape that a slack chain adopts under the force of gravity. In the larger dome, as an example, the first breakup mode occurs above 21kHz.
All three upper drivers also have rear-mounted exponential horn absorbers. Their annular motor assemblies use radially-polarised magnets (as opposed to the more usual, and cheaper, axially-polarised type) to provide large-diameter vents behind the dome diaphragms. The motor's smaller external diameter also allows the drivers to be closely spaced, ensuring good vertical off-axis behaviour through crossover.
The external crossover option (supplied for review) might suggest it's intended to further improve sound quality, by removing vibration-sensitive passive crossover components from the cabinet. But Dickie says he has compared internal and external crossovers and hears no difference. Instead, with the passive crossover removed from the cabinet, there's always the possibility of an active (third party) crossover being used with the Giya G1 Spirit. Connection from the external crossover is via a thick, captive cable, terminated in a twist-to-lock connector that locates in the speaker base.

Open Sesame
This is a dramatic sounding design and no mistake, but not in the sense of embellishment or other added colour. Rather, the Giya G1 Spirit is one of the few loudspeakers able to convey the majesty and scale of whatever music you choose to play – with all its delicious texture and detail intact. So, despite having a multitude of drive units, there's no sense of listening to several speakers in one as you're offered a seamless sound from bottom to top.