A Very British Amplifier Also In HFN This Month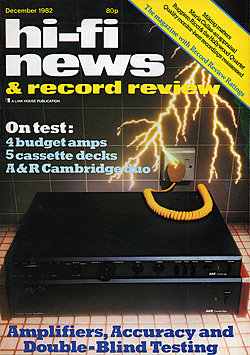 Also In HFN This Month In 1982
Some Amps Are Different
A US report on double-blind testing by David Carlstrom, Arny Krueger, and Larry Greenhill.
Amplifiers And Accuracy
Armstrong designer Jim Lesurf outlines what he sees are the necessary requirements.
A Synthesised Tone Control
John Bingham describes a versatile add-on circuit for minimalist preamps.
Blumlein Vs Omni Mics
Barry Fox examines some questions raised by US guru Mark Levinson.
A Matter Of Coincidence
Alan Moseley has a few doubts concerning 'purist' miking.
Amplifiers & Cassette Decks
Alvin Gold takes a subjective look at Exposure amps, and the B&O BeoCord 9000 and Nakamichi ZX-7 cassette decks.
Four Budget Amplifiers
Gordon King hears the Sansui AU-D22, Rotel RA-820, Marantz PM520DC and NAD 3020.
Five Diverse Cassette Decks
The Alpine/Alpage AL80, Aurex PC6GR, Nakamichi LX-5, Technics RS-M275X and Sony TC 1010 examined by Denys Killick.