Vertere DG-1 Dynamic Groove Turntable Package Page 2
As per other tonearms in Vertere's range, the DG-1 variant does not employ conventional ball bearings. Instead, both vertical and horizontal movement is achieved through hundreds of twisted micro-fine nylon threads, which the company claims are light, noiseless and have minimal friction and stiction (an initial resistance to movement). Tracking force is applied by a stainless steel rear counterweight, augmented by a fine adjustment weight situated along the length of the arm 'beam'.
Operation is simplicity itself with one illuminated button pushed sequentially to select 33rpm (green), 45rpm (red) and a longer press for off. A sustained press also selects between illumination LEDs mounted on the plinth that are always on, always off or on only when the deck is in standby. My only gripe here is that the button is slightly close to the belt – it could do with moving to the left.

Solid Star
During set-up of the deck, the word 'wobble' kept coming to mind. The diameter of the bearing step on which the platter sits is very small so the platter can tilt if pushed. Equally, the nylon arm bearings make the arm feel loose and not unlike a unipivot to handle. However, as soon as the music started playing through my regular Anatek MC1 phono stage, Naim Supernait amp and PMC Twenty5.24 loudspeakers [HFN May '17], the word that sprang to mind was 'solid'. Frankly, how a small, slim and light deck such as the DG-1 can produce a sound that is so fulsome, weighty and capacious is little short of remarkable. This deck is Dynamic in name and also dynamic by nature.
This is no shrinking violet of a turntable by any means. It dives straight into the heart of the performance, brushing aside any rough edges to serve up the overall musical message with a confidence and assurance that is not just superb but like little else at its price point.
I was also reassured to hear that the deck was pleasingly stable in pitch terms. When I heard a prototype of the deck on its release at the 2019 Munich High End Show, some piano tracks sounded decidedly 'watery' but Vertere's continued development and work on the motor and drive system has clearly paid off. The DG-1 was as steady as a rock during its stay in my listening room.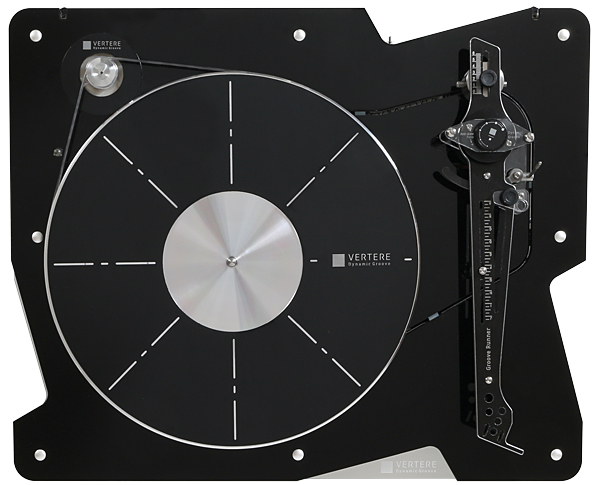 Pleased As Punch
If further proof of the deck's stability were needed, it was to be found at the bass end of the spectrum. The DG-1 digs deeply, of that there is no doubt, but once again it does so with a precision and detail that is utterly bewitching. The main synth bass notes on 'Girlfriend' from Christine And The Queens' Chris LP [Because Music BEC5543602] rumbled deliciously from my loudspeakers without any sense of wallow or uncertainty. What's more, the bass guitar line that is tucked subtly behind the synth skipped along with a lightness of touch that had me playing the track twice in a row, just to enjoy it once more.
Give the deck something with a bit more bounce and it typically rises to the challenge. The snappy drum beats from The Colorblind James Experience's 'Considering A Move To Memphis' from their eponymous debut LP [Fundamental Music SAVE 50] punched out with impact and precision. Every cymbal strike sounded gloriously realistic and was imbued with just the right level of metallic sheen.
Absolute Riot
Soundstaging impressed too, the deck having a masterful way of drawing the main performers from the loudspeakers and out into the room towards you. With one or two tracks I played there was an almost 'reach out and touch' sense of realism. While the old claim that CD is two-dimensional and only vinyl has proper depth is unrealistic, the DG-1 could well have you sympathising with that argument all over again.
Even better, this grasp of space and depth seemed largely independent of musical type. Diane Schuur's heartfelt vocals on 'Love Dance' from The Diane Schuur Collection LP [GRP Records GR-9591] were seemingly right in front of me and had the hairs on the back of my neck rising in response. Equally, the bass line was once again deep and sinuous, while the icing on the cake was the sound of the piano which had a rich, resonant impact.
In complete contrast, the unruly whooping, hollering and applause that make up The Art Company's 12in single of 'Susanna' [Epic TA 4174] made for an absolute riot as they seemed to bounce around my room with breezy abandon.
And the top end? At this price it's as good as you'll hear. Treble detail was very fine indeed and the combination of the Audio-Technica VM520EB cartridge and Groove Runner arm worked harmoniously. That said, as the VM520EB is new to me, I did spend time listening to the DG-1 with my regular Ortofon 2M Black cartridge installed and the results were just as impressive.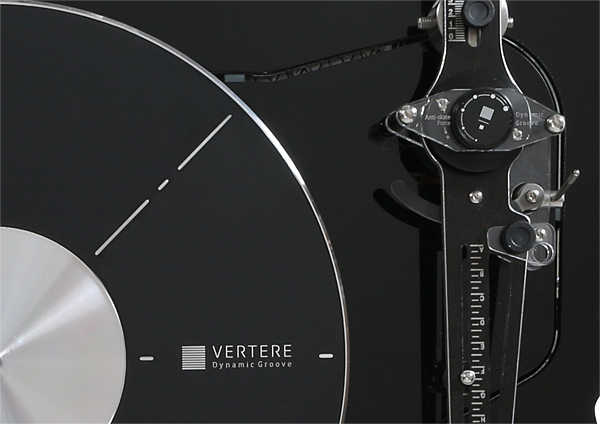 When fitted onto the Groove Runner, the 2M Black sounded both purer and cleaner than I have heard it for a long time. There was not the merest whisper of sibilance or distortion, the pair working uncannily well together.
Moving back to the VM520EB only confirmed it to be a highly capable cartridge. It's one I'll happily give a thumbs-up to in its own right, and proof that Vertere has chosen its matching 'packaged' pick-up very well. However, it was also clear that the DG-1 has much more to give when you feel like an upgrade.
Hi-Fi News Verdict
In case you hadn't gathered by now, I'd say the Vertere DG-1 really is something quite special. It isn't quite as 'plug and play' as some, but it is still easy to set up and the results are truly outstanding. It may look unusual and it certainly feels unusual at times when in use, but all that is forgotten when it starts playing. Put simply, the DG-1 redefines what is sonically possible at its price point.